Rick And Morty Halloween Short Will Arrive Next Month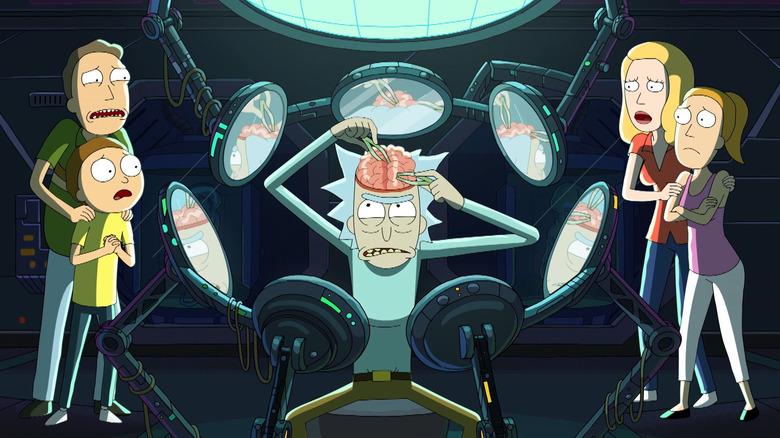 Adult Swim
Season 5 of the ultra-popular Adult Swim show "Rick and Morty" came to a close just a few weeks ago, but fans won't have to wait nearly as long as usual for new content. In honor of the most wonderful time of the year, we're going to be treated with a brand-new "Rick and Morty" Halloween special. Don't cross your sword fingers for another appearance of ​​Scary Terry, though, as this Halloween special looks to be paying homage to something completely different.
When is the Halloween Special Airing and How Can You Watch It?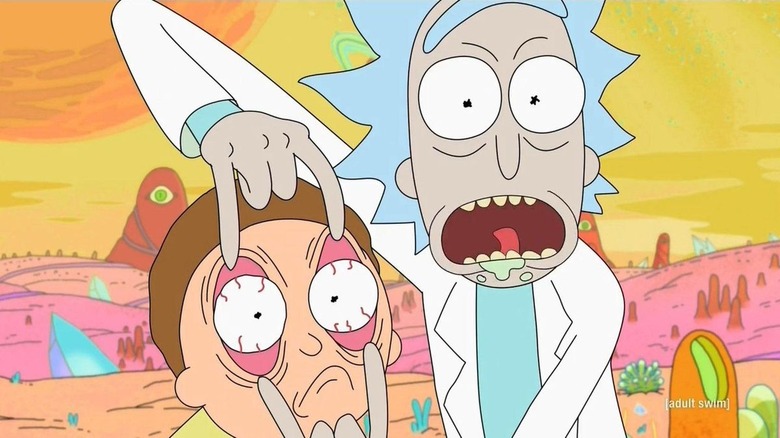 Adult Swim
While the folks behind "Rick and Morty" proper have been mum about the special, the Twitter account @CNSchedules spilled the beans on the impending release.
Got a new Rick and Morty horror anime short, The Great Yokai Battle of Akihabara, airing at 11:00p Sunday, October 10th.

It'll also air on Toonami the following Saturday at 4:15a, after two Batman movies.

— CN News/Schedules (@CNschedules) September 30, 2021
The account continued to clarify that the scheduled short does not actually appear on Adult Swim's schedule for October 10 yet, but notes that nothing appears at all for the 11:00 – 11:15 P.M. time block. Adult Swim Canada, however, has already advertised the "Rick and Morty" Halloween short for the 11:00 P.M. time bracket and Adult Swim Canada generally simulcasts premieres with the United States
The short will play again on October 17, 2021 as part of the Toonami late night block after two "Batman" movies sometime around 4:15 A.M. EST. There's been no word on how long the short will be, but considering the average time of Adult Swim specials, it's safe to assume the short will be somewhere between 10-15 minutes.
What's the Halloween Special About?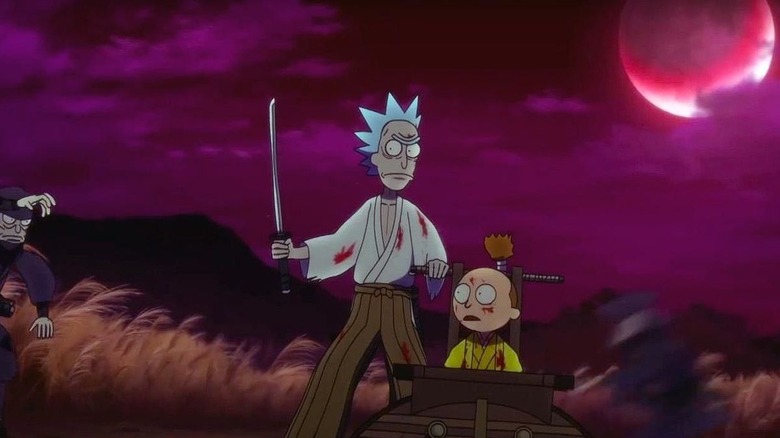 Adult Swim
The title released for the short is "The Great Yokai Battle of Akihabara." There's no way to know for sure, but it sounds like the title is inspired by the Takashi Miike horror fantasy film, "The Great Yokai War." In Japan, the yōkai are mythological beings commonly translated as apparition, goblin, ghoul, spirit, or monster.
Adult Swim Canada's announcement also included a brief synopsis of the special, saying "Rick plans to build the ultimate AI toaster; Things take a strange turn when he and Morty are forced to travel to Akihabara for spare parts."
This isn't the first time "Rick and Morty" has offered a Japanese inspired short between seasons. Before the release of season 5, Adult Swim dropped "Rick And Morty Vs Genocider," a Japanese-language spin-off done in anime style, similar to the "Samurai & Shogun" episode and directed by Takashi Sano of "Fire Emblem: Three Houses." This has led many to believe that the Halloween short will likely also be an anime style, especially considering its grouping to the Cartoon Network Toonami anime block.