Hitmen Season 2: Release Date, Cast, And More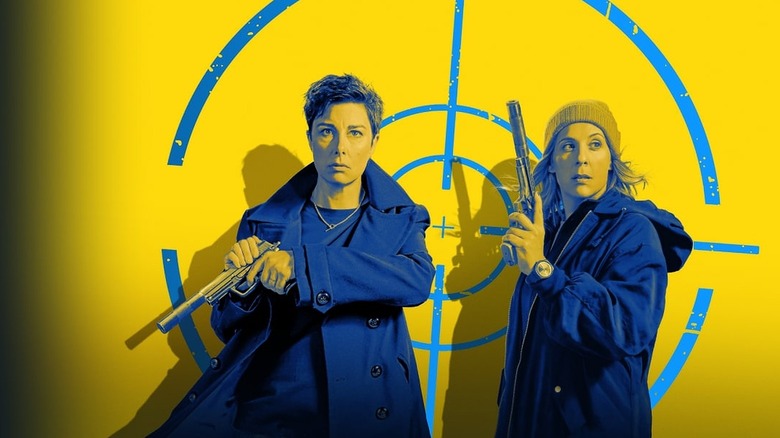 NBC
(Welcome to ...And More, our no-frills, zero B.S. guide to when and where you can watch upcoming movies and shows, and everything else you could possibly stand to know.)
"Hitmen" made its way to the streaming world last year thanks to the folks at Peacock. As the need for movies and TV shows grows along with competition among streaming services, it's becoming increasingly common to import shows to the U.S. Such was the case with "Hitmen," which originally debuted via Sky in the U.K. Luckily, it did quite well and a second season was ordered late last year. Now, with new episodes on the horizon, we are here to provide all of the information you need to prepare for the show's return.
Here is what you need to know about "Hitmen" season 2.
Hitmen Season 2 Release Date and Where You Can Watch It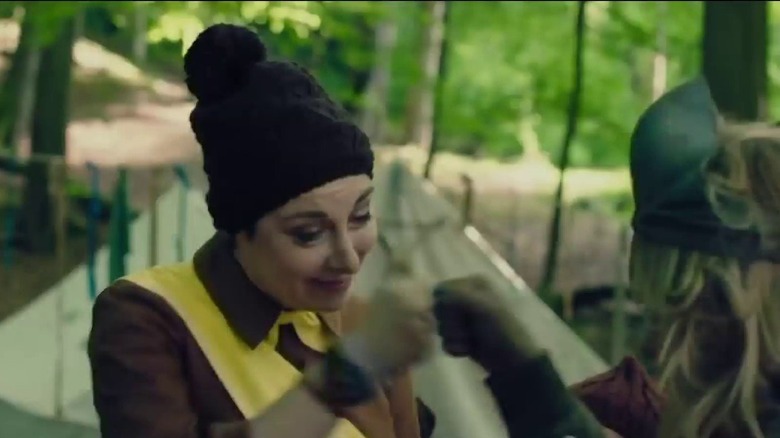 NBC
"Hitmen" season 2, titled "Hitmen: Reloaded," debuts in the U.K. on September 29, 2021. While Peacock has yet to confirm a release date in the U.S., that means the show is ready to go and should be debuting sooner rather than later. Most likely, we'll see the show return on Peacock before year's end. Subscribers would do well to keep their eyes open. But we'll also be sure to update this space as that information is made available.
What Is Hitmen?
NBC
"Hitmen" is a British comedy series that focuses on a pair of friends, Jamie and Fran, played by Mel Giedroyc and Sue Perkins. Lovers of cooking shows may know them as former hosts of "The Great British Bake Off." Very simply, it focuses on their misadventures as they work their way through life carrying out hits for a living.
For those who may need a refresher, here is the synopsis for the show's first season:
"Best friends Jamie (Mel Giedroyc) and Fran (Sue Perkins) are trying to make their way in the world with only each other to rely on. They also just happen to kill people for a living. Fueled by their hilarious antics and frivolous bickering, each job inevitably gets derailed, leading them into bizarre misadventures, full of oddball characters and unexpected dilemmas."
Hitmen Season 2 Showrunners, Crew, and More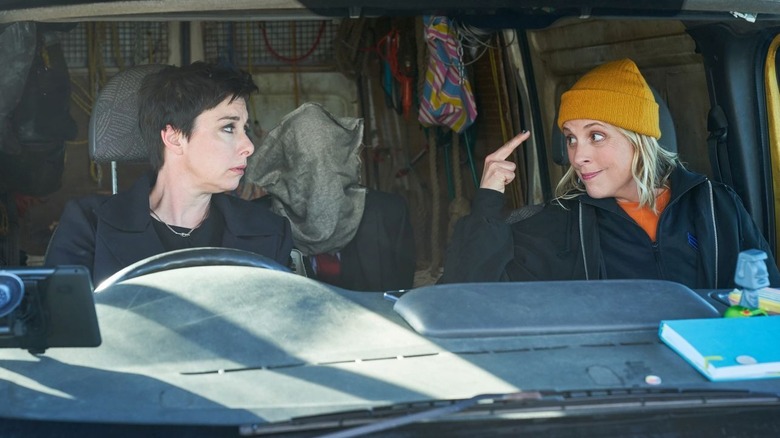 NBC
Joe Markham and Joe Parham serve as creators of the series. They are also on board as writers and producers. Myfanwy Moore, Siobhan Bachman, and Morwenna Gordon serve as executive producers, with Arnold Widdowson on board as a producer. Ollie Parsons directs.
Hitmen Season 2 Cast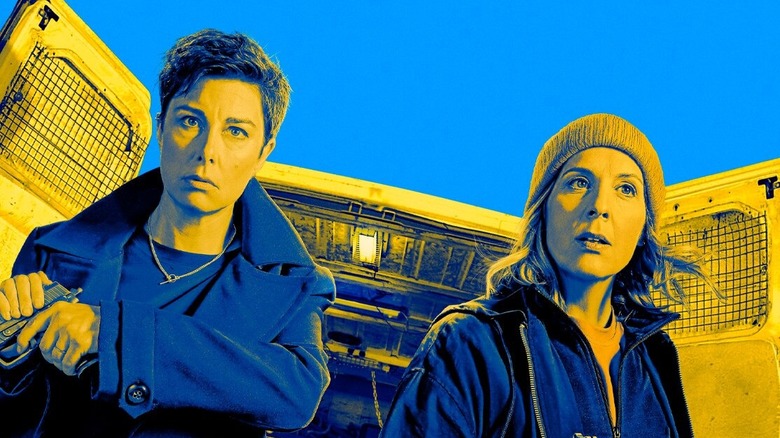 NBC
The core cast will return for "Hitmen" season 2, led by Sue Perkins as Fran and Mel Giedroyc as Jamie. The show also stars Jason Watkins ("The Crown"), Sian Clifford ("Fleabag"), and Asim Chaudhry ("Eaten by Lions").
Hitmen Season 2 Trailer and Synopsis
As we prepare for "Hitmen" season 2 to arrive in the U.S., a trailer for the sophomore outing, subtitled "Reloaded," has made its way online. It gives us a little taste of what's to come, with Jamie and Fran continuing to do what they do best.
We also have the synopsis for "Hitmen" season 2, which reads as follows:
In the show's second season, Jamie and Fran are back with a new van, new assignments, and a mysterious new client Mr V who seems to be providing them with an abundance of jobs. Meanwhile, after a school reunion, our heroes reconnect with an old classmate, Kat, and as the series progresses a new friendship between Kat and Jamie makes Fran increasingly jealous and suspicious. It's bad enough worrying that someone is stealing your friend without also having to kill people for a living.