The Morning Watch: Blue's Clues Gets A Nostalgic Eiffel 65 Remix, F9 Honest Trailer Revs Up & More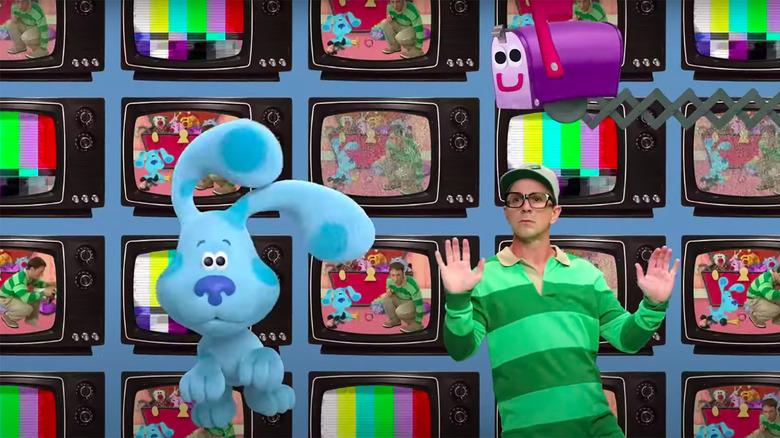 Nick Jr.
(The Morning Watch is a recurring feature that highlights a handful of noteworthy videos from around the web. They could be video essays, fan-made productions, featurettes, short films, hilarious sketches, or just anything that has to do with our favorite movies and TV shows.)
In this edition, the 25th anniversary of "Blue's Clues" has inspired an adorable remix of the nostalgic tune "Blue" from Eiffel 65. Plus, F9 takes some playful jabs to The Fast Saga from the most recent edition of Honest Trailers. And finally, take a private tour of Fantasyland from Disneyland Paris without spending and arm and a leg to check out the overseas theme park attraction.
Blue's Clues Remix
Yo, listen up! Here's the story, about a little puppy that lives in a blue world. And all day and all night, she often likes to leave lots of clues, all around, inside and outside. She's Blue! In honor of the "Blue's Clues" 25th anniversary celebration that began with the heartfelt return of original host Steve Burns, the show has been given a special remix of the Eiffel 65 song "Blue" from 1998. It's adorable and fun and features the likes of Donovan Patton, current host Josh Dela Cruz, Mailbox, Slippery Soap, Tickety Tock, Magenta, and more. Enjoy!
F9 Honest Trailer
Next, now that "F9" is available on home video, there's no better time to enjoy some playful jabs at the ninth installment of the "Fast and Furious" franchise, courtesy of Honest Trailers. This sequel has everything you'd want from "The Fast Saga," which includes but is not limited to: fake deaths, doomsday devices perfect for car chases, and yet another secret family member in the form of John Cena. Now that's what I call family!
Take a Private Tour of Fantasyland in Disneyland Paris
Finally, you may have already witnessed Fantasyland in the United States by way of Disneyland and Disney World, but now you can take an inside look at Fantasyland across the globe inside Disneyland Paris without spending the airfare or hotel costs to get there. Take a look at this elegant castle and learn all about the architecture, history, and local craftsmanship of the theme park situated in a land that inspired Walt Disney himself throughout his career.