14 Shows Like Rick And Morty That Are Worth Your Time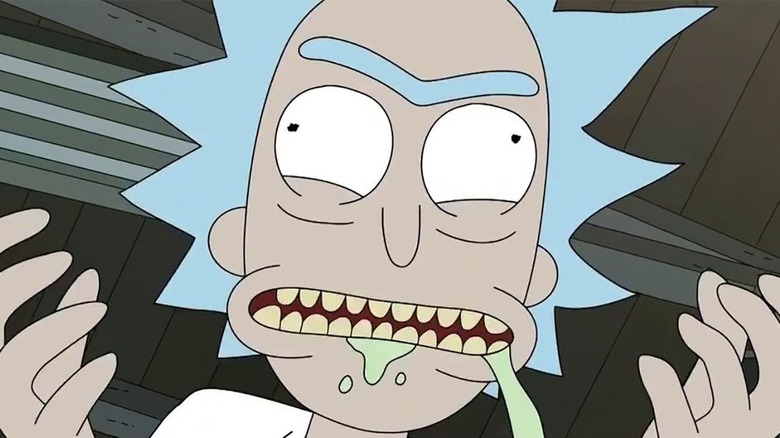 Warner Bros. Television Distribution
From its first episode, "Rick and Morty" dared to push the science fiction genre beyond the final frontier and the bounds of so-called good taste. In this untamed universe, anarchic anti-heroes explore a wackier side of science fiction and a darker side of comedy. Created by Justin Roiland and Dan Harmon, the Adult Swim gem dazzled fans and critics alike by unfurling a cavalcade of eye-popping escapades, rich in meta commentary and centered around its outrageous grandfather-and-grandson team. 
With a portal gun and a devil-may-care attitude, Morty Smith and Rick Sanchez are a force to be reckoned with. Whether they're combatting cryptids for the US President, battling post-apocalyptic cannibals, overthrowing the Galactic Federation, or kicking back to some Interdimensional Cable, it's always a good time.
But maybe you've burned through all the available episodes. Perhaps several times over? Don't even sweat it, dawg. If you're seeking something that satisfies on a "Ricky and Morty" level of outrageous, action, spoofery, silliness, or sci-fi thrills, we've got you covered with 14 cartoon series well worth the watching.
The Venture Bros.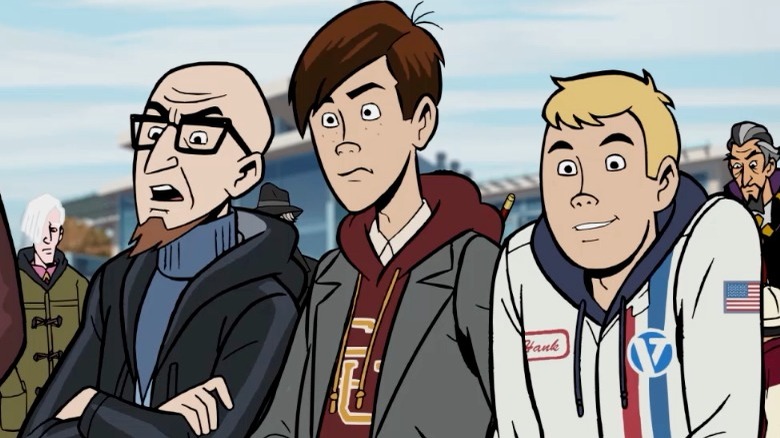 Adult Swim
"The Venture Bros." was born in 2004, when creators Doc Hammer and Jackson Publick re-imagined "Jonny Quest" through a hilariously cynical lens. It centers on former boy adventurer Rusty Venture (James Urbaniak) who can't escape the long shadow of his "super scientist" father. His bodyguard Brock Sampson (Patrick Warburton) is a mullet-headed brute with a dangerous attraction to femme fatales and a bloodlust that can only be sated by ripping henchmen in half. But the subversive show is named for Rusty's plucky sons, Hank (Christopher McCulloch) and Dean (Michael Sinterniklaas), who relish every questing opportunity.
Over the course of seven seasons, the supervillains the Venture brothers faced were vicious yet ludicrous, carrying monikers like Phantom Limb, Dr. Henry Killinger, and Molotov Cocktease. Even rock legend David Bowie came into the mix. With allusions both high-brow and low, this show always offered a smirking nerdiness, but never shied away from the bloody good time that can be had when unhinged violence, kinky sex, toilet humor, and unapologetically irreverent punchlines come together. Also, long before "Rick and Morty" was offering post-credit gags, "The Venture Bros." was laying down killer stingers.
Harley Quinn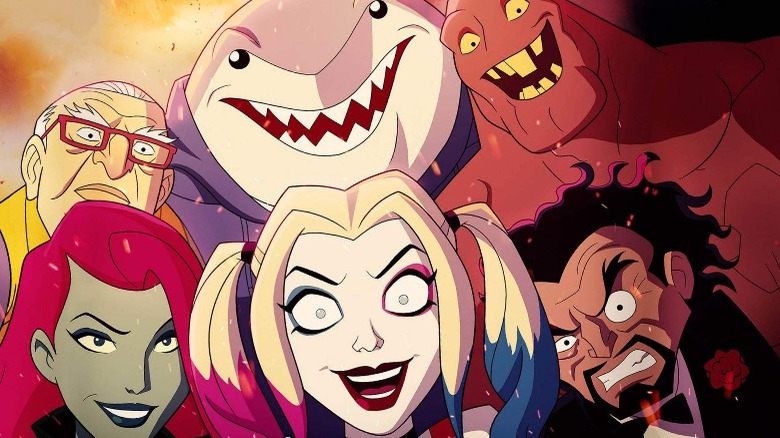 HBO Max
"Harley Quinn" shows that breaking up is hard to do as the titular diva severs ties (and limbs) to escape the velvet-gloved grasp of the Joker. That's not to say there's not loads of wicked fun along the way, though.
A misfit even in Batman's rogues' gallery, Harley (Kaley Cuoco) is forced to find allies in the rejects of supervillainy: Dr. Psycho (Tony Hale), Clayface (Alan Tudyk), King Shark (Ron Funches), and Bane (James Adomian). This motley crew is re-imagined to make each villain a punchline, less ferocious and more fiercely funny. Clayface is obsessed with shapeshifting into drama-prone women. King Shark is a mild-mannered hacker, and Bane's constant battle for respect is endlessly mocked by his scarier peers. 
But this story is rooted in the blossoming bond between Harley and Poison Ivy (Lake Bell). These Gotham City sirens are fearless in the streets but quiver at the possibility of becoming more than partners in crime. With thoughtful storytelling, gonzo violence, and an endless array of bonkers character moments, "Harley Quinn" is too mature for kiddos, but it never loses the wacky fun of Saturday morning cartoons.
Archer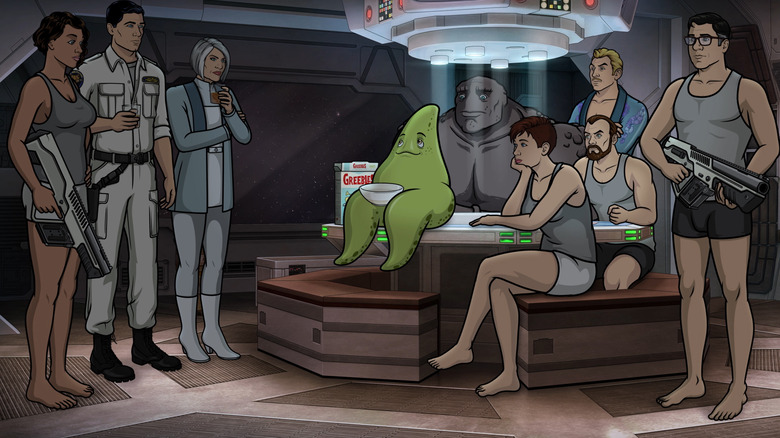 FX
Few shows match "Rick and Morty" for adults-only content and unabashed skewering of genre tropes. But "Archer" does. Created by Adam Reed, Sterling Archer began as a spoof of James Bond, reimagining the steely English agent as an American momma's boy as arrogant as he is impulsive. Voiced by H. Jon Benjamin, Archer has a deadly charisma, even when he's playing the fool. He is both the hero and worst nightmare of his cacophonic co-workers at a shoddy spy agency. However, after several seasons, Reed decided to keep things fresh by switching gears ... and genres.
What began as an espionage-stuffed office comedy expanded to tell detective tales with a distinctly neo-noir vibe. Archer and his crew got makeovers, glamorous and grotesque. They went wild in an island paradise on a quest for an ancient treasure. But "Rick and Morty" fans might be most interested in Season 10, in which Archer and his friends went on an extended space odyssey. Sure, they'd been to the space to battle cyborgs before, but on this mission, there are spaceship chases, brutal bounty hunters, rampaging robots, hi-tech weaponry, and a Doomsday device with a mind of its own. What's not to love?
Solar Opposites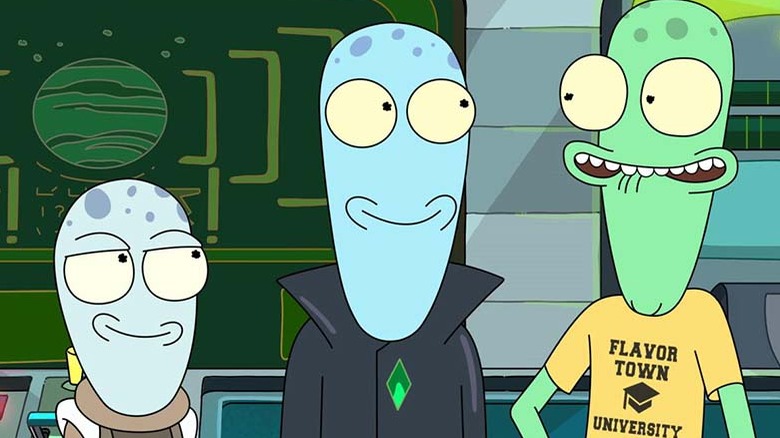 Hulu
Of all the cartoons on this list, "Solar Opposites" is the one that hews the closest to "Rick and Morty." That's because it's sort of a sister series, created by Justin Roiland and staff writer Mike McMahan. This time around, though, the dysfunctional family at the core aren't human. They are aliens, fleeing a dying planet with a plan to terraform Earth.  
However, the high-strung Korvo (voiced by Roiland) is the only one dedicated to the mission. Terry (Thomas Middleditch) and the kids (Sean Giambrone and Mary Mack) are giddily distracted by human culture, including television, teen angst, and tacky graphic tees. 
And yet, extraterrestrial ineptitude is just one source of comedy on this 2020 cartoon series. The show parodies a slew of sci-fi tropes, employing nanobots, alien abduction, mind-altering pheromones, and — of course –a holodeck. All this is cleverly mixed with sitcom clichés from the '80s and '90s, like trying to get in with the cool kids, keeping up with the Joneses, and dealing with a nagging robo-wife. Culture clashes abound between night clubs, man caves, and a sentient tree metropolis. Essentially, "Solar Opposites" feels like "Rick and Morty" meets the TGIF line-up.
Star Trek: Lower Decks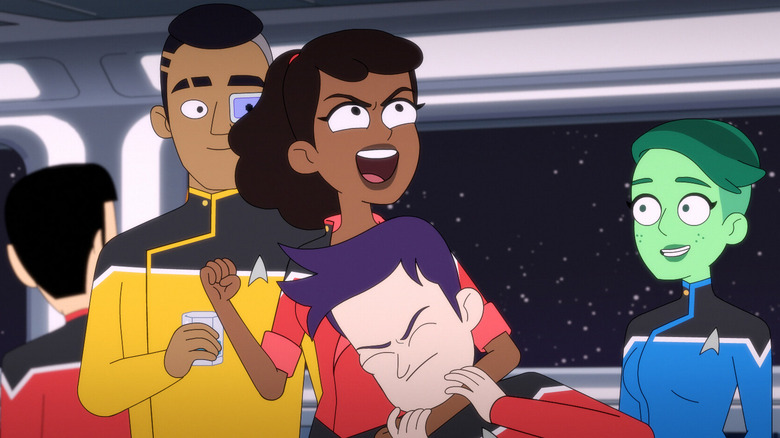 CBS All Access
You might have noticed this "Star Trek" spinoff looks like "Rick and Morty." Well, that's because "Lower Decks" was created by Mike McMahan ("Rick and Morty" and "Solar Opposites"). Inspired by the beloved Gene Roddenberry franchise about noble exploration in the final frontier, this kooky cartoon series gets silly in that spacey sandbox by following the goofballs dangling at the bottom of the Starfleet ladder.
There's try-hard Brad Boimler (Jack Quaid of "The Boys"), who dreams of the captain's chair and trusts in the rulebook to get him there. Beckett Mariner (Tawny Newsome) is a spirited Starfleet brat who plays by her own rules. Along with cyborg Sam Rutherford (Eugene Cordero) and alien ensign D'Vana Tendi (Noël Wells), this daffy crew mixes it up with familiar iconography from the Star Trek universe, including captain's logs, holodecks, Ferengi, blast shields, and much, much more. But you don't need to be a Trekkie to get in on this "funniest frontier." Brad and his buds give enough context to let everyone in on the joke.
Gravity Falls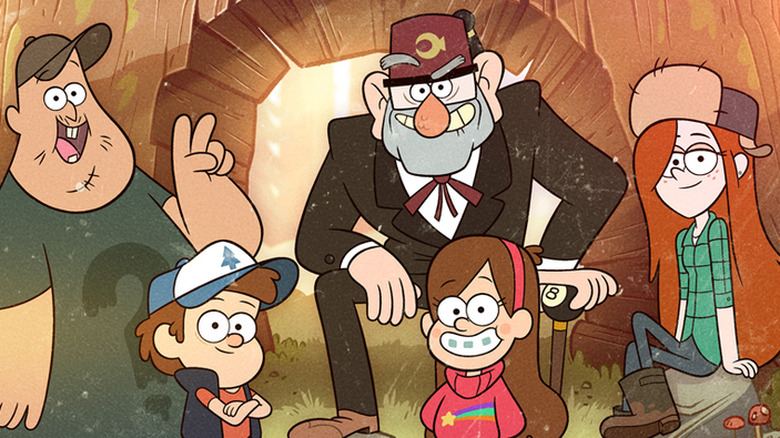 Disney
Did you know there are Easter eggs for "Rick and Morty" hidden in "Gravity Falls" and vice versa? That's because Justin Roiland is best buds with this Disney cartoon's creator, Alex Hirsch. So, there are references in both series that suggest that the shows exist in a shared universe. Beyond that, Hirsch taps into a treasure trove of lore and mythology to create an adventure series that is short, sweet, sensational, and rewards rewatching.
12-year-old twins Dipper and Mabel Pines spend the summer with their grifting great uncle, Gruncle Stan, in the titular Pacific Northwest town. Right away, they're getting into mischief with lovestruck gnomes who vomit rainbows. From there, "Gravity Falls" unleashes all kinds of quirky critters: machismo-obsessed minotaurs, a mustachioed merman, a vengeful poltergeist, and an uptight time-traveler voiced by Roiland. 
But those are just the monsters of the week. Over two seasons, Hirsch carved out a rich and riveting story about family, forgiveness, and an extra-dimensional evil determined to turn Gravity Falls upside down. Once you've watched the series through, you'll start to notice clues — and Easter eggs — that have been dropped along the way.
The Owl House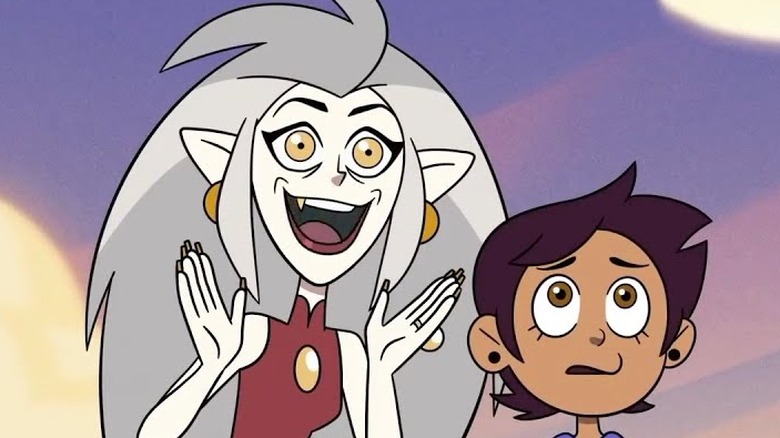 Disney
Want another show about a plucky brunette who dreams of adventure, and so chases after a gray-maned and maniacal mentor with a penchant for troublemaking? "The Owl House" plays like a mix of "Ricky and Morty" and "Harry Potter," focusing on a young girl who dreams of becoming a witch and picks a wild mentor. 
Created by Dana Terrace, this 2020 Disney series centers on Luz Noceda (Sarah-Nicole Robles) as she follows the unconventional instruction of a snaggle-toothed sorceress known as Eda the Owl Lady (Wendie Malick). In the Boiling Isles, Luz is underestimated by the locals, who are pointy-eared witches and mythical monsters. But before long she finds her tribe, which includes a couple of students from the local wizarding school as well as a puppy-sized demon called King. Together, they quest for fun, glory, and popularity, for better or hilarious. 
Like "Gravity Falls," "The Owl House" blends dark lore with a cuddly façade that makes a bit more palatable for kiddos (plus, it boasts voice performances from Alex Hirsch!). But don't be misled; there are still plenty of untamed laughs, fantastical thrills, creepy characters, and smartly executed stories to exhilarate grown-ups.
Adventure Time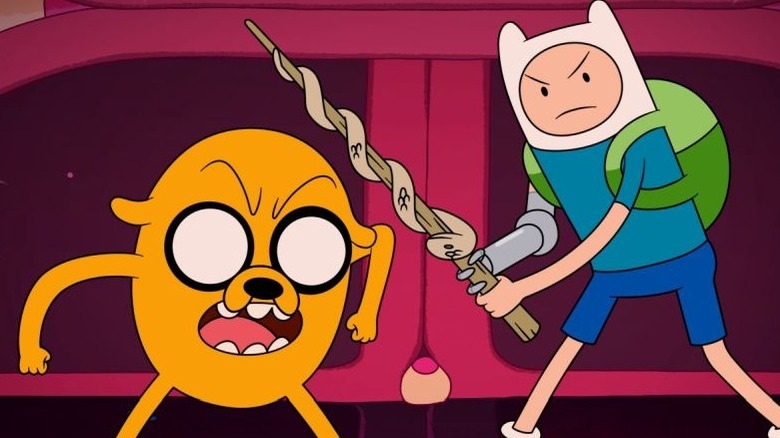 Cartoon Network
Before Roiland was rolling on his own cartoon series, he was lending his voice to "Adventure Time" as the screeching Earl of Lemongrab. Both shows focus on a pair of adventurers who grapple with fearsome foes, mind-bending revelations, broken hearts, and big questions about the meaning of life. "Adventure Time" just does it with a candy coating that helps that hard pill of self-reflection go down.
Created by Pendleton Ward in 2010, this Cartoon Network series follows noble Finn the Human and his shapeshifting brother Jake the Dog on quests across a post-apocalyptic version of Earth, where the lands are peopled by sentient slime, frolicking candy, living fire, manic sorcerers, and Marcelline the Vampire Queen. A hodgepodge of sci-fi, fantasy, and horror allows this show to go from the depths of the ocean to outer space, from deep, dark dungeons to portals to other timelines and past lives. Just as "Ricky and Morty" takes treks to peculiar planets, "Adventure Time" is always a trip, unfurling tales that range from heartfelt to horrific and knowing to nonsensical, but always with a blend of the surreal and bittersweet. 
The Midnight Gospel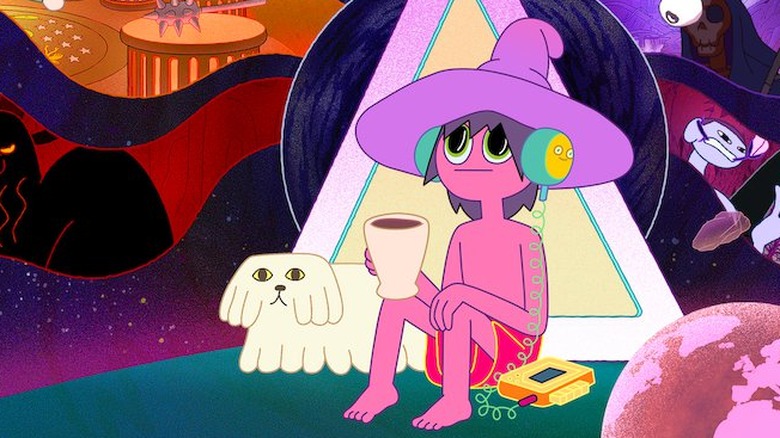 Netflix
Maybe you like the vibe of "Adventure Time," but you want to dig deeper into the philosophical similarities to "Rick and Morty?" Then lend an ear to Netflix's "The Midnight Gospel." For this show, "Adventure Time" creator Pendleton Ward teamed up with comic and podcaster Duncan Trussell to manifest a surreal exploration of wondrous realms with thought-provoking characters.
In each episode, Clancy Gilroy (voiced by Trussell) delves into a bio-organic machine to visit simulated worlds, interviewing their inhabitants for his titular podcast. But "The Midnight Gospel" also blurs the real and imagined behind the scenes. While his cartoon character cavorts with ruthless warriors, flees from zombie invasion, or meets Death, Trussell is talking with real-life friends and celebrities, listening to their thoughts on drug use, love, magic, and grief. There will be blood, carnage, and annihilation. Yet the intimate exchanges create an enveloping atmosphere that is thoroughly chill, like a late-night conversation that unfurls through a welcoming haze of smoke. Basically, if you feel your mind melting as you watch? That's just part of the journey, bud.
BoJack Horseman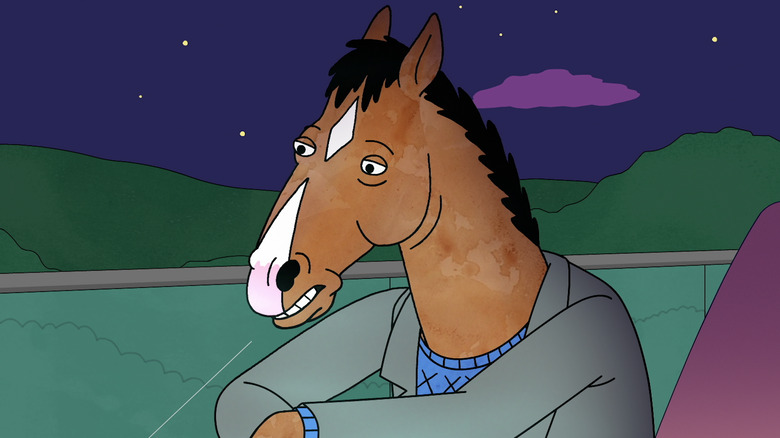 Netflix
Like "Rick and Morty," "BoJack Horseman" balances outrageous humor with its protagonist's profound sadness.  Over six seasons, creator Raphael Bob-Waksberg re-imagines Hollywood through a scathingly satirical lens, centering on the eponymous equus, who was the star of a popular sitcom in the '90s. Nowadays, BoJack is a bitter has-been who wallows in substance abuse and self-loathing. But, like Rick, he rallies to get into all kinds of hysterical misadventures: stealing the D from the Hollywood sign, buying a boat in the middle of a desert, and hooking up with the former child star who is now a troubled singer besieged by paparazzi.
Will Arnett brings a riveting world-weariness to BoJack, but edges his vocal performance with bursts of both irritation and hope, making for an intoxicatingly charming, yet complex, protagonist. Adding depth and color to the supporting cast are Amy Sedaris, Alison Brie, Aaron Paul, and Paul F. Tompkins. Together, they bring life to Bob-Waksberg's delightfully deranged vision, where wackiness walks hand-in-hand with existential dread. Full of cheeky allusions to movies and celebrity culture, "BoJack Horseman" is a mercilessly sharp comedy that can cut deep. Go easy when binging.
Futurama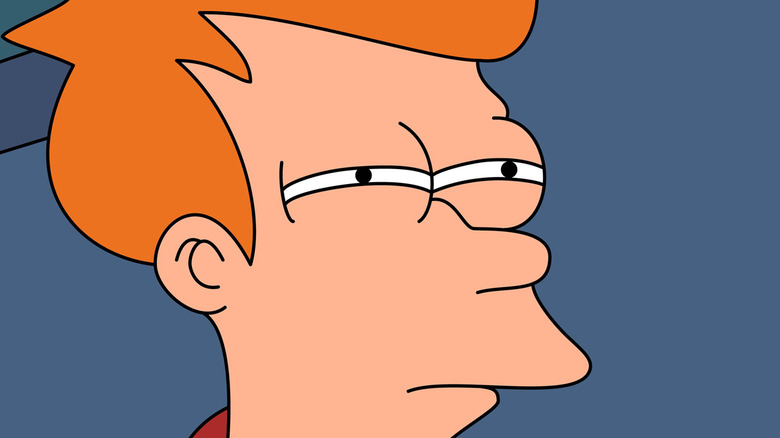 Fox
If you hit the long stretch between seasons of "Rick and Morty," binge-watch "Futurama" for a funny sci-fi fix. In 1999, "The Simpsons" creator Matt Groening took his signature overbite style into the far-flung future of the year 3000's New New York, where commuters travel by tube, aliens open pizzerias, and robots electrify the red-light districts. Into this bewildering world stumbles Philip J. Fry (Billy West), a dopey delivery boy from the 20th century destined for interstellar shenanigans.
Fry soon joins forces with a surly robot (John DiMaggio), a butt-kicking cyclops (Katey Sagal), a mad scientist (West again), a perky heiress (Lauren Tom) from Mars, and a doofy doctor who looks like a man-sized lobster (also West!). Together, they face off against everything from war-loving space invaders and stab-happy robots to amorous Amazons and the preserved — but nonetheless pernicious — head of Richard Nixon. 
Pulling from decades of pop culture, "Futurama" gleefully parodies "E.T.," "Star Trek," "Titanic," "Willy Wonka and the Chocolate Factory," and even "Iron Chef." Yet, amid all these allusions, the series made a unique mark on science-fiction, spinning tales extraordinary, hilarious, and heart-wrenching in equal measure. Just say "Jurassic Bark" to a "Futurama" fan, and you'll see what we mean.
Infinity Train
Cartoon Network
Created by Owen Dennis, "Infinity Train" centers on a mysterious train where the cars shift position, and within each lies a curious and distinctive new realm. Be it a puzzle, a playground, or a kingdom, each compartment is part of an elaborate game, the rules of which are not easily learned.
The first season follows 13-year-old Tulip Olsen (Ashley Johnson), whose troubles at home become less pressing when she tumbles onto the train. What is this place? Who runs it? And what does this neon green number on her palm mean? With the help of a two-minded robot, a crown-wearing Corgi, and some shadier characters, Tulip must not only unlock the secrets of the train but also her aching heart. 
Yet, even as Tulip's story concludes, "Infinity Train" chugs on. This anthology series features a new protagonist each season. Through these stories, Dennis not only indulges in entertaining elements, like sentient androids, alternate worlds, and impossible beasts, but also explores poignant themes about identity, grief, and love. Jump aboard and enjoy the ride.
Star vs. the Forces of Evil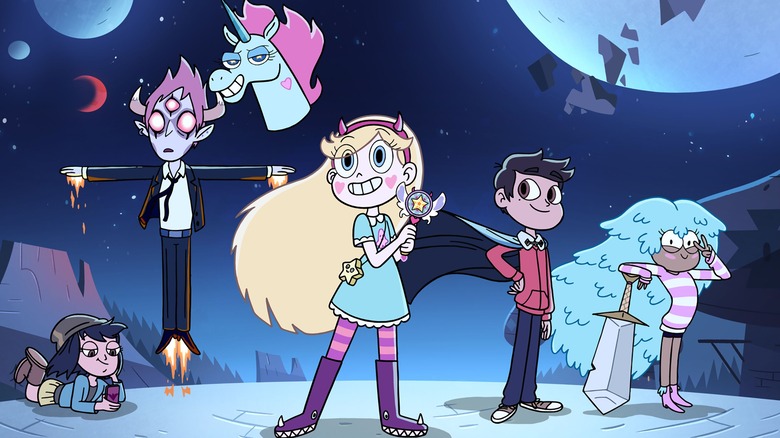 Disney XD
Created by Daron Nefcy, "Star vs. the Forces of Evil" presents a Disney princess unlike any you've ever seen before. Star Butterfly (Eden Sher) is a magical princess who wields great power with a heavy dose of weirdness. Her magic wand is hotly sought by power-hungry monsters, but she beats them back with blasts of rainbows, narwhals, and puppies who fire lasers out their eyes. Of course, she's still learning her spells, so sometimes mishaps — and black holes — occur.
As an exchange student on Earth, Star befriends classmate and karate-enthusiast Marco Diaz (Adam McArthur), who swiftly becomes Star's best friend. Together they set forth on rollicking adventures across dimensions. That means the foes they face range from marauding monsters and sinister sorcerers to tyrannical food trucks, demonic ex-boyfriends, and rampaging hormones. Amid these goofy galivants, Nefcy builds an ambitious overall arc that explores first love, family secrets, and reckoning with an uncomfortable history. All this makes for a show that starts as a romp and ends up deeply rewarding.
Invader Zim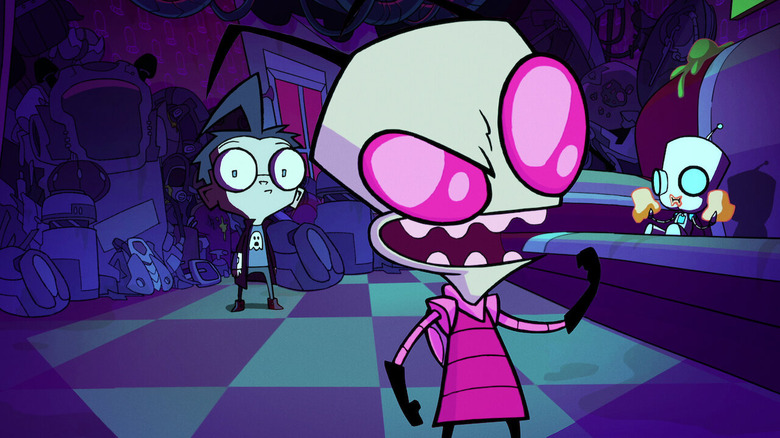 Netflix
Want a sci-fi show with frantic energy, dark humor, and no respect for authority? Then check out "Invader Zim," the cartoon show so out there that it's still unbelievable it came from Nickelodeon. Before he created this 2001 series, Jhonen Vasquez was a comic book artist best known for "Johnny the Homicidal Maniac," which is just what it sounds like: a comic about a grisly serial killer. Naturally, Vasquez made a cartoon show for kids about an alien invasion that begins at a grade school.
Over two seasons, the eponymous alien sets up a subterranean headquarters in a quiet Earth town, where, despite his green skin and bizarre behavior, only one human suspects his interstellar origins. An apoplectic outcast, Dib (Andy Berman) faces off against Zim (Richard Steven Horvitz) in scads of action-packed and profoundly strange scenarios. For instance, in "Dark Harvest," Dib must stop Zim from stealing the organs of their classmates to better his human disguise ("More organs means more human"). Thankfully, when it comes to conquering Earth, Zim is hilariously incompetent.