How Star Wars: Visions Fulfills The Promise Of A Decade-Old Art Project Curated By George Lucas Himself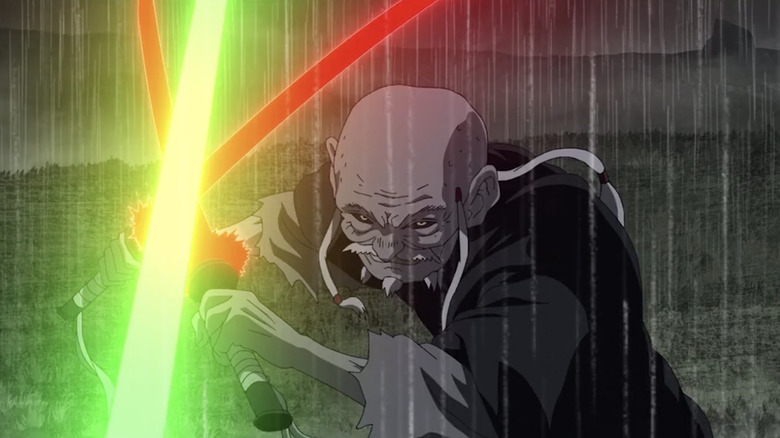 Lucasfilm
Unbeknownst to some viewers, "Star Wars: Visions," the new anime anthology streaming on Disney+, shares its title with both a museum exhibition, which toured Japan from 2015 to 2017, and a coffee table book, published back in 2010. The book is out of print now but you can still find copies from Amazon sellers. It featured illustrations by over a hundred artists, including legendary cartoonists, painters, designers, concept artists, and comic book artists like Moebius, Boris Vallejo, H.R. Giger, Syd Mead, and Alex Ross.
Creator George Lucas, in his own words, asked these artists "for pieces that were inspired by 'Star Wars' but interpreted in their own unique way." The artwork was, in turn, displayed at the "Visions" exhibition along with other art, costumes, and props from the "Star Wars" films (similar to the "Identities" exhibition, which passed through Japan's capital two years ago.)
I was at the "Visions" exhibition in Tokyo on "Star Wars" Day 2015, before "The Force Awakens" or any of the Disney films hit. It later toured other cities around the country like Yokohama, Shizuoka, Okayama, and Nagoya. In the entrance room, there was a message from Lucas to visitors where he talked about being "a devoted admirer of Japanese culture," and of course, touched on Akira Kurosawa's undying influence on "Star Wars."
Museum Message from George Lucas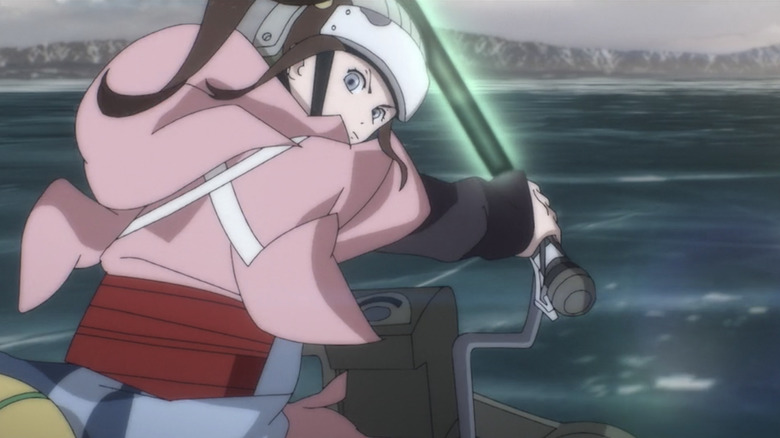 Lucasfilm
Here is what Lucas wrote to visitors:
"Japan is a country I feel a deep affinity and love for. As a result of my exposure to Japanese cinema during my film school days, I became a devoted admirer of Japanese culture and learned all I could about Japanese works of art, clothing from the feudal era, and more. Akira Kurosawa, a master in the world of film, was an artist I deeply respected, and the pursuit of 'humanity' through his works had considerable influence on 'Star Wars.'

This exhibit 'Star Wars:' VISIONS was planned for the people of Japan, who have a high aesthetic sense and a deep understanding of artistic works. As noted in the title, the theme of this exhibit is vision. The classical storytelling of the 'Star Wars' saga is a universal vision that still applies to people in the modern era. The 'Star Wars' vision was one that only could have been realized through the skills and talents of the many artists who have worked on it. The art project VISIONS resulted in a book and a collection of 'Star Wars' inspired paintings. For this project, I asked artists from around the world for pieces that were inspired by 'Star Wars' but interpreted in their own unique way. They used various styles from classical to avant-garde, to convey the massive scale and essential qualities of 'Star Wars,' greatly exceeding my highest expectations.

It is my hope that this exhibit — an integration of art, costumes and props from the 'Star Wars' films with the collection of the paintings from the book 'Star Wars' VISIONS will provide a fresh look at the 'Star Wars' universe and inspire young people to study the arts."
"A Fresh Look at the Star Wars Universe"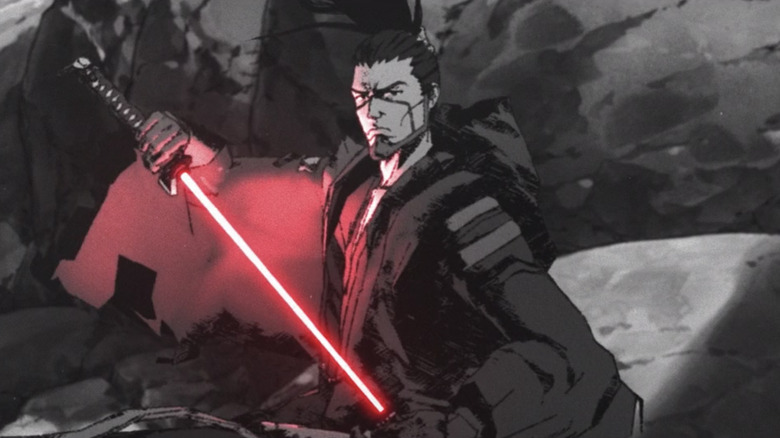 Lucasfilm
True to "Star Wars" and its Japanese roots, you could see an East-meets-West sensibility in some of the artwork on display at the "Visions" exhibition. One image that always stuck with me was Will Wilson's "Dawn of Maul," which reimagined Darth Maul as a Buddha-like figure.
While the exhibition may have been "planned for the people of Japan," "Visions" on Disney+ offers a reverse feed from Japan to the people of the world. It serves as the logical continuation of the ideal Lucas laid out for unique new visual interpretations of "Star Wars." Each of the seven different Japanese animation studios behind it bring their own aesthetic to the table. The episodes also carry forward some familiar Japanese preoccupations.
The first episode, "The Duel," is pure-grain "Yojimbo" and "Seven Samurai" stuff, while the last, "Akakiri," pays homage to "The Hidden Fortress." Meanwhile, "The Twins" breaks out the kamikaze Holdo maneuver, something Ebizo's 2019 "Star Wars" kabuki play emphasized as well.
"The Village" explores the Force as something that different cultures can experience in different ways, with it taking on a new name and an animistic quality here as "Magina." "T0-B1" draws from Osamu Tezuka's "Astro-Boy" and even the Capcom character, Mega Man. Other standout episodes like "The Ninth Jedi" and "The Elder" continue the senpai-kohai dynamic and the use of lightsabers as a substitute for samurai swords.
By giving animators freedom to play and filter the mythos through a Japanese lens, "Star Wars: Visions" has delivered something that does indeed make the franchise feel fresh again. Like so much of "Star Wars," it can all be traced back to this germ of an idea that Lucas once had: in this case, for a "Star Wars" art project.