The Best Movies And Shows Coming To Paramount+ In October 2021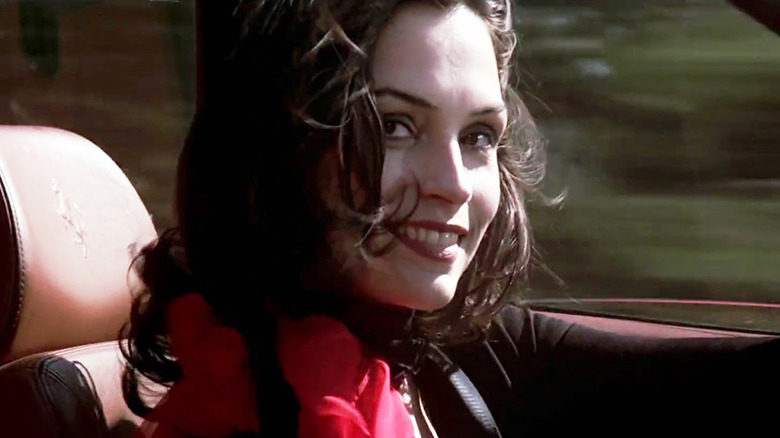 Paramount Pictures
There are so many streaming services these days that it's hard to keep up on who has what, but that's why we're here! Paramount+ has all of the Paramount-related goodies, including Nickelodeon, "Star Trek," and Comedy Central shows. Whether you're looking to see what's headed your way or to decide whether you want to get a subscription, here's everything coming to Paramount+ in October. 
Harlem Nights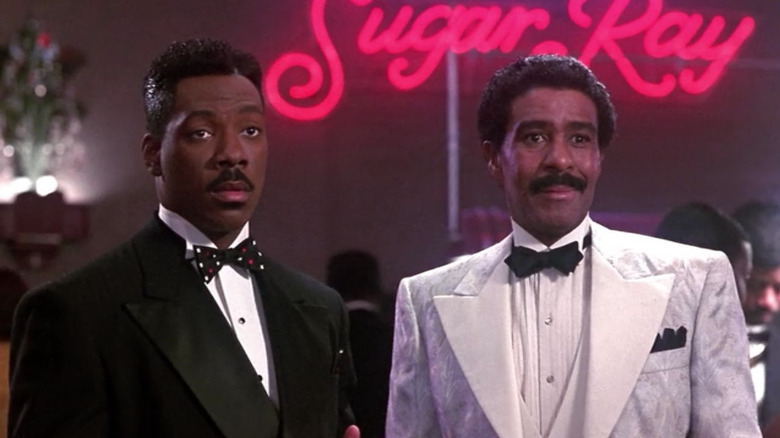 Paramount Pictures
Comedian Eddie Murphy has been prolific in front of the camera, but he had only one serious turn behind it. That film was 1989's "Harlem Nights," a comedy about an illegal gambling establishment in Harlem in the 1930s, run by Sugar Ray (Richard Pryor) and his protégé, Quick (Murphy). They must contend with crooked cops, other criminals, and institutionalized racism, all in the name of making a buck and staying alive. Murphy also wrote the screenplay for "Harlem Nights," though there's plenty of improv from stars Pryor, Murphy, Redd Foxx, Arsenio Hall, Della Reese, and Danny Aiello. 
"Harlem Nights" is full of pretty crass humor, so it may not be for everyone. For those who can handle a bit of ribaldry, it's a terribly funny movie with something to say about the struggles of succeeding as a Black person in America. 
Star Trek VI: The Undiscovered Country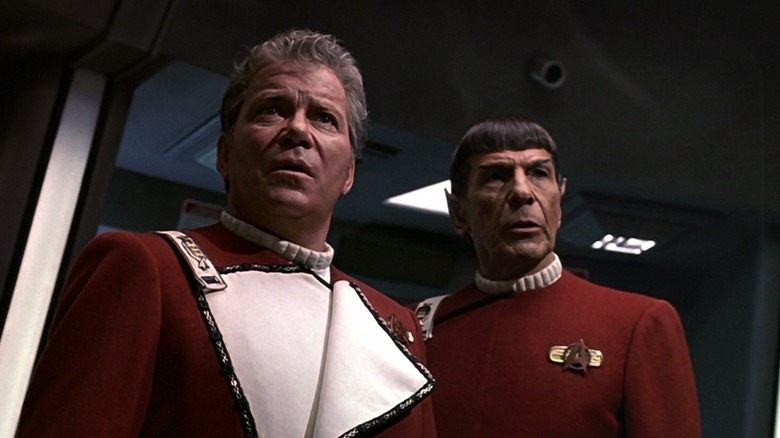 Paramount Pictures
"Star Trek VI: The Undiscovered Country" is the final "Star Trek" movie based entirely around the crew of the original Enterprise, and it's arguably the best "Star Trek" movie ever made. The crew of the Enterprise, including Kirk (William Shatner), Spock (Leonard Nimoy), Uhura (Nichelle Nichols), Scotty (James Doohan), Dr. "Bones" McCoy (DeForest Kelly), and Chekov (Walter Koenig) are all getting a little old for space travel. (Sulu, played by George Takei, has been given his own starship by this point, though he does help out his old Enterprise crew.) They're considered dinosaurs in Starfleet, but they still have one last important mission in them. 
When the Klingon moon Praxis is destroyed and the Klingon home world is sent into disarray, the Klingon Empire reaches out to attempt to broker peace with the Federation. Kirk and McCoy are framed for the murder of the Klingon Chancellor Gorkon, and they must clear their names and expose the real killers in order to stop even more violence. 
"The Undiscovered Country" is a Cold War allegory, digging into just how difficult it can be to trust the people you formerly were at war with. The film also has some great meta-analysis about the real goals of "Star Trek" as a franchise, and it picks a bit of fun at itself along the way. (There's a brilliant bit where Kirk hooks up with a beautiful alien and McCoy quips "What is it with you, anyway?") 
Christopher Plummer stars as the main antagonist, a Shakespeare-quoting Klingon named General Chang. "Star Trek VI" is the perfect end to the story of the first Enterprise, and it sets up the franchise to continue in new ways. Kirk mentions that the Enterprise will be helmed by a new crew (the "Star Trek: The Next Generation" folks!) and he also changes the phrasing of the series' tagline, changing it from "where no man has gone before" to "where no one has gone before." Whether you're a die-hard "Trek" fan or have never seen a single episode, "Star Trek VI: The Undiscovered Country" is a perfect introduction. 
Raiders of the Lost Ark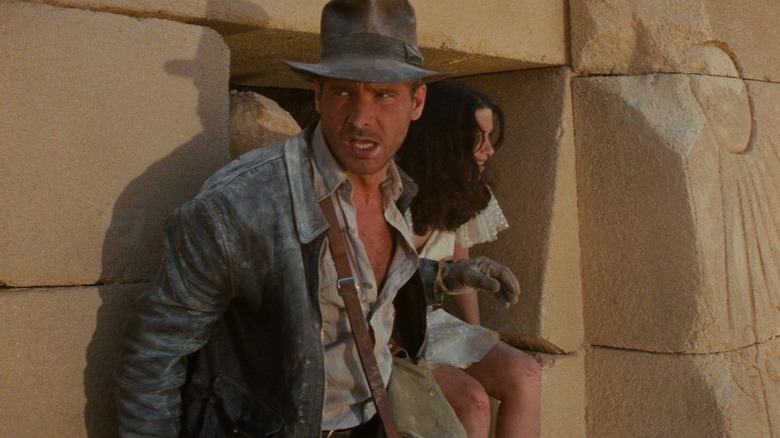 Paramount Pictures
All four "Indiana Jones" movies are coming to Paramount+ in October, but the one I'm most excited for is the movie that kicked off the franchise, "Raiders of the Lost Ark." Directed by Steven Spielberg from a script by Lawrence Kasdan, based on a story by George Lucas and Philip Kaufman, the movie is an action-adventure classic with thrills, laughs, and melting Nazi faces. Who doesn't love it when Nazis get their faces melted off like plastic left in the sun?
"Raiders" is set in 1936 and introduces us to an archeology professor named Indiana Jones (Harrison Ford). He hears from a museum curator about a biblical artifact called the Ark of the Covenant, which can hold the key to all human knowledge. (Traditionally, the Ark was believed to be the container that held the original copies of the Ten Commandments that Moses brought down from Mount Horeb.) Jones travels the world to find clues about the artifact, eventually ending up in Morocco and fighting a band of Nazis and his old enemy Rene Belloq (Paul Freeman) in order to reach the Ark. 
The movie is full of great quips ("Snakes? Why does it always have to be snakes?") and a lot of fun action. Ford is at peak movie-star hotness, co-star Karen Allen is gorgeous as his feisty old flame Marion, and the John Williams score is phenomenal. 
Beavis and Butt-Head Do America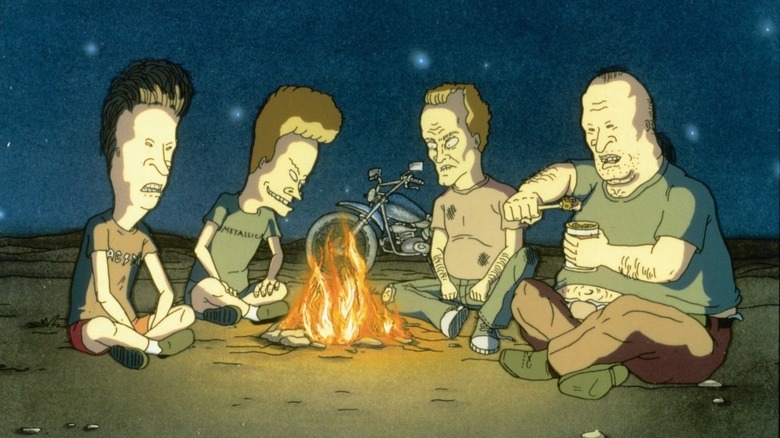 Paramount Pictures
Once upon a time, in the heydey of MTV, there were two idiots with goofy chuckles and two brain cells to share between them. Their names? Beavis and Butt-Head. Mike Judge's animated creations would comment on MTV programming, including music videos and MTV series alongside making trouble around their town of Highland. Their unwitty witticisms eventually got them their own feature film in 1996. 
Teenage troublemakers Beavis and Butt-Head find themselves at the center of a national conspiracy when they meet a beautiful criminal named Dallas (voiced by Demi Moore). She promises the boys sexual favors if they take a bus trip to Washington D.C. for her, and they're completely on board. What they don't know is that she's sewn a stolen doomsday device in the back of Beavis' shorts, and scores of law enforcement are about to be after them. 
"Beavis and Butthead Do America" is a glimpse at how Judge viewed the nation in the mid-90s, with commentary on capitalism, politicians, and law enforcement. It also introduces us to Beavis and Butt-Head's potential fathers, whom they meet out in the desert one night. It's a silly, sometimes stupid movie, but it's also a fun blast from the past. 
GoldenEye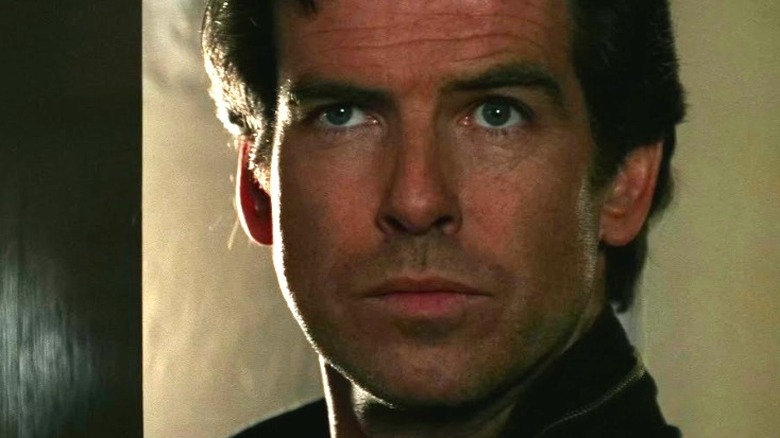 Paramount Pictures
Quite a few of the James Bond titles are coming to Paramount+ in October, including "From Russia With Love" and "License to Kill." Kids of the '90s and Nintendo nerds will be most excited for "GoldenEye," the 1995 Pierce Brosnan-starring Bond flick that also became a popular N64 video game. "GoldenEye" was Brosnan's first turn as 007, and it has an absolutely killer cast. Famke Janssen plays the villainess Xenia Onatopp, Alan Cumming as hacker Boris Grishenko, Sean Bean as the former 006, and of course, Judi Dench as M. 
"GoldenEye" is a very silly Bond movie that maintains the often-campy tone of its predecessors. While the rest of Brosnan's Bond entries aren't nearly as fun, "GoldenEye" is a secret agent shoot-em-up blast. 
Movies and TV Shows Coming to Paramount+ in October 2021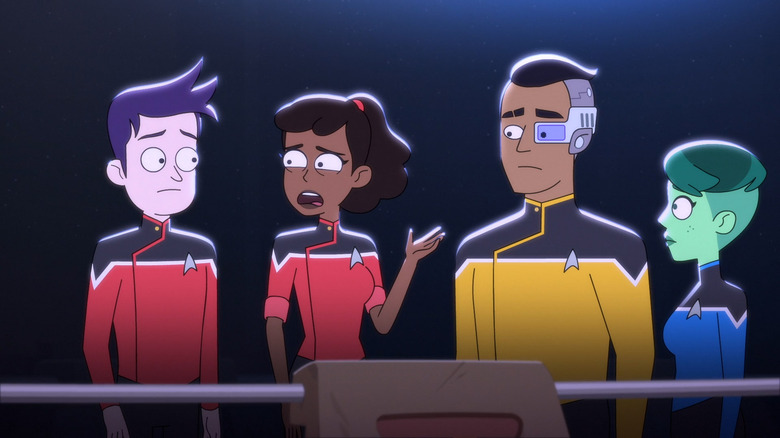 Paramount
PARAMOUNT+ ORIGINALS
10/7: New episodes of Rugrats Season 1
10/8: Madame X premieres
10/10: SEAL Team Season 5 premieres
10/10: Evil Season 2 finale
10/14: Guilty Party premieres
10/14: Star Trek: Lower Decks Season 2 finale
10/28: Star Trek: Prodigy premieres
10/29: Paranormal Activity: Next of Kin premieres
10/29: Unknown Dimension: The Story of Paranormal Activity premieres
LIBRARY SHOWS
October 6
Are You the One? (Season 7-8)
Basketball Wives (Season 8)
Ex on the Beach (Season 3)
Max and Ruby (Season 7)
Team Umizoomi (Season 3-4)
Tyler Perry's Young Dylan
October 13
AwesomenessTV (Season 1-2)
This Is Stand-Up
October 20
See Dad Run (Season 1-3)
Tosh.0 (Season 1-10)
Webheads (Season 1)
October 27
100 Things to Do Before High School (Season 1)
America's Hidden Stories (Season 2)
Dallas Cowboys Cheerleaders: Making The Team (Season 14)
Jagger Eaton's Mega Life (Season 1)
Keep It Spotless (Season 1)
The Last Cowboy (Season 1)
Teen Mom 2 (Season 9)
LIBRARY MOVIES
October 1
54
A Walk on the Moon
Air Force One
Ali
All I Want For Christmas
Beavis And Butt-Head Do America
Biker Boyz
Boxcar Bertha
Boys And Girls
Class
Clifford
Code 46
Crimson Tide
Crocodile Dundee II
Dead of Winter
Dr. No
Flatliners
From Russia with Love
Get Over It
Gladiator
Goldeneye
Goldfinger
Grease
Harlem Nights
Head of State
House of Games
I Love You, Man
Indiana Jones and the Kingdom of the Crystal Skull
Indiana Jones and the Last Crusade
Indiana Jones and the Raiders of the Lost Ark
Indiana Jones and the Temple of Doom
Jackie Brown
Kate & Leopold
Lara Croft Tomb Raider: The Cradle Of Life
License to Kill
Life Is Beautiful (La Vita E Bella)
Mad Max
Mean Creek
Minority Report
Racing with the Moon
Remo Williams: The Adventure Begins
Road Trip
Rugrats Go Wild
Rushmore
Saving Private Ryan
Serendipity
Shooter
Sleeping with the Enemy
Snatch
Species
Species II
Species III
Species: The Awakening
Spy Kids
Star Trek II: The Wrath Of Khan
Star Trek III: The Search For Spock
Star Trek IV: The Voyage Home
Star Trek V: The Final Frontier
Star Trek VI: The Undiscovered Country
Star Trek: The Motion Picture
Sweet Land
Teen Wolf
The Crow
The Crow: City of Angels
The Crying Game
The Devil Inside
The Extreme Adventures of Super Dave
The Ghost and the Darkness
The Mask of Zorro
The Monster Squad
The Offence
The Perfect Holiday
The Queens of Comedy
The Saint
The Spy Who Loved Me
The Taking of Pelham 123
The Untouchables
Theater of Blood
Titanic
Total Recall
Vampire in Brooklyn
Vigilante Force
What About Bob?
Zodiac
Zoolander
October 4
Finding your Feet
October 11
G.I. Joe: Retaliation
October 19
Mommie Dearest
October 25
Come Away
The Marksman
Rango
SPORTS, NEWS & EVENTS
10/2: Lucas Oil Late Model Dirt Series
10/2: SEC on CBS
10/3: NFL ON CBS Week 4 Doubleheader (check local listings)
10/7 & 10/12: Asian Football Confederation Men's World Cup Qualifiers
10/7, 10/10, 10/13: Concacaf Men's World Cup Qualifiers
10/10: U.S. Men's National Soccer Team vs. Panama
10/9: Lucas Oil Drag Boat Racing Series
10/9: Beyond Limits
10/9: SEC on CBS – Georgia at Auburn
10/9: SEC on CBS Doubleheader (3:30 PM, ET and 8:00 PM, ET)
10/10: NFL ON CBS Week 5 (check local listings)
10/10: Professional Bull Riding competition
10/16: SEC on CBS Doubleheader (Noon, ET and 3:30 PM, ET)
10/16-10/20: Asian Football Confederation Champions League Quarterfinals and Semifinals
10/17: NFL ON CBS – Miami vs. Jacksonville from London (9:30 AM, ET)
10/17: NFL ON CBS Week 6 Doubleheader (check local listings)
10/19 & 10/20: UEFA Champions League Group Stage competition
10/19-10/21: UEFA Europa League Group Stage competition
10/19 & 10/20: UEFA Youth League
10/21: UEFA Europa Conference League Group Stage competition
10/21-10/26: UEFA Women's World Cup Qualifiers
10/23: WE NEED TO TALK
10/23: SEC on CBS
10/24: NFL ON CBS Week 7 Doubleheader (check local listings)
10/30: Lucas Oil Pro Pulling League
10/30: Beyond Limits
10/30: SEC on CBS – Georgia vs. Florida
10/31: NFL ON CBS Week 8 (check local listings)
10/31: NWSL Final Day of Regular Season
Throughout October: NWSL Regular Season competition
Throughout October: Italy's Serie A competition
Throughout October: Scotland Professional Football League competition
Throughout October: Brazil's Campeonato Brasileirão Série A competition
Throughout October: Argentina's Liga Profesional de Fútbol competition
Every Friday in October: Combate Global MMA Action