Mondo's Godzilla 89 Statue Is A Monstrous Work Of Art [Exclusive]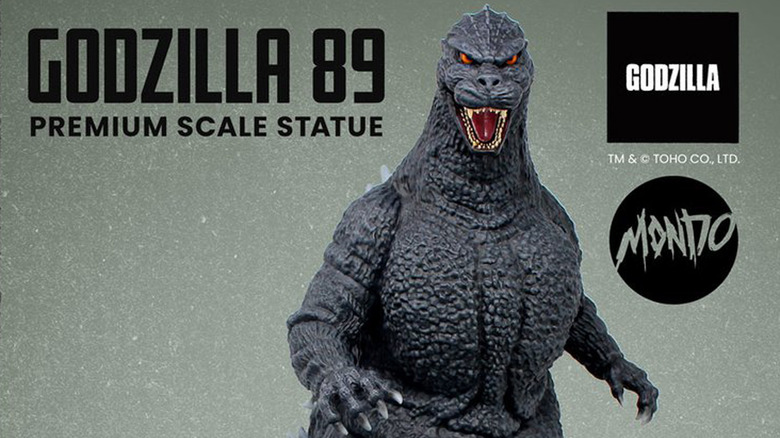 Mondo
Our friends at Mondo have sent us their latest offering, the premium scale "Godzilla 89" statue, which is their biggest collectible to date at a towering 18-inches tall and 15-inches wide. We took the opportunity to unbox this glorious piece, which pays tribute to the Heisei-era classic "Godzilla vs. Biollante" from 1989. 
Directed by Kazuki Ōmori, who also helmed the 1991 follow-up "Godzilla vs. King Ghidorah," the film concerned the King of the Monsters duking it out with a monster derived from plant cells. 
Art Box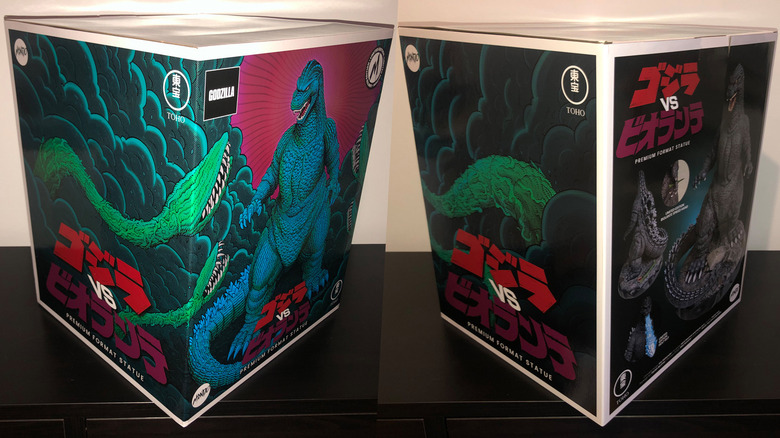 Max Evry
At first, I thought this box art was done by comics great and noted Godzilla aficionado Art Adams, but then discovered it was actually commissioned by Mondo from artist Florian Bertmer, with color by Mike Bonanno. The image wraps gracefully around three of the four sides of the box, much like a triptych, and gives you a good look at Biollante's Audrey II-esque tentacles.
Packaging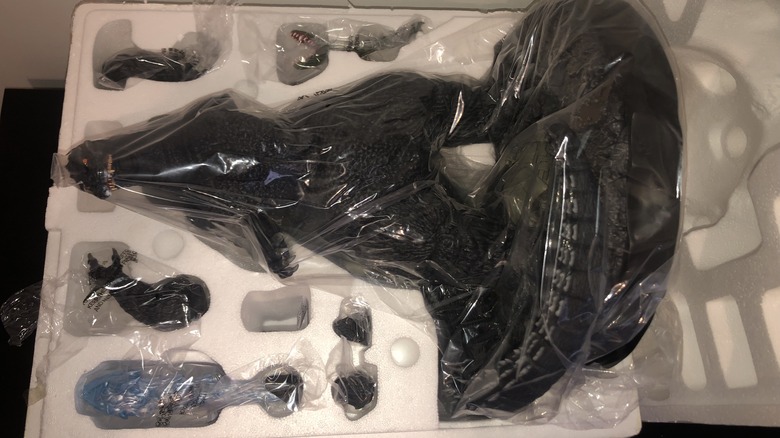 Max Evry
The packaging is excellent, as the version sent to me came in a brown shipper inside another larger brown shipper with extra padding to keep the statue safe. Everything was packed in neatly, and because this is a vinyl statue there's less likelihood of breakage, although the base is pure polystone. 
Standard Assembly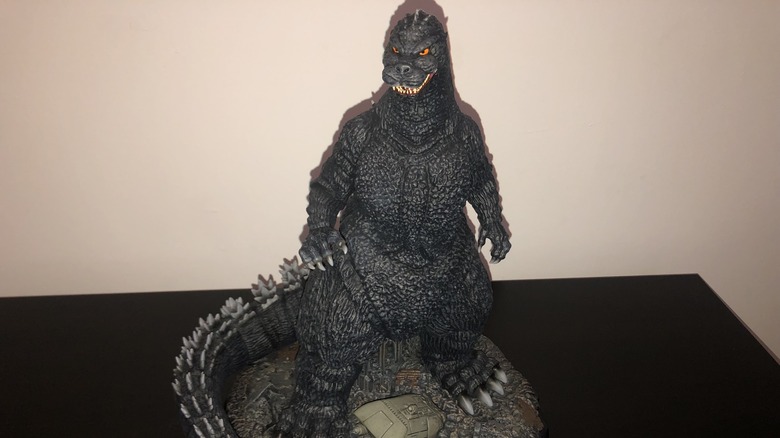 Max Evry
There's not much to put together for the initial assembly. Godzilla's jaw and left arm have switch-outs, and there's a separate Biollante tentacle in the back. Everything else is ready to go and not nearly as heavy as a typical Premium Format statue from a company like Sideshow or Prime 1. 
Switch-Out Mouths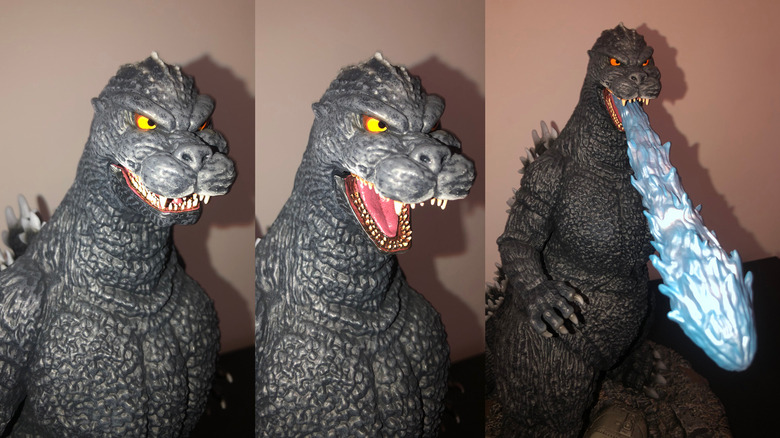 Max Evry
Here's a closer look at the three different faces of Gojira you can choose from: Mouth closed, mouth open in a roar, and one with some crazy blue fire-breath action. It should be noted that the fire-breath add-on only comes with the Limited Edition Exclusive version of which only 300 were made and are now sold out through Mondo.
Switch-Out Arm & Other Details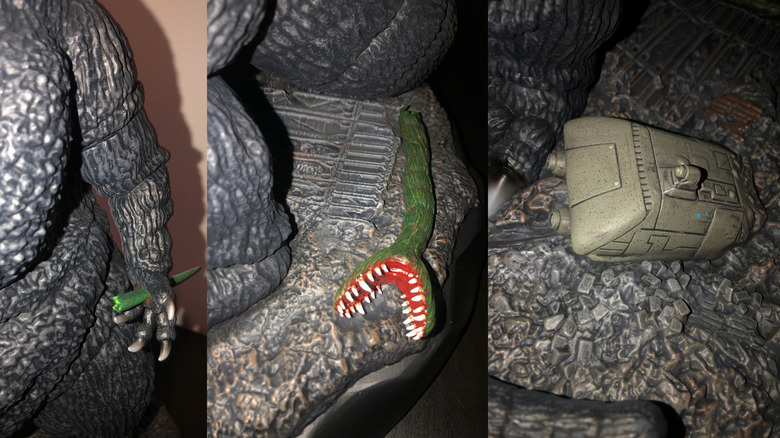 Max Evry
Here's a look at the switch-out "Biollante attack" arm which has a green thorn through it along with a small amount of Godzilla blood on the wound. Also here's a closer look at the Biollante tentacle (which comes with its own peg) and the crashed Super X2 ship.
Final Assembly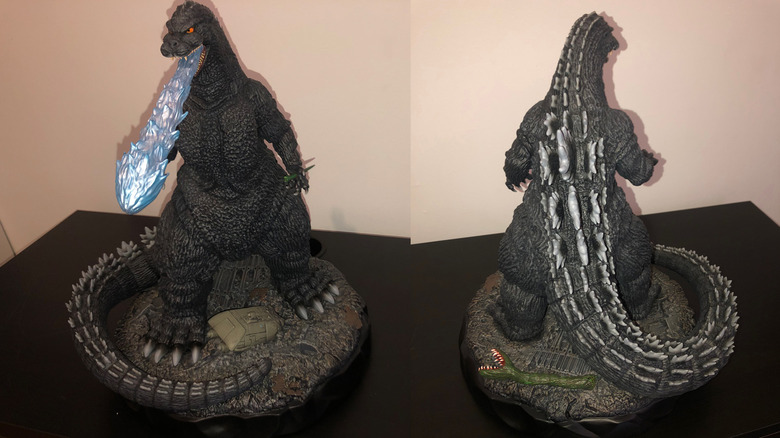 Max Evry
Here's the final assembly with the Heat Ray mouth and Biollante Attack arm, along with a good reverse view where you can see all the spikes along Godzilla's back. All-in-all, this is an amazing effort from Mondo and I hope they continue to make more large format pieces. While the exclusive version is sold out you can still pre-order the standard edition for $350 through Sideshow Collectibles. 
Now would also be a good time to pre-order Mondo's upcoming pieces in their Godzilla line, including the stunning Mothra: Tokyo SOS Premium Scale Statue as well as their Godzilla – The Animated Series (1970s) statue.