Assassin Club Will Unite Henry Golding, Noomi Rapace, And Sam Neill For A New Action Movie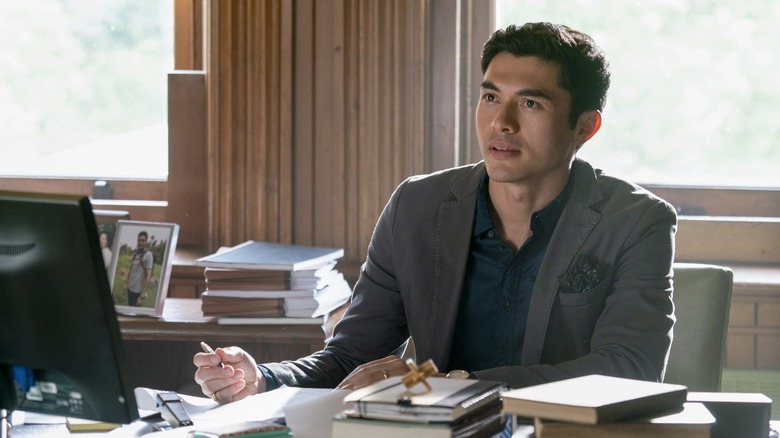 Lionsgate
Henry Golding, Noomi Rapace, Sam Neill, and Daniela Melchior have all joined the same prestigious club—for assassins. Golding, fresh off his ninja training in this year's G.I. Joe prequel, "Snake Eyes," will star in "Assassin Club," which has already finished production in Italy.
This is the first we've heard of "Assassin Club," which is helmed by Camille Delamarre, who served as an editor on films like "Transporter 3," "Colombiana," "Locke," and "Taken 2" before he crossed over into directing with films like "Brick Mansions" and "Transporter: Refueled." Producer Jordan Dykstra describes the movie as "a fast-paced mix of pulse-pounding action and espionage — all set within the beautiful backdrop of Italy."
Here's the synopsis for "Assassin Club" via Deadline, which first broke the news of its production wrap:
Assassin Club takes place in the world of international spies and elite assassins. In this world of contract killers, Morgan Gaines (Henry Golding) is the best of the best. When Morgan is hired to kill six people around the world, he soon discovers all the targets are also assassins unknowingly hired to kill each other. Rapace plays Falk, the only assassin with skills to match his own. Under the guidance of his mentor Jonathan Caldwell (Neill), Morgan must defeat Falk and the other assassins to keep himself and his girlfriend Sophie (Melchior) alive.
Rapace has "Lamb" coming up on October 8, 2021, and Neill is set to reprise his role as Dr. Alan Grant next year in "Jurassic World: Dominion." Melchior has a background in Portuguese films but she made her English debut this year as Ratcatcher 2 in James Gunn's "The Suicide Squad."
Star-Studded Movies You've Never Heard About
"Assassin Club" is produced by FBI. Film Bridge International, that is, not the Federal Bureau of Investigation. Deadline notes that FBI has a shark-attack thriller, "The Requin," starring Alicia Silverstone on its docket for 2022. It also lists a couple of other thrillers as previous credits: "Spinning Man," starring Pierce Brosnan, Guy Pearce, and Minnie Driver, and "Misconduct," starring Anthony Hopkins, Al Pacino, and Josh Duhamel.
I'll be honest: I had never heard of "Spinning Man" or "Misconduct," and it amazes me that there's a movie out there with Hopkins and Pacino that isn't more well-known. Maybe it's because "Misconduct" has a 7% Tomatometer rating that it just sort of came and went. Still, it feels like a pairing of two old-school heavyweights would have been a much bigger deal twenty years ago or so when the market wasn't so flooded with streaming entertainment, and the line between theatrical releases and direct-to-video movies wasn't so blurred. 
It's always surprising to scroll through your streaming options and see a film with a star-studded cast that you've never even heard about. With "Assassin Club," at least, we've got an early advantage in tracking it, so if you're a fan of any of these actors — Golding, Rapace, Neill, or Melchior — keep it on your radar, and let's hope for the best in terms of how the movie actually turns out.