11 Movies Like Pulp Fiction That Are Definitely Worth Watching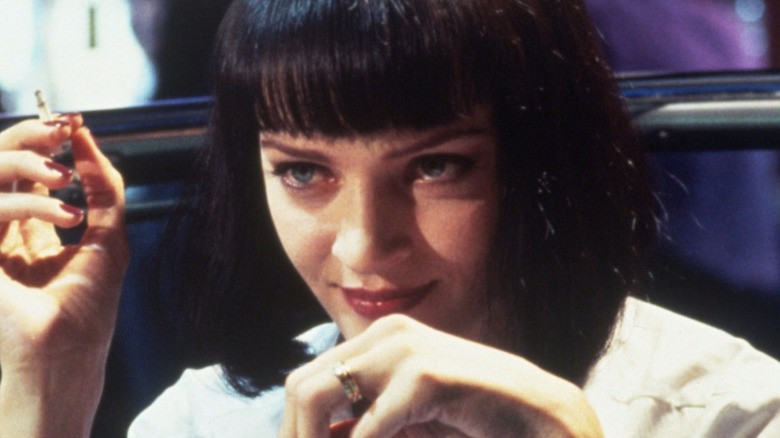 Miramax Films
"Pulp Fiction" was one of the most influential films of the '90s. While Quentin Tarantino had announced himself two years prior with "Reservoir Dogs," his 1994 follow up generated buzz that was unprecedented for independent films. It was a critical moment for film distribution, in which indie films proved they could become mainstream smash hits, and broader audiences showed they were open to non-Hollywood stories.
"Pulp Fiction" can't be pinned to just one genre. Tarantino incorporated elements of black comedy, neo-noir, suspense, and romance into his star-studded crime epic. While some classics are so frequently referred to that they're hard to appreciate from a removed perspective, there's still joy in exposing new viewers to the shocks and surprises of "Pulp Fiction." In part, that's because Tarantino's nonlinear story structure makes "Pulp Fiction" distinct from other crime films. With events occurring out of sequence and key moments not explained until late in the story, "Pulp Fiction" is constantly engaging throughout its 154-minute runtime.
"Pulp Fiction" is a great starting point if you want to explore the history of cinema. Fans can watch the older films that Tarantino drew inspiration from, as well as movies that adopted similar elements after his success. If you loved "Pulp Fiction," these films are definitely worth adding to your watchlist.
The Killing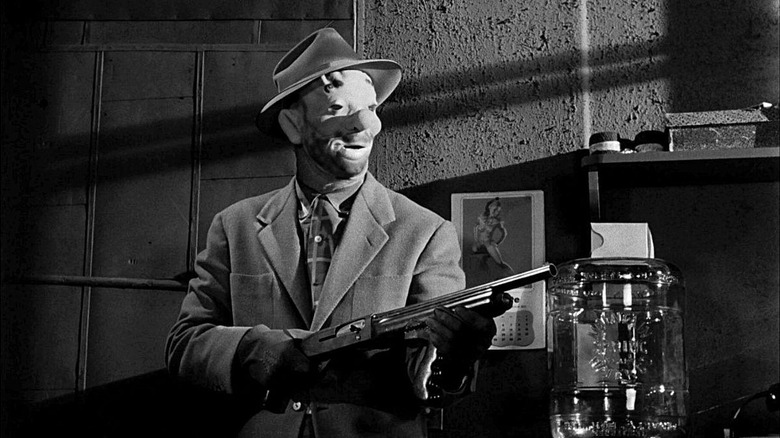 United Artists
Like Tarantino, Stanley Kubrick generated fervor and controversy throughout his career. Kubrick was unafraid to take bold risks that made viewers uncomfortable, and frequently experimented with unusual story structures. Unlike Tarantino, Kubrick struggled to find his cinematic voice during his early career, and his first two films "Fear and Desire" and "Killer's Kiss" were not major successes. However, his 1956 thriller "The Killing" was a breakthrough that influenced a generation of young filmmakers.
Among them was Tarantino. He cited "The Killing" as a major inspiration on his debut film, "Reservoir Dogs," which established the non-sequential framing he would also use in "Pulp Fiction." Both "The Killing" and "Reservoir Dogs" follow a gang of criminals who form an uneasy alliance in order to pull off a dangerous con. In both stories, the job goes south, and the team members begin double-crossing each other.
Veteran robber Johnny Clay (Sterling Hayden) recruits the corrupt cop Randy Kennan (Ted de Corsia), bartender Mike O'Reilly (Joe Sawyer) and teller George Peatty (Elisha Cook Jr.) to help him rob a money-counting room during a horse race. Clay intends for it to be his last job so he can afford to marry Fay (Coleen Gray). However, when George leaks information to his wife Sherry (Marie Windsor), she tries to steal the money for herself. Kubrick develops each character by letting them take over the narrative; instead of explaining their motivations through expositional dialogue, individual flashbacks showed their activities immediately before the big heist.
From Dusk till Dawn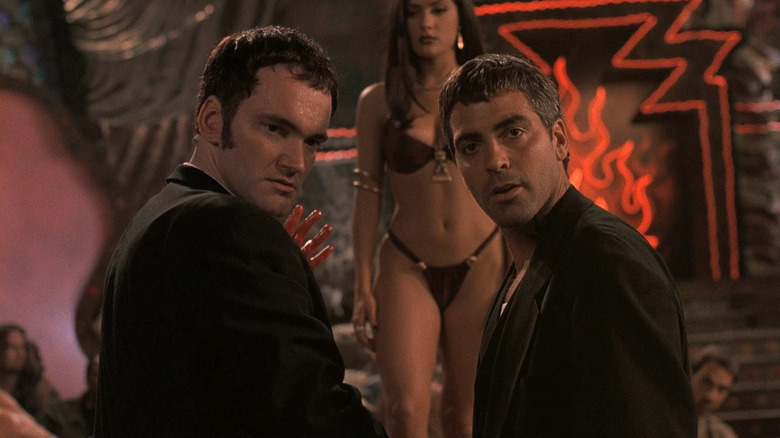 Miramax Films
Tarantino has a longstanding friendship with filmmaker Robert Rodriguez. Both writer-directors share an affinity for western and pulp films, and together they co-directed the 2007 double-feature presentation "Grindhouse." Like Tarantino, Rodriguez often combines dark humor, historical cinematic references, and idiosyncratic dialogue to create memorable genre mashups. For Rodriquez' 1996 film "From Dusk till Dawn," Tarantino didn't just provide the script, but also joined the cast as a co-star. While he frequently appears as characters in his own films, including Jimmy in "Pulp Fiction," it's rare for Tarantino to act in another director's work.
Tarantino and George Clooney star as bank-robbing brothers Richie and Seth Gecko, who are forced to go on the run after killing a Texas Ranger during a convenience store heist. As they make their way to Mexico to avoid authorities, the Geckos kidnap the priest Jacob Fuller (Harvey Keitel) and his teenage children Katherine (Juliette Lewis) and Scott (Ernest Liu) to smuggle them over the border. When they stop at a strip club in order to lay low, the violent Richie starts a fight with the bar's employees. The brothers realize they're in over their heads; the club is actually run by vicious vampires preparing for a harvest.
The characters in "From Dusk till Dawn" are vile, the violence is excessive, and the story combines horror, suspense, black comedy, and western influences. Tarantino gives a surprisingly strong performance; Richie is a sociopath, and his constant killing sprees are infuriating for the level-headed Seth.
Get Shorty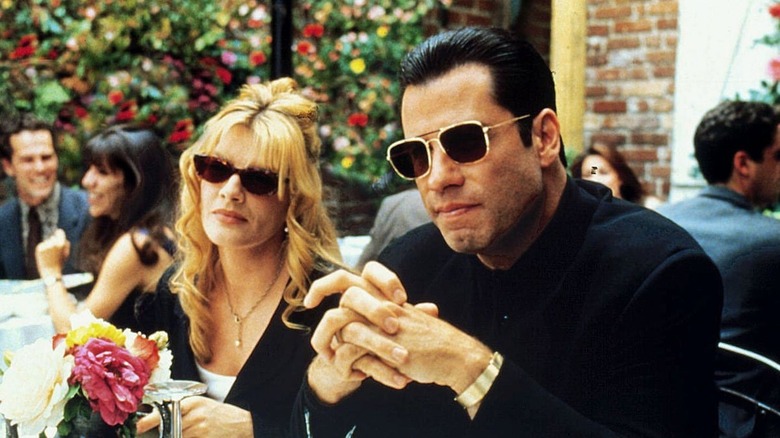 MGM
"Pulp Fiction" revitalized John Travolta's career. While Travolta gave early breakthrough performances in edgy projects like 1977's disco drama "Saturday Night Fever" and 1981's neo-noir thriller "Blow Out," his career declined in the late '80s thanks to a series of critical duds and box office failures. He frequently appeared in turgid romantic dramas and generic studio comedies, and Tarantino took a risk casting Travolta against type. "Pulp Fiction" showed that Travolta was willing to take risks on experimental projects again, and Vincent Vega became one of his definitive characters.
A year later, a re-energized Travolta starred in another crime comedy classic. "Get Shorty" casts Travolta as Miami loan shark Chili Palmer, who, like Vega, runs a slick operation after years of experience. A botched job in his youth forced Palmer to join the Mafia, and he's tasked with collecting overdue debts from clients, which leads him to struggling film producer Harry Zimm (Gene Hackman). Like Vega, Palmer finds love during his mission: He begins questioning scream queen actress Karen Flores (Rene Russo), and romance blooms as the two team up to con Flores' ex-husband Martin Weir (Danny DeVito).
Palmer explains his situation to Zimm under the guise of a movie pitch, and he's surprised to find that the producer loves the idea. "Get Shorty" satirizes the similarities between film production and Mafia dealings. The references to pop culture history and the humanization of ruthless characters make it a worthy companion piece to "Pulp Fiction."
Arkansas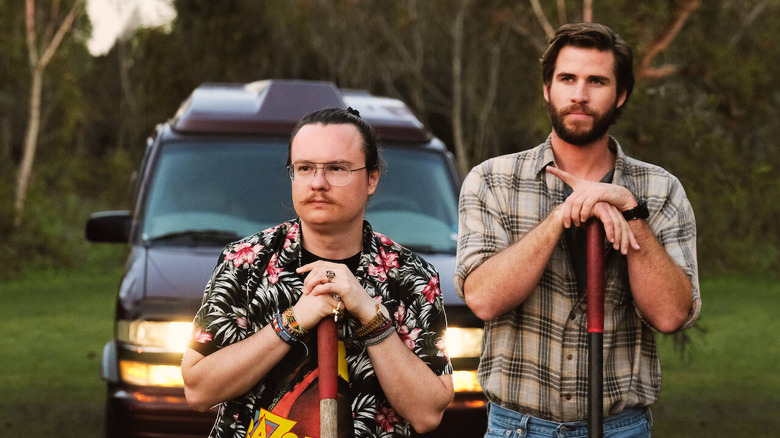 Lionsgate
Tarantino referenced pulp crime stories when crafting the narrative of "Pulp Fiction," reimagining the hard-boiled tales he adored growing up through a darkly comedic lens. "Pulp Fiction" fans may appreciate seeing a similarly twisted take on an established works of crime literature. Actor Clark Duke, best known for comedic roles in films like "Hot Tub Time Machine" and "Sex Drive," may seem like an unlikely descendant of Tarantino. However, Duke turned in a fascinatingly depraved directorial debut with "Arkansas," an adaptation of the seminal cult novel by John Brandon.
Like Tarantino, Duke uses a chaptered framing device in order to spotlight each of his characters. The film follows drug dealer Kyle Ribb (Liam Hemsworth), who works a mysterious job in Arkansas for a crime syndicate led by Frog (Vince Vaughn), a kingpin. Similar to Tarantino, Duke casts himself in a key comedic role as Ribb's new partner Swin Horn, a low-level member of Frog's operation who overestimates his own charisma. On their trip to Arkansas, a negotiation goes bad and Ribb and Horn accidentally kill a member of Frog's team. Frog begins adding trained killers to his network, heightening the suspense.
One of the joys of "Pulp Fiction" is seeing actors play against type. Vaughn is best known for studio comedies, but he's convincing as a ruthless career criminal. Hemsworth may often be compared to his older brother, but "Arkansas" is a distinctly darker and completely unique role.
The White Tiger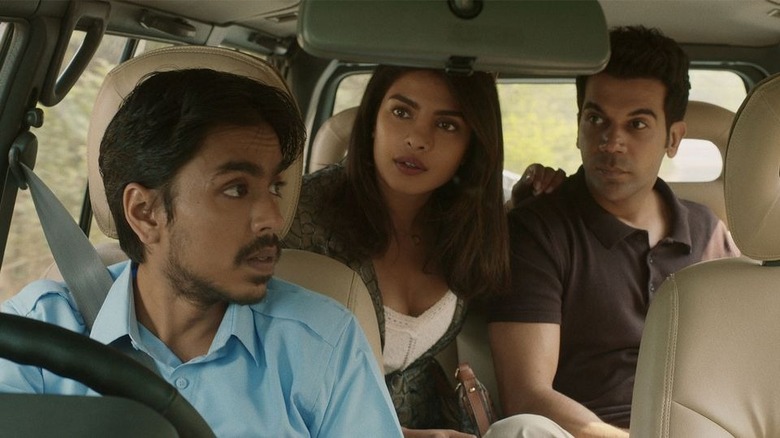 Netflix
"Pulp Fiction" fleshed out the world of drug dealers, hitmen, and the Mafia by telling the story from multiple perspectives. Filmmaker Ramin Bahrani uses a slightly different tactic to explore the criminal underworld with his thriller "The White Tiger," adapted from the novel of the same name by Aravind Adiga. Although the approaches aren't the same, Bahrani employs many of Tarantino's hallmarks, including voiceovers, stylized violence, oddly specific media references, and a lot of perverse humor, to craft a unique deconstruction of corrupt Indian families.
"The White Tiger" follows impoverished teenager Balram Halwai (Adarsh Gourav) as he grows up in the small town Laxmangarh. Although he's barely nourished and working grunt labor, Balram is ambitious and earns an academic scholarship to Dehli. After witnessing his father's death when he's unable to pay for medical visits, Balram promises himself that he'll never be poor again.
Balram's attempts to amass wealth lead him down a dark path. As a chauffeur for the vicious landlord Ashok Shah (Rajkummar Rao), Balram is tasked with covering up a hit-and-run the Shah family is involved with. Although he's sympathetic to the poor villagers the Shahs prey upon, Balram ruthlessly accepts nefarious tasks in order to move up in the family. "Pulp Fiction" and "The White Tiger" are both quite violent, but show the consequences that the perpetrators face — Balram ultimately must reckon with his choices when he comes face-to-face with his victims.
Lock, Stock, and Two Smoking Barrels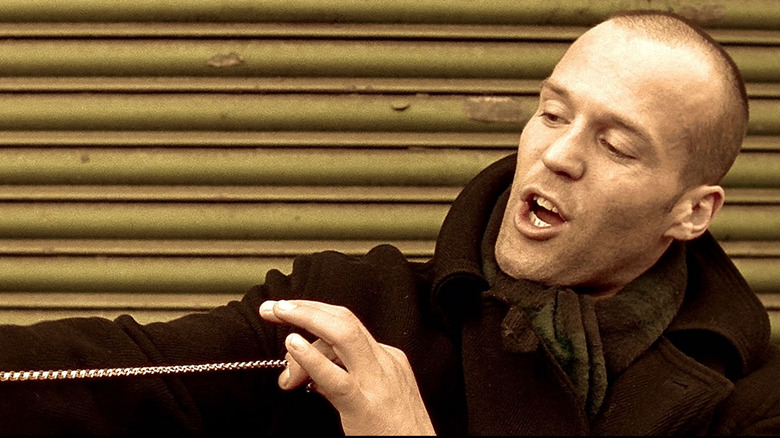 Gramercy Pictures
"Pulp Fiction" was popular enough to inspire many copycats, most of which were unsuccessful, as their writers and directors failed to develop their own voices. However, filmmaker Guy Ritchie is the rare Tarantino offspring who developed a flair of his own. Ritchie brought the fast-paced dialogue, colorful characters, shocking barbarity, and energetic editing of "Pulp Fiction" to the London underground in his breakthrough directorial debut, "Lock, Stock, and Two Smoking Barrels."
Ritchie started by crafting memorable characters worthy of Tarantino's rogue's gallery. Lifelong friends Eddie (Nick Moran), Tom (Jason Flemyng), Soap (Dexter Fletcher), and Bacon (Jason Statham) are not masterminds, but minor robberies and illicit gambling frequently put them into conflict with the local police. Eddie is a genius-level card counter whose deceptive tactics earn the group notoriety. They begin selling supplies to more dangerous clients, including a smuggling operation run by local cannabis lord Dog (Frank Harper). Then, the incompetent Nick accidentally kills one of Dog's men, tying the novices to the volatile underworld of the British drug trade.
The film was a big deal for Statham in particular, whose cocky attitude led to an extensive career as an action star. Ritchie made unusual casting choices that paid off, including boxer Vinnie Jones as the imposing debt collector Big Chris. Ritchie's success wasn't a one off, either. He returned to London crime thrillers with "Snatch," "RocknRolla," "Revolver," "The Gentlemen," and "Wrath of Man."
Miami Blues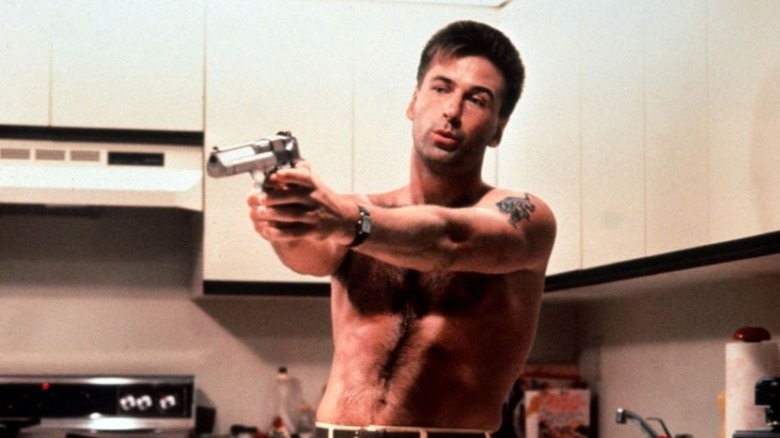 Orion Pictures
"Pulp Fiction" was powerful because it forced viewers to question their affinity for the characters. Characters like Butch, Jules, and Vincent commit horrible acts, yet it's hard not to be sympathetic towards them given their endearing personalities and the sheer charisma of the performers who play them. The 1990 black crime comedy "Miami Blues" asks audiences similarly tough questions as they follow a deranged character who is caught in a brutal world of corruption and deceit.
Frederick J. Frenger Jr. (Alec Baldwin) is a sociopath who is released from a California prison. Adopting the nickname "Junior," he sets out to start a new life for himself in Miami. However, Junior can't help his wicked appetites, and upon landing kills a man before he even leaves the airport. He then immediately hires prostitute Susie Waggoner (Jennifer Jason Leigh) to sleep with him.
An investigation into the respected elder Hare Krishna that Junior murdered places him under an investigation by Miami detective Sergeant Hoke Moseley (Fred Ward). Junior prepares to trick Moseley by inviting him over for a nice meal, and pretends Susie is his long-time spouse. However, the cunning cop still considers him a suspect, so Junior follows Moseley home and assaults him, stealing his gun and badge. Junior is now free to use Moseley's identity for whatever cruel purposes he sees fit. "Miami Blues" contains one of Baldwin's best performances. He shows no remorse for his actions, and the semblance of sentiment between him and Leigh is hilarious.
To Die For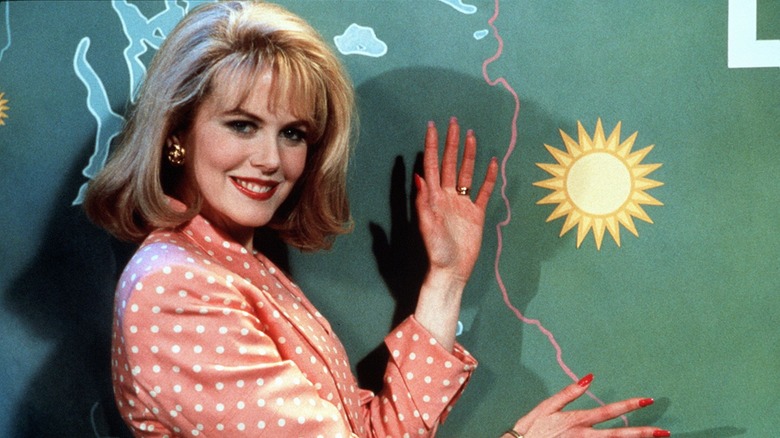 Sony Pictures
One of the reasons why "Pulp Fiction" felt so bold and modern was because it was full of savvy references to films, television shows, music, and novels. Instead of feeling like it took place in an isolated reality, "Pulp Fiction" connected with viewers through specific callbacks to the media they were already aware of. One year after the release of "Pulp Fiction," Gus Van Sant's dark crime comedy "To Die For" used similar techniques to relate to viewers while satirizing television personalities. 
Narcissist Suzanne Stone (Nicole Kidman) believes she's destined to be beloved by an audience. She is obsessed with becoming a world-famous journalist on network television, despite having little interest in actually covering the news with integrity. Still, she rises through the ranks of her local cable station. Stone decides she can reach even greater heights if she changes her entire personality, aiming to be the most appealing person she can to potential viewers at home. Realizing that she needs a husband to relate to family audiences, Stone marries local restaurant owner Larry Maretto (Matt Dillon). He's infatuated with her, but she sees him only as a means to an end. She plots to take money from Maretto's family business and then get rid of him.
Stone sees the truth as a barrier, and falsifies her educational special "Teens Speak Out" by manipulating local teenagers with her sexuality. The delinquent high schoolers Jimmy Emmett (Joaquin Phoenix) and Russell Hines (Casey Affleck) fall for her, and she convinces them to kill Maretto.
Something Wild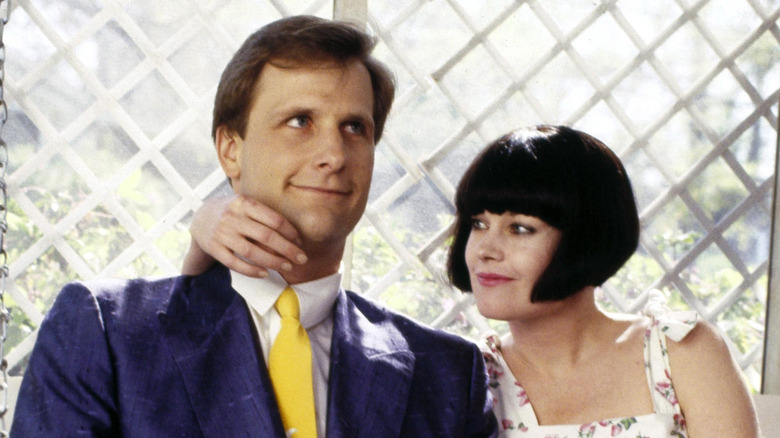 Orion Pictures
Acclaimed director Jonathan Demme isn't an obvious parallel to Tarantino. Demme was known for his empathetic earnestness, and created intimate perspectives through tight close-ups that placed characters in the center of the frame. However, Demme was a versatile filmmaker who didn't stick to just one genre. His filmography includes the horror masterpiece "The Silence of the Lambs," comedy classic "Married to the Mob," concert film "Stop Making Sense," social issue drama "Philadelphia," and political thriller "The Manchurian Candidate." Demme's 1986 screwball comedy "Something Wild" is a quirky take on the heist thriller that should appeal to "Pulp Fiction" devotees.
Charlie Driggs (Jeff Daniels) is a bumbling Wall Street trader who cuts expenses wherever he can. After leaving a New York diner without paying, he's flustered when the waitress Lulu (Melanie Griffith) confronts him afterwards. He quickly realizes she's a con artist falsifying both her employment and outrage, but he reluctantly agrees to drive her downtown when she persistently follows him. Along the way, Lulu robs a liquor store and kidnaps Charlie, and the unlikely pair are forced to go on the run.
Charlie slowly begins to open up to Lulu, and she reveals her true name is Audrey Hankel. She masks her identity to escape the pursuits of her psychotic ex-husband, Ray Sinclair (Ray Liotta), a dangerous convict only recently released from prison. Charlie and Audrey pretend to be romantically involved in order to evade authorities, but gradually their feelings for each other become sincere.
American Hustle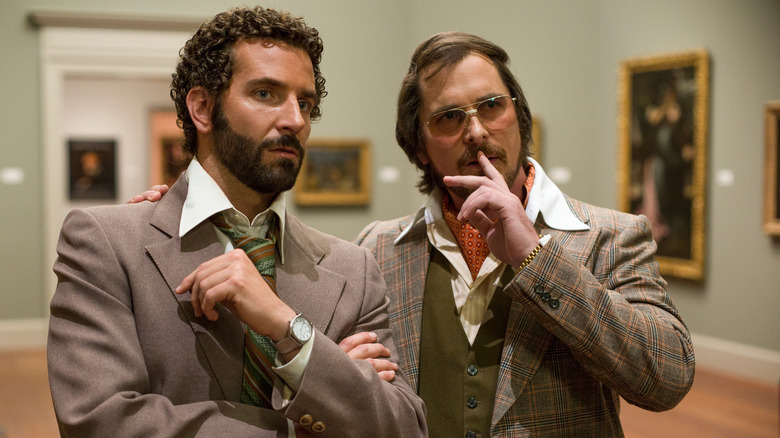 Sony Pictures
Although it takes place in a contemporary setting, "Pulp Fiction" recalls the '70s through Tarantino's eclectic soundtrack choices and references to '70s films. The '70s were a breakthrough period in American cinema when auteur filmmakers were given a shot by major studios, producing many classics. Tarantino isn't the only filmmaker indebted to this era; writer-director David O. Russell has also relied on '70s influences throughout his career. With his crime comedy "American Hustle," Russell took his love of the '70s to the next level with a meticulously accurate period piece.
"American Hustle" recounts the scandalous Abscam operation, and the intricate world of con artistry should appeal to those who loved the maze-like narrative of "Pulp Fiction. Like Tarantino, Russell uses a clever framing device, opening with a title card letting the audience know that "some of this actually happened," parodying biographical films that are completely inaccurate.
"American Hustle" follows con artists Irving Rosenfield (Christian Bale) and Sydney Prosser (Amy Adams). Although their romance is strained due to Irving's unhealthy obesity, Sydney believes in his ambition. They are caught loan sharking by sensitive FBI Agent Richie DiMaso (Bradley Cooper), who recruits them for a sting operation in order to help him make other arrests. All the characters think they're conning each other, and the team is so successful that they're able to involve Mayor Carmine Polito (Jeremy Renner). Meanwhile, Richie falls in love with Sydney, while Irving's wife Rosalyn (Jennifer Lawrence) tries to get some of the cash. 
Confessions of a Dangerous Mind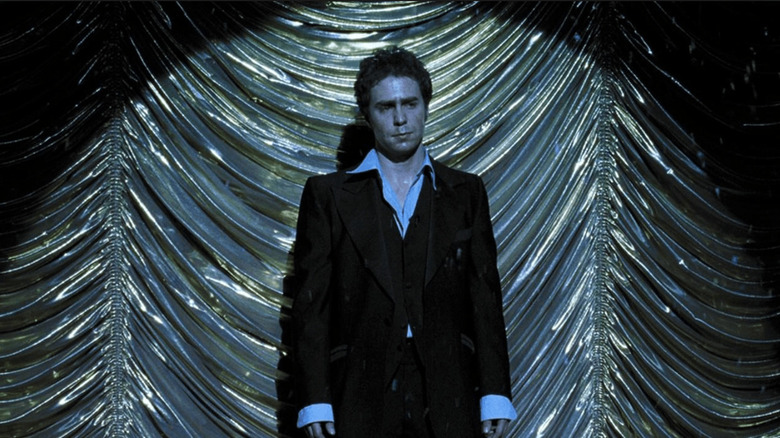 Miramax Films
"Pulp Fiction" demands that the viewers pay attention. As the events appear out of order, audiences have to consider how each scene fits in the timeline. George Clooney used a similar technique to drive engagement with his directorial debut "Confessions of a Dangerous Mind." The film is told through the perspective of its unreliable narrator, Chuck Barris (Sam Rockwell). Barris has the slick charisma of "Pulp Fiction's" Winston Wolfe (Harvey Keitel), and the brutality of Marsellus Wallace (Ving Rhames).
Barris feels unsuccessful when he's unable to find love or a permanent job in television. Determined to change the course of his life as he falls for the illustrious Penny Pacino (Julia Roberts), Barris pitches a game show to ABC. Supposedly, he's also approached by CIA recruiter Jim Byrd (Clooney) to work as an officially licensed government assassin. However, Barris is always lying, and it's unclear how much of his story actually happened and how much is a figment of his imagination.
The film satirizes the similarities between corruption in the television industry and the CIA's illicit dealings. At the same time that his game show gets a green light, Barris is tasked with taking out more high-profile targets. He heads to West Berlin to assassinate a Russian bureaucrat and is captured by the KGB. He murders a German agent (Rutger Hauer), then decides to propose to Pacino. Rockwell fleshes out Barris' idiosyncratic and deceitful nature with a hilarious, over-the-top performance.