Invasion Trailer: Aliens Invade Apple TV+ And Civilization Collapses In Upcoming Sci-Fi Series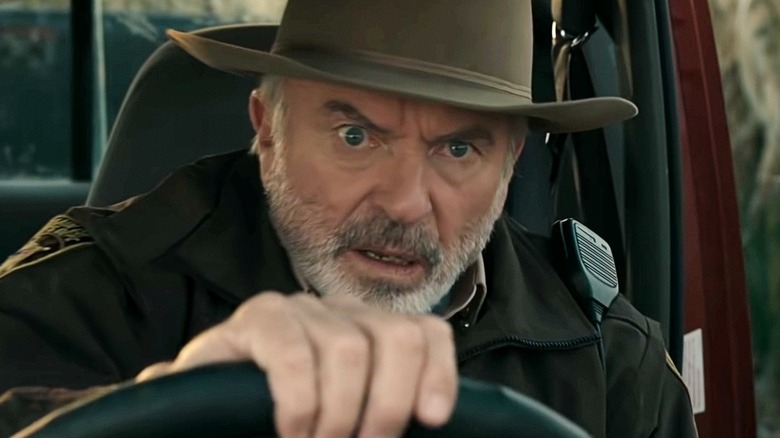 AppleTV+
In the upcoming Apple TV+ series "Invasion," we are not alone. Aliens are joining us on Earth, and they're far from friendly. 
The globe-trotting sci-fi series sees the collapse of civilization through the eyes of characters based around the world. The story jumps across continents to visit everyone from a soon-to-be retired police sheriff to a member of a Japanese space program. How will they handle this societal collapse? Come see for yourself in the new trailer for "Invasion."
Invasion Trailer
Though we'd like to think that aliens will be friendly (when they inevitably arrive), popular media tends to suggest otherwise. Just take a look at "Invasion," which looks like an amalgamation of all our favorite extraterrestrial stories. It's the excitement of "Independence Day" and the horrors of "Life" meets the action of "Alien" and the intrigue of "Signs." And what does it all add up to? Absolute chaos.
The trailer shows off all the invasion staples: crop circles, power outages, and glitching broadcasts delivering bleak news: "What is being visited upon our Earth, is not of our Earth."
"Invasion" introduces a global cast of characters, living different lives in entirely different places, as they unknowingly share in the complete upheaval of their homes. What begins as a series of unconnected, odd phenomena turn out to be ominous signs that something otherworldly has taken root on our planet. The detection of alien life quickly evolves into more than humanity can handle, as the aliens wreck infrastructure, cut off power, and push society to its very limits.
The cast for the series includes Sam Neill ("Jurassic Park") as the tired Sheriff John Bell Tyson, whose retirement plans are shattered by the threat of literal aliens threatening his town. In Afghanistan, Travante Ward (Shamier Anderson) is a soldier facing off against the extraterrestrial threat while in Japan, Mitsuki (Shioli Kutsuna) is a mission control staffer who sees Japan's space launch go horribly awry. 
Golshifteh Farahani stars as Aneesha Malik, a first-generation Syrian immigrant, and Firas Nassar as her husband Ahmed, a couple trying their best to escape the chaos and — as the trailer shows — going to great lengths to survive. 
The hope is that humanity will rally together to tackle its greatest obstacle yet, with all the best minds in action, but that might be a little too optimistic. Hopefully it works out in the end, but for the characters of "Invasion," things will get a lot worse before they even approach getting better. "Invasion" comes from "X-Men" and "Deadpool" producer Simon Kinberg and "Hunters" writer David Weil.
Start getting those apocalypse kits ready, because the aliens are expected pretty soon: the first three episodes of "Invasion" premiere October 22, 2021, on Apple TV+.