Passing Trailer: Tessa Thompson And Ruth Negga Star In Rebecca Hall's Acclaimed Directorial Debut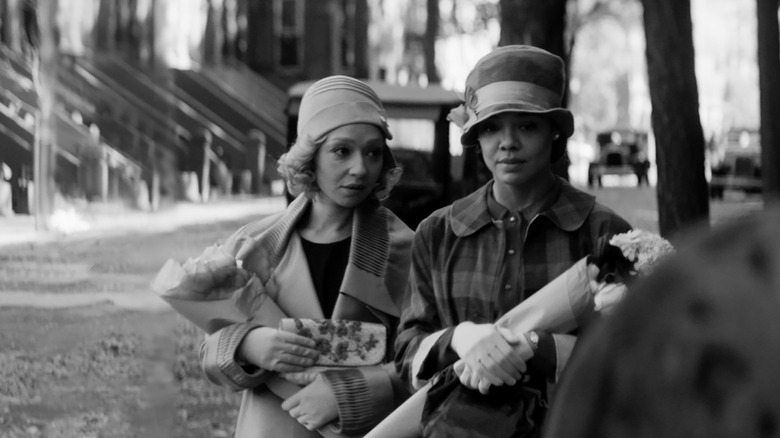 Netflix
Rebecca Hall makes her feature directorial debut with "Passing," a slow-burn drama about two very different women living in the 1920s. Both women are Black, but one of them, played by Ruth Negga, "passes" as white in public, while the other woman, played by Tessa Thompson, doesn't. At least not all the time. These two women are childhood friends who reconnect by chance, setting off a chain of events that will change both of them forever. "Passing" played at the virtual Sundance Film Festival earlier this year, and now it's headed to Netflix this fall. The first "Passing" trailer arrived today, and you can watch it below. 
Passing Trailer
Based on the 1929 novel of the same name by Nella Larsen, "Passing" follows two Black women, "Irene Redfield (Tessa Thompson) and Clare Kendry (Academy Award nominee Ruth Negga), who can 'pass' as white but choose to live on opposite sides of the color line during the height of the Harlem Renaissance in late 1920s New York." 
Here's the synopsis: 
After a chance encounter reunites the former childhood friends one summer afternoon, Irene reluctantly allows Clare into her home, where she ingratiates herself to Irene's husband (André Holland) and family, and soon her larger social circle as well. As their lives become more deeply intertwined, Irene finds her once-steady existence upended by Clare, and PASSING becomes a riveting examination of obsession, repression and the lies people tell themselves and others to protect their carefully constructed realities.
The ultimate goal of "Passing" is to explore "the notion of 'passing' to explore not just racial identity but gender and the responsibilities of motherhood, sexuality and the performance of femininity." Rebecca Hall both writes and directs the film, and she does a damn good job here, aided by her fantastic cast. In addition to Thompson, Negga, and Holland, "Passing" also features Bill Camp, Gbenga Akinnagbe, Antoinette Crowe-Legacy, and Alexander Skarsgard. 
A Great Directorial Debut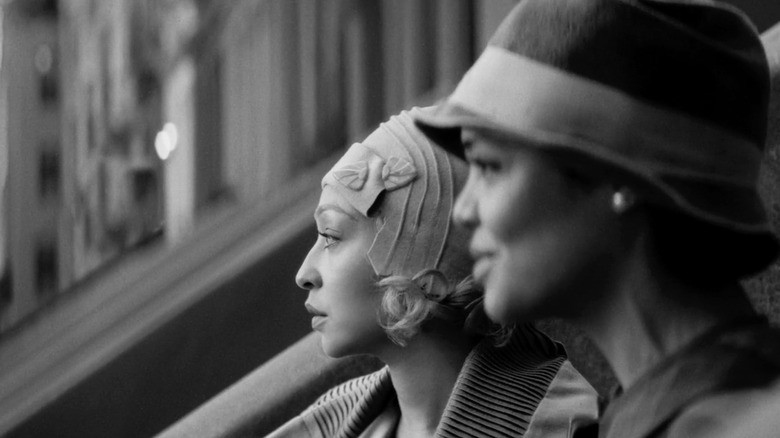 Netflix
I caught "Passing" at Sundance, and was very impressed with it. I'm already a fan of Rebecca Hall as a performer, but sometimes, when actors make the leap to directing it doesn't go so well. But that's not the case here – Hall is an incredibly assured filmmaker with great control over the story she's telling here. As I wrote in my review: 
The sorts of themes Passing is trafficking in could easily go wrong on the screen if they were approached in an unsubtle, heavy-handed way. But Hall, who makes her feature directorial debut and also adapted the script, deftly balances it all. There are no big outbursts, no speeches. Everything is just slightly beneath the surface, simmering. We know it can all boil over at any moment, and that lends the entire movie considerable tension. It's as if we're waiting for the other shoe to drop; for something to go horribly, irreconcilably wrong. Occasionally, Hall gives in to some flourishes that distract from the story she's telling her, such as several shots where characters deliberately go out-of-focus. And the decision to shoot the movie in 4:3 aspect ratio at times feels like a distraction. For the most part, though, this is a strong debut, proving that Hall is not just a great performer but on the way to becoming a great filmmaker, too.
"Passing" will arrive in select theaters on October 27, 2021, before heading to Netflix on November 10, 2021. I hope it finds an audience.