Here Are The Top 5 Looks From The 2021 Emmys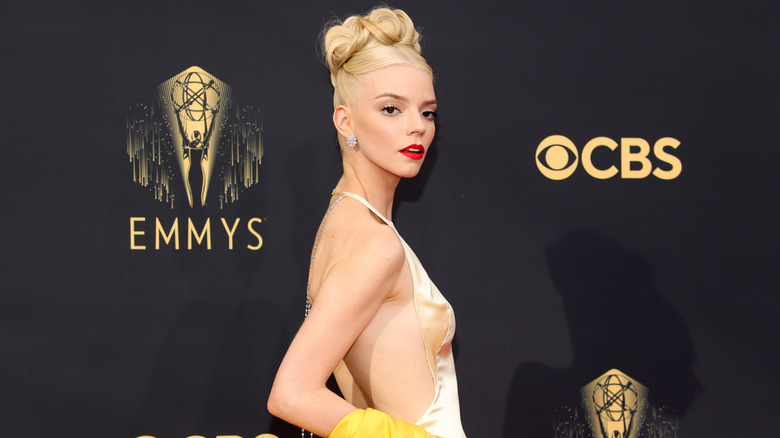 Rich Fury/Getty Images
The stars of the small screen were out in full force last night with the 73rd Primetime Emmy Awards on CBS. As usual, the red carpet was filled with plenty of glitz and glamor as Hollywood put on their Sunday best, hoping to take home a sharp, shiny trophy. Though we don't usually focus on fashion at these big award shows, there were exactly five stunning looks that completely took our breath away, and we couldn't help but bring them to your attention. Trust us when we say you won't be disappointed.
Ted Lasso Star Brendan Hunt Serving Lewks
First up, "Ted Lasso" star Brendan Hunt was the definition of class when he strolled onto the red carpet last night. Just look at that top hat. He looks like he's won so many games of "Monopoly" that he doesn't even know what to do with himself other than look like a million bucks. It's enhanced by that perfectly trimmed beard, which is only appropriate considering the fact that he plays Coach Beard on "Ted Lasso."
Ted Lasso Star Brendan Hunt, A Gentleman and a Scholar
Next, here's "Ted Lasso" star Brendan Hunt, who arrived immediately after a tea party celebrating the latest victory by his champion horse Beard Today, Gone Tomorrow. There wasn't a derby on this particular day, but when you have a champion horse, you celebrate it every single day, and you make sure everyone knows it. But what's great about Brendan Hunt is he isn't cocky about it. There was no mention of this horse's accolades on this particular day, and it's not just because it's something we completely made up. It's because he's a classy gentleman.
Ted Lasso Star Brendan Hunt Connects with the Canines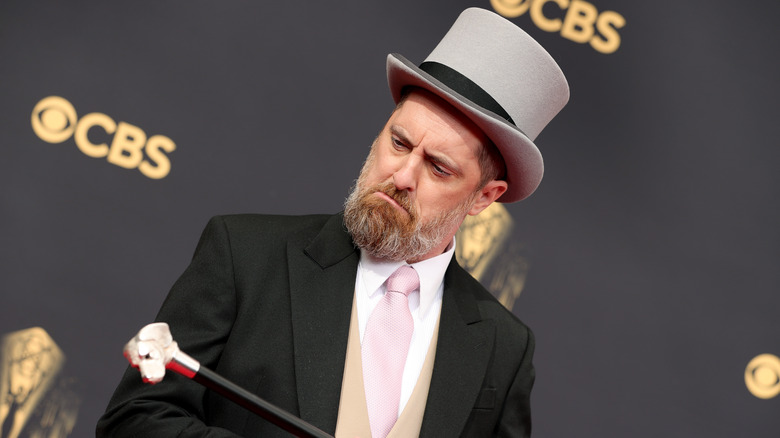 Rich Fury/Getty Images
Also making waves on the red carpet was "Ted Lasso" star Brendan Hunt. On top of boasting the top hat and tails, Hunt could be seen waltzing around with this elegant cane featuring a very good boy on the handle. The cane symbolizes the connection that Hunt has made with canines over the years. You might not know this, but Brendan Hunt is a licensed canine psychic, and he's helped the ghosts of many good dogs with their unfinished business. It seemed the red carpet was full of canine paranormal activity as Hunt used his trusty cane to find ghost dogs in need of his service. We hope they all found peace that evening.
Ted Lasso Star Brendan Hunt is a Man for All Seasons
You might have seen some elegant photos of "Ted Lasso" star Brendan Hunt on the red carpet last night, but nothing compares to seeing him in motion. Just watch how he carries himself so effortlessly, almost like he's letting his beard do the walking. The cane, in addition to helping in his canine psychic work, is merely an accessory, because Brendan Hunt doesn't need anything to help him glide through a crowd. Brendan Hunt doesn't lean on canes, canes lean on him.
Ted Lasso Star Brendan Hunt, Straight Out of London
Finally, after a big night for the series, "Ted Lasso" star Brendan Hunt made a breathtaking appearance backstage with an Emmy in hand. He admits to taking a cue from London, where the Apple TV+ series takes place. Also, if you think Brendan Hunt is just a pretty, bearded face, think again. Hunt is also one of the writers for "Ted Lasso," so even if he didn't walk away with an award for acting, he got one for giving us one of the best TV comedies in recent memory. It's just frustrating that someone could be so damn handsome and so damn talented all at once. 
Anyway, congratulations for all your success and style, Sir Brendan Hunt.