Three Jackass Stunts Were Too Dangerous To Actually Make It Into The Movies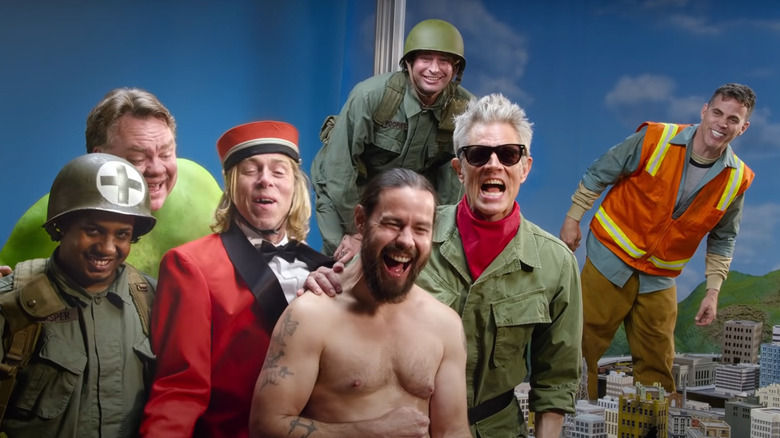 Paramount Pictures
The "Jackass" crew have put themselves through all kinds of cartoonish violence in the name of entertainment, but it turns out there were some stunts that went too far even for these gnarly dudes. While playing "Truth or Dab" with "Hot Ones" host Shaun Evans to promote the upcoming "Jackass Forever", Steve-O and Jason "Wee Man"Acuña recently shared the three bits that were deemed too violent to make it into the "Jackass" movies. 
Too Hot for Jackass?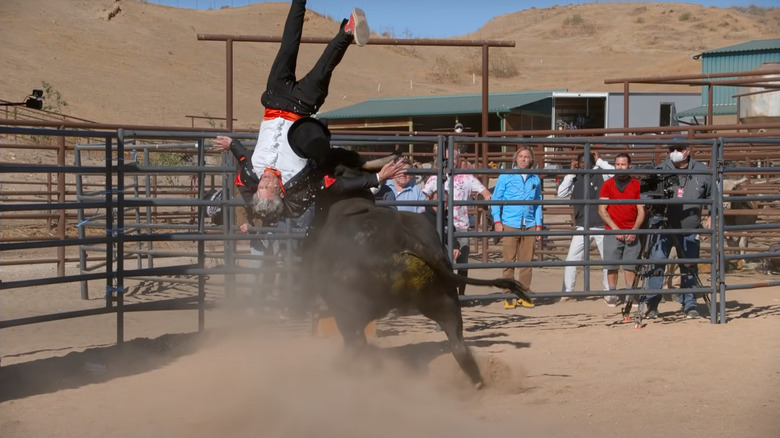 Paramount Pictures
On "Truth or Dab", contestants usually either have to answer Evans' hard-hitting, well-researched questions, or eat a wing doused in flaming hot "The Last Dab" sauce. Steve-O and Wee Man don't really stick to the format, eating wings at random and answering all of the questions honestly anyway. 
When Evans asks them if there are any "Jackass" stunts that have been relegated to the vault, Steve-O quickly responds with three that were too violent for Standards and Practices. Perhaps the least surprising thing about all three stunts? The absolutely fearless Johnny Knoxville was at the center of all three. 
The first segment, "Box Downstairs", involved Knoxville getting into a cardboard box and, you guessed it, rolling down some stairs. 
"It was a great idea," Steve-O relates with a laugh. "He got in a box and tucked in some pillows around him, taped it up, and rolled it down a huge flight of cement stairs."
Knoxville also apparently shot himself with a .38 caliber Smith and Wesson handgun, though he was wearing a bulletproof vest beneath his shirt. 
The third stunt involved Knoxville getting hit by a car.
"There was also 'I'm Johnny Knoxville, and I'm gonna get hit by a car.' The car came flying, he hit the windshield and rolled over," Steve-O said. "They asked him 'what were you thinking when you got hit by the car?'"
Knoxville's answer? "I wore two pairs of jeans so I could be safe."
Behind the Famous Baby Gator Bite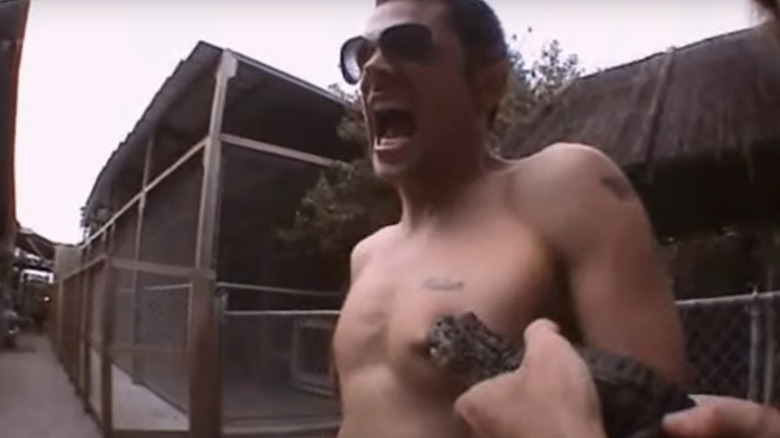 Paramount Pictures
While playing "Truth or and Dab" with Evans, Wee Man also shared the bit that he was most upset to not be involved in. He shared that Manny Pugh, the "Jackass" crew's exotic animal expert, approached him with a baby alligator and asked if he could let the tiny reptile bite his nipple. Wee Man was understandably hesitant, and Pugh ended up letting the little guy latch onto Knoxville instead. Stills from that segment became all kinds of marketing material for the first "Jackass" movie, including posters, T-shirts, and more.
We have a little while to wait for "Jackass Forever" to hit theaters, but hopefully the crew will do some more fun and on-brand promotional gigs to tide us over until then. 
"Jackass Forever" is set to crash into theaters on February 4, 2022.