Take A Tour Of The Ghostbusters: Afterlife Set With Adam Savage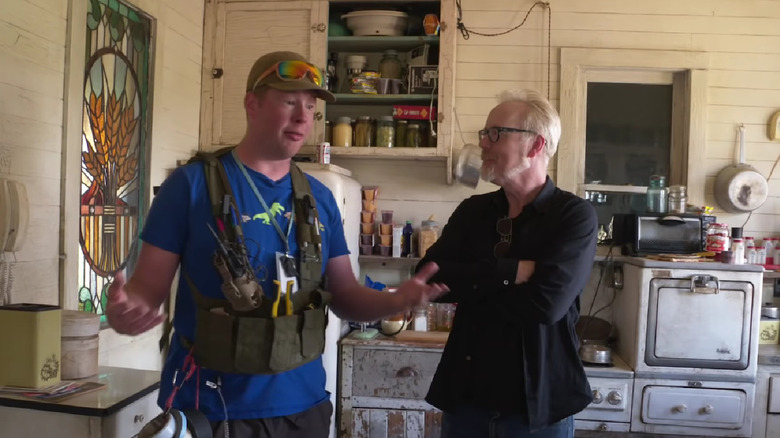 Tested
Have you heard of Adam Savage's "Tested" channel on YouTube? The one where he crafts One Day Builds of replica spacesuits and Lego automatas? Or where he tells stories of his early days building props at Industrial Light & Magic? If not, you're missing out on some geeky goodness — the kind that encourages creativity and ingenuity mixed with your favorite art!
A member of the Ghostbusters set decor team gave the former "Mythbusters" host a tour of their interior set (whose exterior set was also used — a rarity in Tinseltown, Savage remarks), a farmhouse which was used for "Ghostbusters: Afterlife." "Watching this crew of true Ghostbusters fans bring the story to life, it was intoxicating," Savage raves in the video's opening. He pauses to take a breath before praising the film's sets, and his genuine zeal to celebrate the craft of other creators is all over him. Start up the ECTO-1 mobile and read on to see the magic.
Spot the Twinkie
The tour begins in Egon's farmhouse, a space so unkept it prompts Adam to observe that "it tells the story of a man obsessed with things other than hygiene," but impressive nonetheless. Set decorator Alex Smith takes him through the kitchen and talks about their biggest challenge: making it appear like a real, specific person lives there. Even the dishes have to be staged repeatedly until it looks right! But those who look carefully will find Easter eggs hidden throughout the space, all nodding to the ghost-catching franchise we all know and love.
Changing of the Guard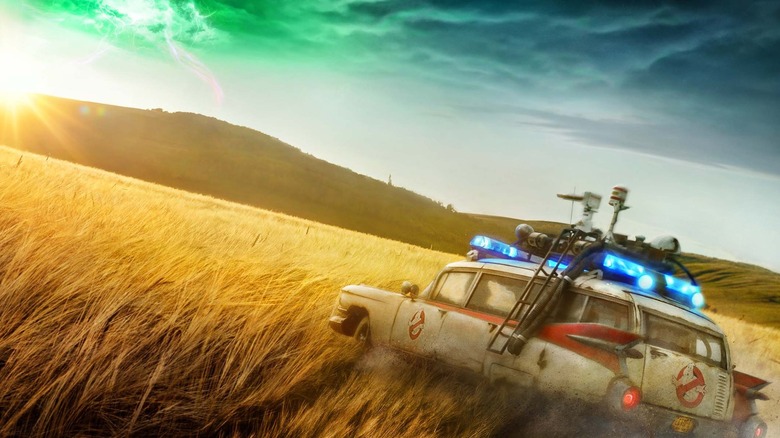 Sony Pictures
This is a new "Ghostbusters" era. Ivan Reitman's original comedy "Ghostbusters" was not only successful upon its summer 1984 release, it's become a beloved classic, prompting a well-performing sequel five years later. Following an all-woman remake that exposed a nasty male fandom, the boys are back with a new generation, above and below the line.
After years trying to develop a third with Aykroyd and Ramis, Ivan Reitman's plans for the next chapter were cut down with the death of Harold Ramis in 2014. Reitman's son Jason then picked up the baton, helming the fourth film in the franchise entire, but don't call it the fourth film. It's meant to be a direct sequel to the '89 "Ghostbusters" follow-up (that's a thirty-plus year gap!), long delayed due to the specter of COVID-19. Now, the latest ghost-hunting adventure has a release date of November 11, 2021 — just in time for Thanksgiving. And we're thankful for it.
The Kids Are Alright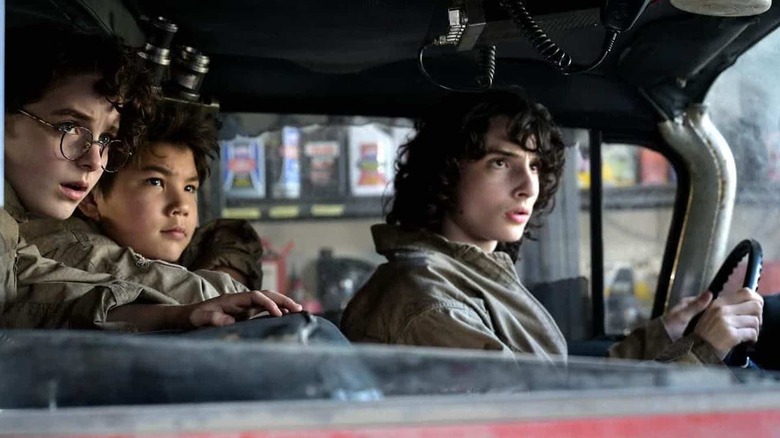 Sony Pictures
How is the new movie? Early reports are positive but, as was the case with "Ghostbusters II," there can be a stark divide between critical and commercial success. The trailer shows heart and soul, and there are lovely bridges to the original films in the form of returned characters (like the Ghostbusters' receptionist Janine Melnitz, played by Annie Potts) and returned relics, like the striped ghost trap that some of us tried to replicate with a shoebox and electrical tape as a kid. I'll say one thing: I'm starting to feel for Finn Wolfhard ("Stranger Things," "It"), who plays Egon's grandson, who can't seem to get away from 80s nostalgia for more than a couple of projects. But watching that trailer, it looks like the kids have the apocalypse handled.
"Ghostbusters: Afterlife" releases in theaters November 14, 2021.