Batman Unburied Audio Drama Casts Daily Show Star Hasan Minhaj As The Riddler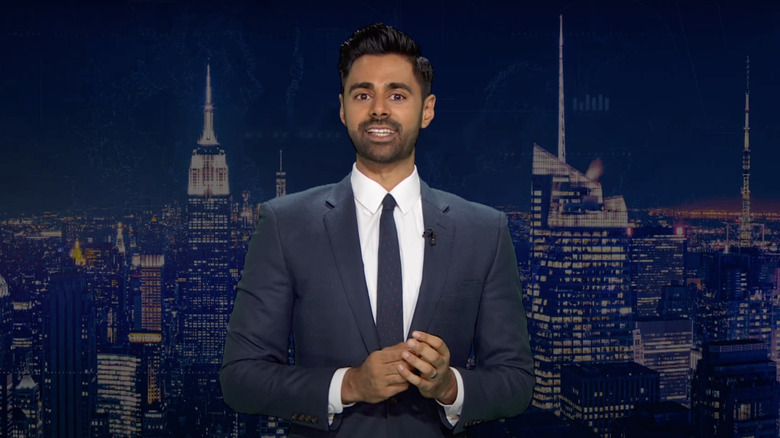 Comedy Central
Riddle me this: who's playing the Riddler? Well, it depends on which of the many upcoming Batman projects you're talking about. Since the headline above already gives away the answer to this particular riddle, however, we'll go ahead and do away with any quizzing pretense and just say that Hasan Minhaj has been cast as the voice of the Riddler in "Batman Unburied."
The news comes our way via The Hollywood Reporter that Minhaj, the star of Netflix's "Patriot Act with Hasan Minhaj" and a former correspondent of "The Daily Show," has joined the podcast's voice ensemble, along with Lance Reddick and Toks Olagundoye as Batman's parents, Thomas and Martha Wayne; John Rhys-Davies as a character named Dr. Hunter; and Ashly Burch as Vicki Vale.
Winston Duke ("Black Panther," "Us") will voice the role of the title hero in "Batman Unburied," with Jason Isaacs playing his faithful butler, Alfred. The podcast is written and executive produced by David S. Goyer, who co-wrote the script for "Batman Begins" and had a hand in conceiving the story with Christopher and Jonathan Nolan for "The Dark Knight" and "The Dark Knight Rises."
It sounds like "Batman Unburied" will deliver a slightly unorthodox take on the Caped Crusader, with him working as a forensic pathologist. Here's the logline:
When audiences meet Bruce Wayne he is a forensic pathologist, working in the bowels of Gotham Hospital and tasked with examining the victims of The Harvester, a gruesome serial killer preying on Gotham's citizens. Not only will the superhero be forced to face his own mental demons, but he will also have to overcome them in order to save the citizens of Gotham as his alter-ego Batman.
The Many Audio Adventures of Batman and The Riddler
Of course, "Batman Unburied" isn't the only Batman project on the slate, nor is it even the only Batman podcast on the immediate horizon. There's also "Batman: The Audio Adventures," which hits HBO Max on September 18, 2021. HBO just released an official trailer for "The Audio Adventures" this week, which you can see above. John Leguizamo performs the Riddler's voice in this one; in the trailer, you can hear him saying, "Don't freaking interrupt me when I'm riddling."
Jeffrey Wright voices Batman in "The Audio Adventures," meaning he's the first actor (unless I'm just forgetting someone) to play both Batman and Commissioner Gordon. He'll be playing Gordon in live-action next year in "The Batman." The Warner Bros. tentpole sees Paul Dano donning black goggles instead of green question-mark tights as the Riddler.
In this vast, disorienting multimedia landscape, Batman and the Riddler are no longer just characters that you can watch in movies or TV shows or read about in comics books. They're also podcast voices, characters in audio dramas. We first heard about "Batman Unburied" last year when it was announced as the inaugural title in Spotify's new "original slate of narrative scripted podcasts based on the roster of popular characters from DC Comics." In summer 2020, Warner Bros. and DC Entertainment hammered out a multi-year deal with Spotify to produce and distribute such podcasts.
All in all, it's a good time to be a Batman and a Riddler fan. If you're new to the Riddler or just need a refresher on his history, we've got an explainer up, also, that delves all into who he is. No release date is available yet for "Batman Unburied," starring Winston Duke as Batman and Hasan Minhaj as the Riddler, but we'll keep you posted on that.