Finch Poster Shows Off Post-Apocalyptic Tom Hanks, His Robot, And His Dog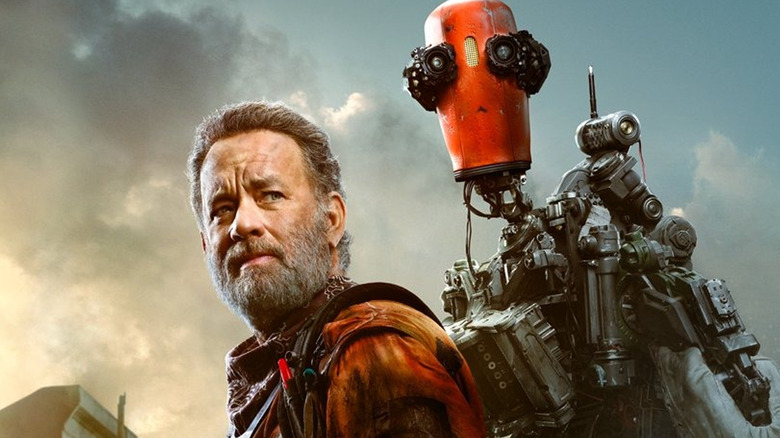 Apple TV+
I know of only two constants that keep me grounded amid this chaotic and unpredictable world: Zendaya is Meechee, and Tom Hanks is Finch. 
That latter point is what's relevant here, as Amblin Entertainment and Apple TV+ have revealed the first official poster for the post-apocalyptic movie that's fittingly titled — you guessed it — "Finch." Tom Hanks, of course, portrays the eponymous Finch in another film where he has to share the screen with the absolute minimum number of other human beings. Personally, I have to respect it. No word yet on whether there will be a Wilson-equivalent in this film (anyone who suggests that it'll be the dog has clearly forgotten what happened to Wilson), but head on down below for all the details.
Meet Finch (And His Friends)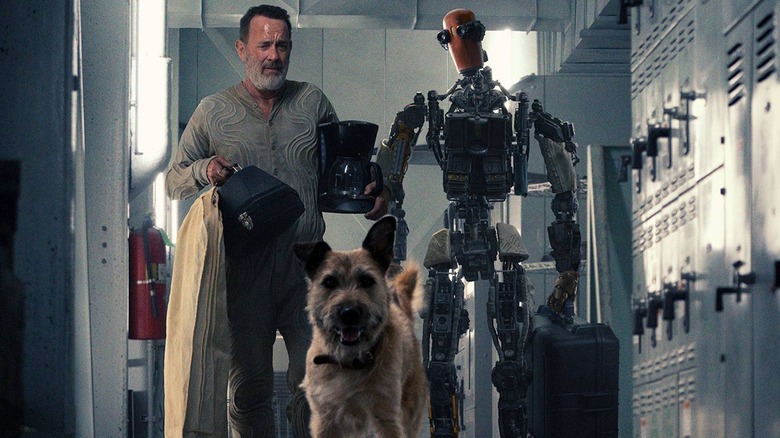 Apple TV+
"Finch" Fever is sweeping the globe, folks! Amblin tweeted out the poster for "Finch," starring Hanks as "the head of an unlikely family on a journey to rediscover the joy and wonder of what it means to be alive." I don't know about you, but I love rediscovering the joy and wonder of what it means to be alive. Hanks is joined by Caleb Landry Jones in full motion capture gear to portray the robot named Jeff, along with a dog named Goodyear who is most certainly a good boy.
The movie that has all the makings of being a heartfelt, wholesome tearjerker comes from Miguel Sapochnik ("True Detective," "Altered Carbon"), best known for his directing work on "Game of Thrones" in delivering some of the largest, most action-packed episodes of the entire series such as "Hardhome," "Battle of the Bastards," "The Long Night," and "The Bells." The script for "Finch" was written by Ivor Powell and Craig Luck.
"Finch" streams exclusively on Apple TV+ on November 5, 2021. You can check out the synopsis and the full poster in all its glory below:
In "Finch," a man, a robot and a dog form an unlikely family in a powerful and moving adventure of one man's quest to ensure that his beloved canine companion will be cared for after he's gone. Hanks stars as Finch, a robotics engineer and one of the few survivors of a cataclysmic solar event that has left the world a wasteland. But Finch, who has been living in an underground bunker for a decade, has built a world of his own that he shares with his dog, Goodyear. He creates a robot, played by Jones, to watch over Goodyear when he no longer can.

As the trio embarks on a perilous journey into a desolate American West, Finch strives to show his creation, who names himself Jeff, the joy and wonder of what it means to be alive. Their road trip is paved with both challenges and humor, as it's as difficult for Finch to goad Jeff and Goodyear to get along as it is for him to manage the dangers of the new world.