Blue Bayou Review: An Urgent Immigrant Story Told With A Thoughtful, But Heavy Hand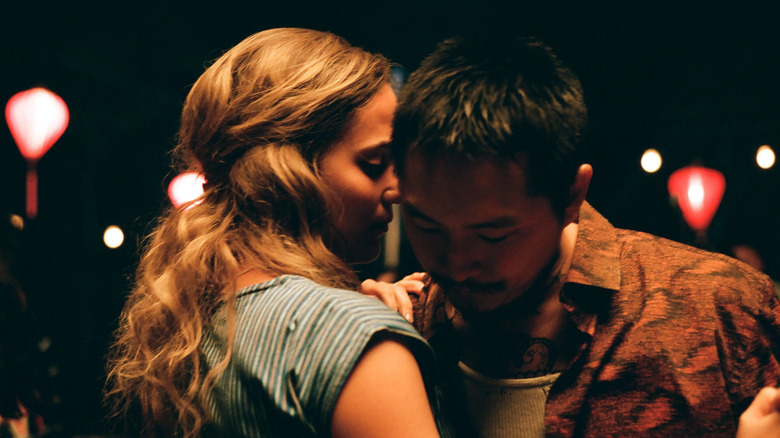 Focus Features
"Where are you from?"
It's a question that immediately puts Justin Chon's Antonio LeBlanc on edge, and which he avoids answering in his uneasy job interview in "Blue Bayou," Chon's third directorial effort. Antonio was born in Korea, but the only home he's ever known is the Louisiana backwaters. Adopted at three years old by white parents, Antonio spent his childhood jumping from foster home to foster home, until he built a family for himself with his loving, maybe all-too forgiving wife Kathy (a terrific Alicia Vikander) and her precocious daughter Jessie (Sydney Kowalske). With a new baby on the way and little cash coming in from his tattoo parlor job, Antonio is desperate for a lucky break. But that lucky break never comes.
Instead, Antonio finds himself arrested by ICE and faced with deportation to South Korea, a country he's never known apart from faint memories of his mother in a hanbok, gazing mournfully from a boat. It's a surreal image that pops up throughout "Blue Bayou," Chon's moving, evocative, but often heavy-handed treatise on the unique struggles of Asian-American adoptees.
Since breaking out with his 2017 film "Gook," a provocative black-and-white drama following two Korean-American brothers on the first day of the 1992 L.A. race riots, Chon has made it a point to tackle wildly different aspects of the Asian-American experience — whether it be racial tensions, generational tensions, or in this case, cultural identity tensions. And for that, Chon is proving himself to be one of the most interesting indie Asian-American directors working today, even if "Blue Bayou" is not as entirely successful as his previous two films.
Written and directed by Chon, who steps back in front of the camera after refraining in his 2019 film "Ms. Purple," "Blue Bayou" is a gauntlet of sorts. Chon had already made a splash with "Gook" and shown off his indie-arthouse bonafides with "Ms. Purple." Now you can see him experimenting and attempting to grow as a director with "Blue Bayou," which is stylistically more confident than Chon's past efforts, the filmmaker weaving in surreal, dreamlike visions throughout his naturalistic portrayal of the struggling tattoo artist and his family. 
More than just a challenge to himself as a director, "Blue Bayou" is a challenge to the audience: tackling a difficult and thorny subject matter as Asian adoptees and deportation, one that is politically charged enough to dominate and overpower an entire film. But in "Blue Bayou," Chon keeps those political undercurrents at bay, preferring to focus on the intimate family drama surrounding Antonio.
Adrift in Melodrama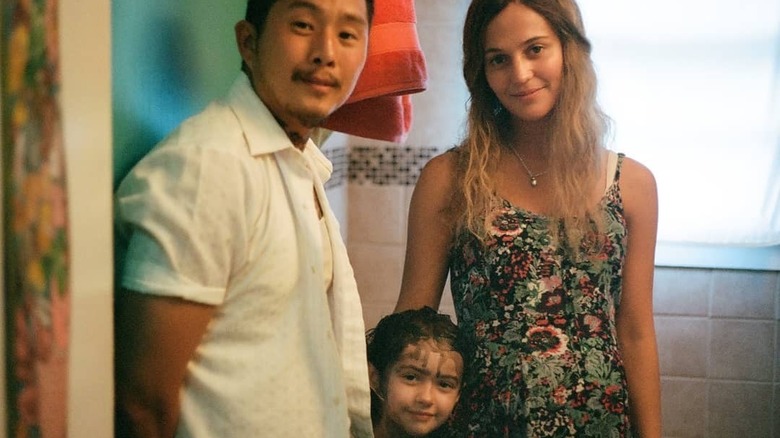 Focus Features
Antonio is the "imperfect immigrant" in every way — he has a criminal record, he's heavily tattooed, he's low class and low-earning. But he deeply loves his wife and her daughter from a previous relationship, striking up a particularly close relationship with the wise-beyond-her-years Jessie. The trio's closeness is lovingly depicted by Chon, who opts for a lived-in, tactile naturalism that gives "Blue Bayou" the kind of authenticity that other inspirational political dramas of its ilk might lack. It's in these intimate character moments that "Blue Bayou" soars, saving itself from falling victim to its rather paper-thin plot.
Kathy's ex, you see, is a cop. And an unfortunate run-in with this cop ex-boyfriend (Mark O'Brien) and his hothead partner (a thoroughly slimy Emory Cohen) at a grocery store results in Antonio being arrested and getting detained by ICE. With the added financial pressure of hiring a lawyer (the always-welcome Barry Boucher), Antonio ends up turning back to crime, causing a rift with Kathy (and leading Jessie to nearly disappear from the second half of the film altogether). But in the interim, Antonio ends up befriending a Vietnamese woman named Parker (Linh Dan Pham), whose own bittersweet story — a survivor of the flight from Vietnam only to be diagnosed with cancer — offers Antonio a little clarity on his own rootless cultural identity.
The film wanders and meanders a little bit, but it's sprinkled with lovely moments, including a transcendent musical scene, in which Vikander's Kathy takes to the stage at a Vietnamese cookout to sing a melancholy rendition of "Blue Bayou" by Linda Ronstadt. Even when it dips into the crime thriller genre for a little bit — with a particularly distressing motorcycle heist scene that feels like Chon auditioning for the next Soderbergh film — there's an intent to the directionlessness.
The problem is the last 20 minutes, which aims for a final gut punch but ends up hitting a little too hard below the belt. The film goes full tilt into the kind of sentimentality that Chon had deftly avoided until this point, playing up the melodrama to the point of becoming overwrought. Chon aims for the pulse at the end, but he may not have realized that he didn't have to try so hard — he had already effortlessly plucked at the heartstrings.
/Film Rating: 7 out of 10