The Daily Stream: The Buried Life Is MTV's Overlooked Reminder To Live Life To The Fullest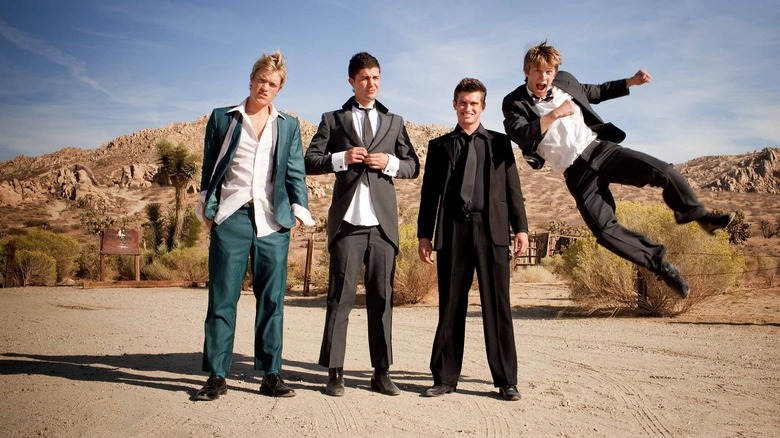 MTV Networks
(Welcome to The Daily Stream, an ongoing series in which the /Film team shares what they've been watching, why it's worth checking out, and where you can stream it.)
The Show: "The Buried Life"
Where You Can Stream It: Paramount+
The Pitch: In a unique time for MTV at the dawn of the 2010s, the network gambled on a quartet of dudes from Canada who call themselves "The Buried Life." They had an ambitious goal in mind; to travel the country and cross 100 items of their bucket list of things they want to do before they die. Everything from playing Basketball with then-President Barack Obama to making a million dollars, and MTV documented some of the more absurd items on the list. As opposed to purely frivolous reality television, "The Buried Life" is inherently about living life to the fullest, while also maintaining that heightened "this is so divorced from real life" element that consumers of reality TV crave. It's also got a great deal of heart, as the guys help someone cross something off of their bucket list for everything they cross off of theirs. It makes the whole thing breezy, fun, and often emotional.
Why It's Essential Viewing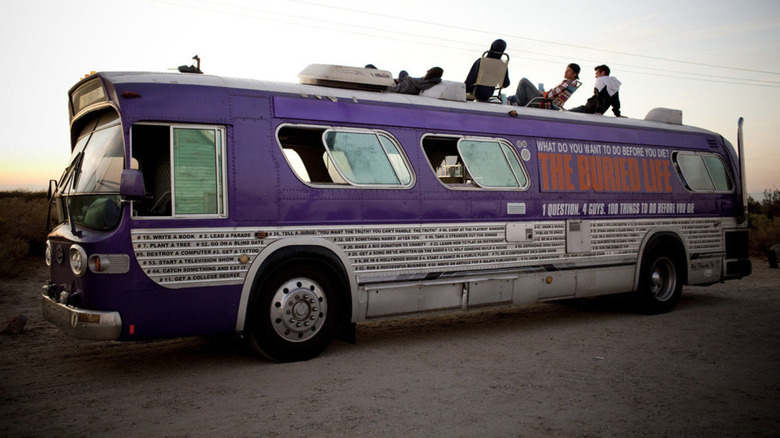 MTV Networks
I discovered "The Buried Life" at a time when streaming was far less splintered. I believe I was just hovering on the ol' Netflix home screen at the time. For the life of me, I can't remember what compelled me to click on that show of all things, but I've remained happy I did ever since. I've never been a huge reality TV guy, but I do have a huge longing for adventure, and I'm a sucker for feel-good things of any kind. This show quickly asserts itself as something that checks off both of those boxes in a big way.
The series follows real-life friends Duncan Penn, Jonnie Penn, Ben Nemtin, and Dave Lingwood. They are attempting to finish their bucket list of "100 things to do before you die." The main conceit is that many of us kind of tend to live day-to-day going through the motions most of the time, and these four guys opted to abandon that line of thinking in favor of something more thrilling. With youth and ambition on their side, they bought an old bus and began traversing the country in an attempt to cross items off their list. Things like "scream at the top of your lungs" don't exactly make for great TV, so what makes the show so compelling is the outlandish nature of what they're trying to accomplish, with the help of MTV. Even with the understanding that some of this must have been staged or aided by the network on some level, it does genuinely feel like these guys are just being scrappy and figuring it out with the cameras rolling. This is evidenced by some of their truly epic failures.
From the jump, with the pilot tackling "#6: Crash a Party at the Playboy Mansion," the show gives you that rush of watching trashy reality TV while simultaneously feeling more meaningful. One can call into question the value of partying at the Playboy Mansion, for example, but damned if it isn't inspiring all the same. Why not live life to the fullest while we can? None of us have a guaranteed expiration date. There is no reason not to live and live well, though that can be tragically easy to forget at times. Especially with the events of the last couple of years. 
The one caveat I will make is, revisiting the show recently, there is an element of privilege to the whole thing. It's four white guys who were in a privileged position to do this. It's not as easy (or damn-near impossible) for most of us, but I would argue that the good-spirited nature of the endeavor is more than enough to offset that.
The secret sauce of "The Buried Life" is the fact that these guys also help people out along the way. Sure, they try to crash a party at the Playboy Mansion, but they also try to help a school get a new computer it sorely needs. Want to ask out the girl of your dreams? Great. Meanwhile, why not help someone conquer their fear of heights? Modern life also seems to be riddled with a lack of sympathy for our fellow man. In addition to demonstrating the benefits of soaking up all this world has to offer, this series is also a sobering reminder of just how impactful a bit of compassion can be. 
"The Buried Life" is an essential reminder of what life can offer us if we dare to live it.