Guardians Of The Galaxy Video Game Trailer: We Are Groot- Er, Marvel's Latest Next-Gen Game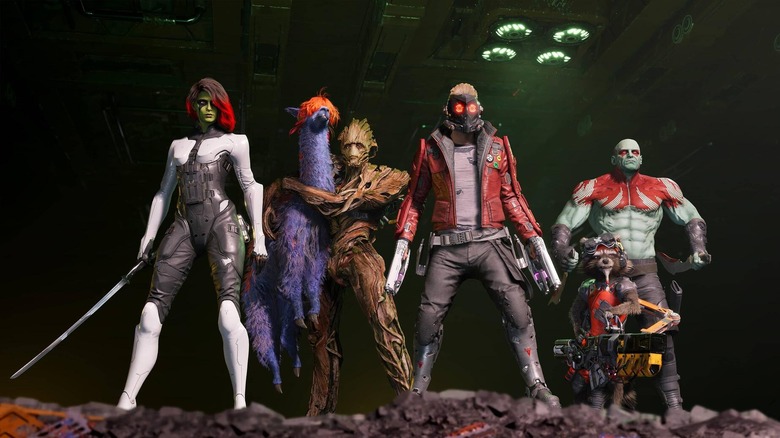 Marvel
Today's PlayStation Showcase did not disappoint. Particularly for Marvel fans. We got a surprise announcement for a "Wolverine" game. Venom is going to be in "Marvel's Spider-Man 2." And, oh yes, we got a new look at the upcoming "Guardians of the Galaxy" game from the folks at Eidos-Montréal.
The game had been announced at E3 earlier this summer with a surprise trailer. This new footage is billed as a gameplay trailer, giving us a sense for the feel of the game. The footage sees Star-Lord, Drax, Gamora, Rocket and Groot at the Universal Church of Truth. They observe a cult-like ritual and Grand Unifier Raker drops quite the bombshell on them. Particularly that the Matriarch wishes to share with them a truth, one that can supposedly end all grief and suffering. The stakes are high. Oh, and Cosmo the Russian space dog shows up.
Guardians of the Galaxy Video Game Trailer
The footage is certainly epic. Lots of space craziness. Plenty of explosions. No shortage of combat. It's tough to know until reviews drop, or until one can get some actual playing time in, but this looks largely what one might expect from a game set within this franchise.
Here is the synopsis for "Marvel's Guardians of the Galaxy":
"Fire up a wild ride across the cosmos with a fresh take on Marvel's Guardians of the Galaxy. In this third-person action-adventure game, you are Star-Lord, and thanks to your bold yet questionable leadership, you have persuaded an oddball crew of unlikely heroes to join you. Some jerk (surely not you) has set off a chain of catastrophic events, and only you can hold the unpredictable Guardians together long enough to fight off total interplanetary meltdown. Use Element Blasters, tag-team beat downs, jet boot-powered dropkicks, nothing's off-limits. If you think it's all going to plan, you're in for a world of surprises, with the consequences of your actions guaranteed to keep the Guardians on their toes. In this original Marvel's Guardians of the Galaxy story, you'll cross paths with powerful new beings and unique takes on iconic characters, all caught in a struggle for the galaxy's fate. It's time to show the universe what you're made of. You got this. Probably."
The Mixed Bag of Marvel Games Lately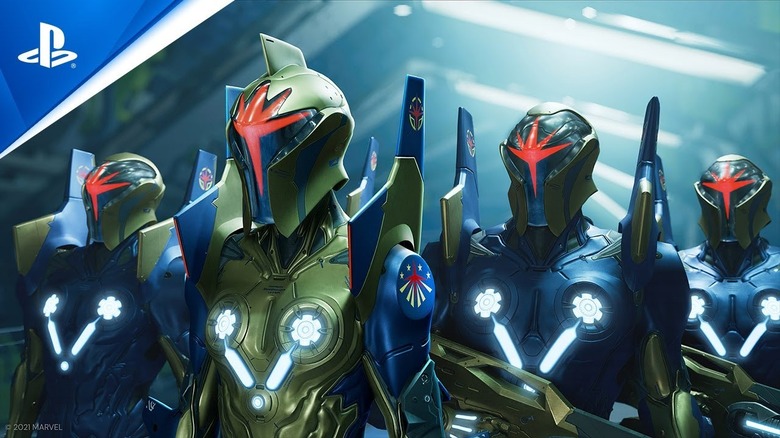 PlayStation
A "Guardians" game makes every bit of sense on paper. Thanks to the movies, they have become some of the most popular characters in the Marvel canon. But last year's "Marvel's Avengers" proved to be quite the disappointment for many. While DLC like "War for Wakanda" has helped, it left a bad taste in many mouths. At the same time, "Spider-Man: Miles Morales" was a big hit and let us not forget "Marvel Ultimate Alliance 3" on the Nintendo Switch. This to say, it's tough to know which camp this game is going to fall into when it arrives next month.
"Marvel's Guardians of the Galaxy" arrives for the PlayStation 5, PlayStation 4, Xbox Series X|S and Xbox One, PC and streaming on GeForce NOW on October 26, 2021. A cloud version will also be available for the Nintendo Switch.