You Season 3: Release Date, Cast, And More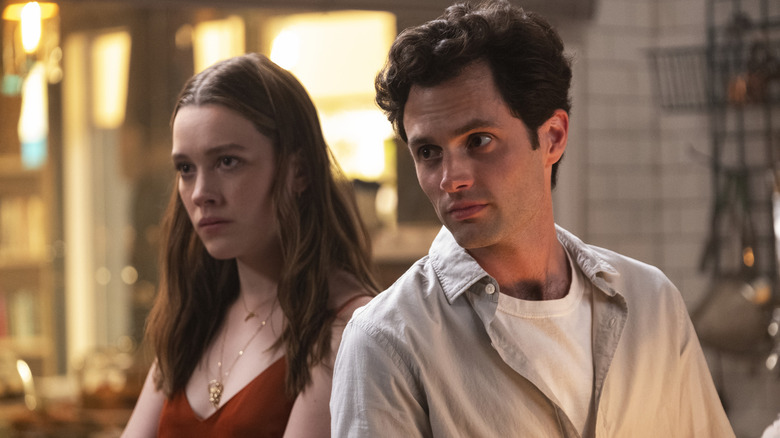 Netflix
(Welcome to ...And More, our no-frills, zero B.S. guide to when and where you can watch upcoming movies and shows, and everything else you could possibly stand to know.)
"Hello, You." It's become impossible not to read that phrase in Penn Badgley's chilling voice. In a weird way, I'm starting to miss that sociopathic bookseller. Thankfully, the long wait for "You" season 3 is nearing its end. That's right, "You" is bringing the murderous vibes back for a third round. Here's everything you need to prepare for the upcoming season of "You."
You Season 3 Release Date And Where You Can Watch It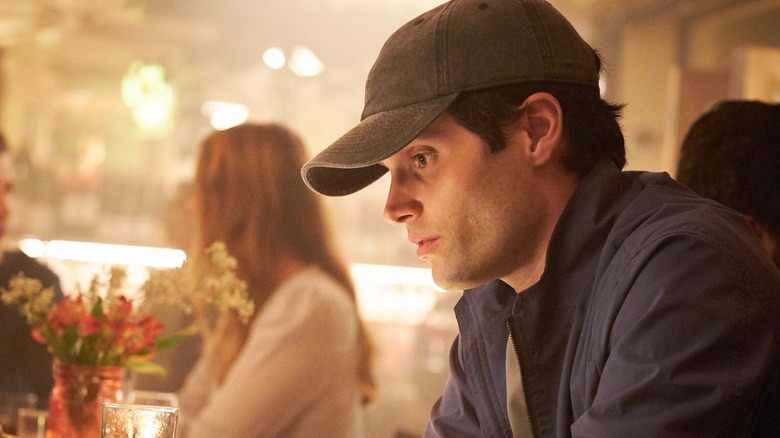 Netflix
Season 3 of "You" premieres exclusively on Netflix, on October 15, 2021. Just like the second season, all 10 episodes hit the streaming service on the same day, which is perfect for all us impatient bingers.
What is You?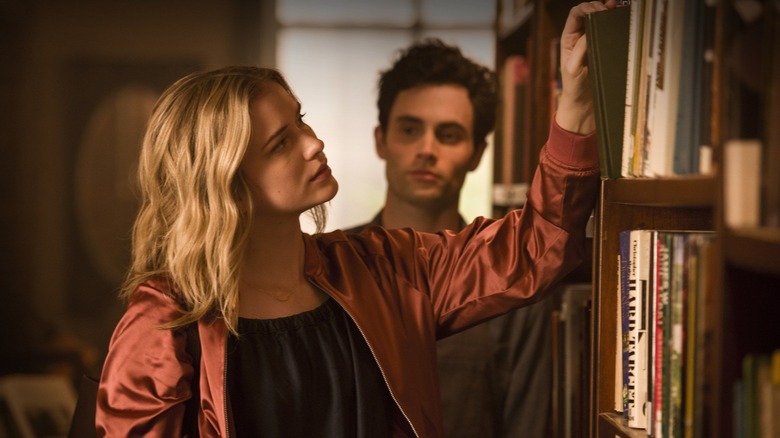 Netflix
"You" is your typical love story: boy meets girl, boy stalks girl, then boy does a bunch of murderous, sociopathic things because he is truly unhinged. That's love, right? 
After two seasons listening to monologues from series lead Penn Badgley as Joe Goldberg, anyone's idea of relationships would get pretty warped. When we meet Joe, he seems like a normal, lovestruck bookseller — albeit very pretentious — but by the end of season 1 he's a full-fledged murderer. Joe stalks his way into the heart of whichever woman he happens to fixate on and it tends to end badly for everyone involved. In the second season, he leaves New York for Los Angeles and meets a woman who turns his life upside down — Love (Victoria Pedretti). 
The series is loosely based on the 2014 novel of the same name, "You" by Caroline Kepnes. The second and third seasons adapt the sequel, "Hidden Bodies."
"You" premiered on Lifetime in 2018 to a very limited audience, but received a surge of attention when it came to Netflix. The series has since moved to the streamer as a Netflix Original title.
You Season 3 Synopsis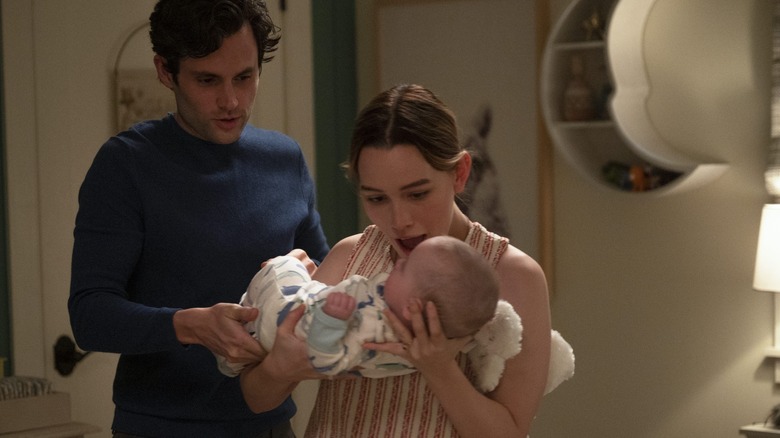 Netflix
Here's the synopsis for season 3 of "You":
In Season 3, Joe and Love, now married and raising their baby, have moved to the balmy Northern California enclave of Madre Linda, where they're surrounded by privileged tech entrepreneurs, judgmental mommy bloggers and Insta-famous biohackers. Joe is committed to his new role as a husband and dad, but fears Love's lethal impulsiveness. And then there's his heart. Could the woman he's been searching for all this time live right next door? Breaking out of a cage in a basement is one thing. But the prison of a picture-perfect marriage to a woman who's wise to your tricks? Well, that'll prove a much more complicated escape.
You Season 3 Cast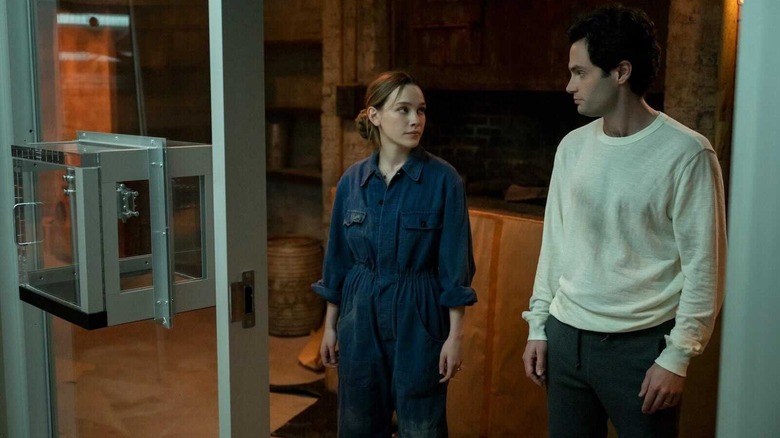 Netflix
Obviously, Season 3 sees the return of Penn Badgley and Victoria Pedretti as Joe and Love. But we can also expect a few more familiar faces to join them. Saffron Burrows returns as Love's mother, Dottie, with the actress getting a boost to series regular. We also know that Jenna Ortega will reappear as Ellie, despite being desperate to escape Joe in the aftermath of her personal tragedy (which was entirely his fault). So far, those are the only names confirmed to reappear.
Season 3 also introduces a bunch of new characters to fill out Joe's new neighborhood. "Law and Order: SVU" star Michaela McManus is Joe's latest fixation, his wealthy next door neighbor. Also new to the show is Dylan Arnold, Tati Gabrielle, Shalita Grant, Travis Van Winkle, Scott Speedman, Scott Michael Foster, Ben Mehl, Shannon Chan-Kent, Christopher Sean,- Chis O'Shea, Bryan Safi, Mackenzie Astin- Ayelet Zurer, and Jack Fisher
You Season 3 Writers, Showrunner, and More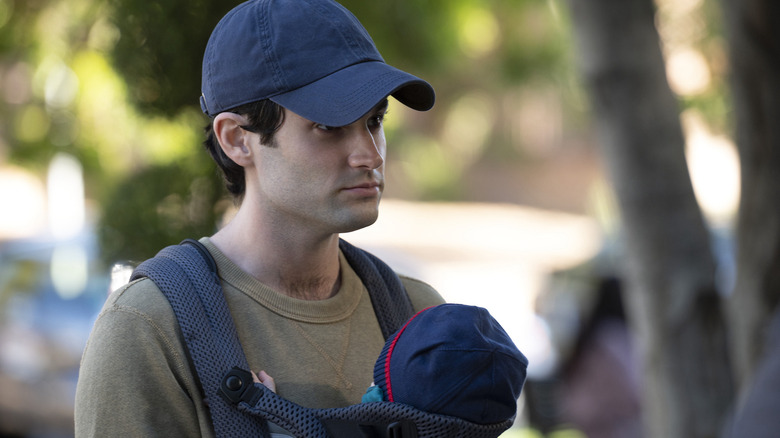 For season 3, Sera Gamble returns as showrunner and co-executive producer with series co-creator Greg Berlanti. The first episode is directed by Silver Tree (who previously helmed three episodes of the second season), with other directors to be announced. The premiere, which we know is titled "And They Lived Happily Ever After," is written by showrunner Sera Gamble and season 2 writer, Marin Reed.