Denis Villeneuve's Biggest Challenge On Dune Was Timothee Chalamet's Hair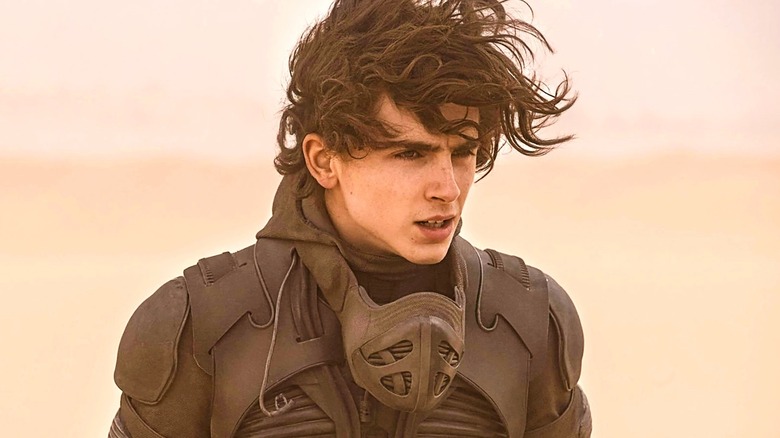 Warner Bros. Pictures
Actors just can't help themselves sometimes from being impossibly difficult to work with, am I right? In this case, however, I have some sympathy for both "Dune" filmmaker Denis Villeneuve and actor Timothée Chalamet. The talented star's mane of hair has helped him become both a heartthrob and a highly in-demand screen presence among the likes of Greta Gerwig, Wes Anderson, and obviously Villeneuve as well. But those of us blessed (cursed?) with unruly hair can speak to just how much of a tall task it is to try and tame, which was apparently the case during the production of "Dune."
Last week, "Dune" underwent its world premiere at the Venice Film Festival. Reviews, including the one written by /Film's Marshall Shaffer, dove deep into the awe-inspiring visuals and grand storytelling at work in Villeneuve's adaptation of Frank Herbert's epic novel. But perhaps the one glaring omission in many of these reactions was the all-important commentary on Timothée Chalamet's hair. Denis Villeneuve joked about Chalamet's signature curls during the press conference preceding the "Dune" screening, according to Deadline, alluding to Chalamet's mop as "alive" — as if the complication of filming on location in the deserts of Abu Dhabi wasn't already bad enough! Villeneuve amusingly added that, "I had to direct Timothée and I had to direct his haircut."
It's Alive!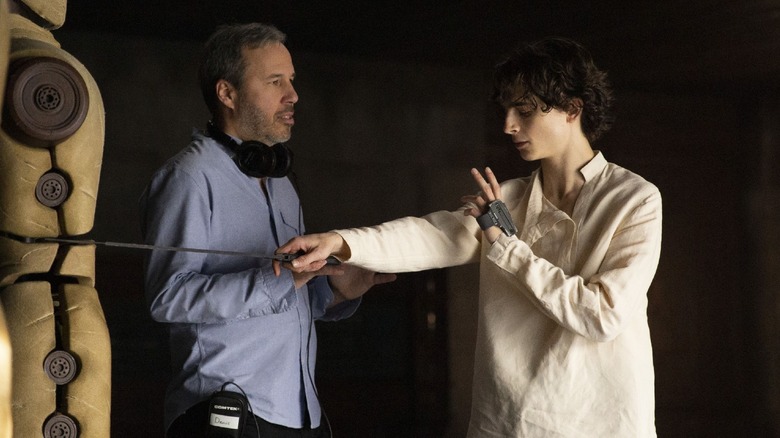 Warner Bros.
Hair troubles aside, Chalamet referred to the role of Paul Atreides, the teenaged son of a powerful ruling house, as "the honor of a lifetime" and also remarked on the challenges of embodying the same role as Kyle MacLachlan in David Lynch's 1984 attempt to bring the influential novel to life:
"I have huge respect for Kyle's performance and I love that version. I watched it two months before we started shooting. [But] when Denis asks you to do a movie and do his version of a movie, you forget all about it and make yourself as humble as the source material asks you to be."
That source material has echoed through the decades for a reason, providing the road map for stories like "Star Wars" and presenting an eerily prescient vision of a planet in a state of environmental disarray. Villeneuve spoke about those themes (including the "white savior" narrative) and why the 1965 novel has continued to stick with him:
"The book is far more relevant today about the danger of the cross mix between religion and politics. The danger of messianic figures. The impact of colonialism. The problems with the environment. This book stayed with me through the years but it just felt more and more relevant through time. I think it's time to push and make changes. I still have hope and I think it's time to get into action."
For now, the rest of us will have to wait until "Dune" finally releases on October 22, 2021 — both in theaters and on HBO Max.