Hellbound Trailer: Train To Busan Director Sends Us Straight To Hell In Netflix Horror Series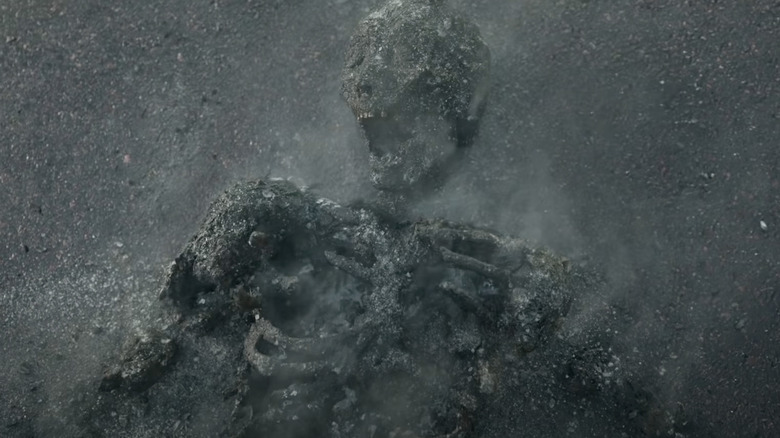 Climax Studio
It's film festival season, and while all eyes are on Venice right now, the Toronto International Film Festival (TIFF) is also gearing up for its start date on September 10. One of the things screening in Toronto this year is "Hellbound," a new Netflix series from "Train to Busan" director Yeon Sang-ho. It's based on "The Hell," a webtoon, or digital comic, that he co-wrote with Choi Kyu-seok, who also served as illustrator.
The TIFF page for "Hellbound" likens the webtoon to a storyboard for the series. The cast is led by Yoo Ah-in, who starred in the superb 2018 Korean film, "Burning," adapted from the short stories of Haruki Murakami and William Faulkner.
"Train to Busan" remains one of the most popular horror movies of the last decade. We have some real, as-yet-unpublished Survey Says results that verify that. People rank it up there with "Get Out" and "A Quiet Place." Last year, Sang-ho followed it up with "Peninsula," which had a more mixed reception and which also may have gotten lost in the shuffle for some viewers amid the news cycle of a legit pandemic (as opposed to a fictional zombie virus outbreak).
Check out the first trailer for "Hellbound," below.
Hellbound Trailer
This "Hellbound" trailer is only a minute long, so it's really more of a teaser, but it does a good job of setting the mood: putting us in a cafe with a cursed man who has "the executors of Hell" closing in on him. He looks at his phone, counting down the time till he meets his doom.
Before you die, you see ... the CG cheese?
That's right. The tension of the cafe somewhat dissipates — goes to hell, you might say — when the demons arrive and come crashing through the windows. They look like the smoke monster from "Lost" if it decided to take on a humanoid form and start hitting the gym. We get a glimpse of one's rear-end as he's running down the street, and their bulky forms are also somewhat reminiscent of the Abomination from "The Incredible Hulk" (who is currently appearing in a different movie with an Asian ensemble).
According to the TIFF website, "Hellbound is "a series about a nation coping with a new phenomenon of 'sinners' literally condemned, and a religious sect on the rise, led by Jung Jin-soo (Yoo Ah-in)." Here's the rest of the synopsis:
Investigating the phenomenon of "proclamations" and ritualistic murders is police detective Jin Kyung-hoon (Yang Ik-june). Examining the mysterious sect are broadcast journalist Bae Young-jae (Park Jeong-min) and lawyer of the accused sinners Min Hey-jin (Kim Hyun-joo). Together, these three investigators search for answers in this wildly original commentary on the growing anxieties of a nation.
"Hellbound" has its first in-person screening at TIFF on Saturday, September 11, 2021. The digital premiere screening is on Friday, September 17.