The Daily Stream: Get Your Witcher Fix Animated With The Witcher: Nightmare Of The Wolf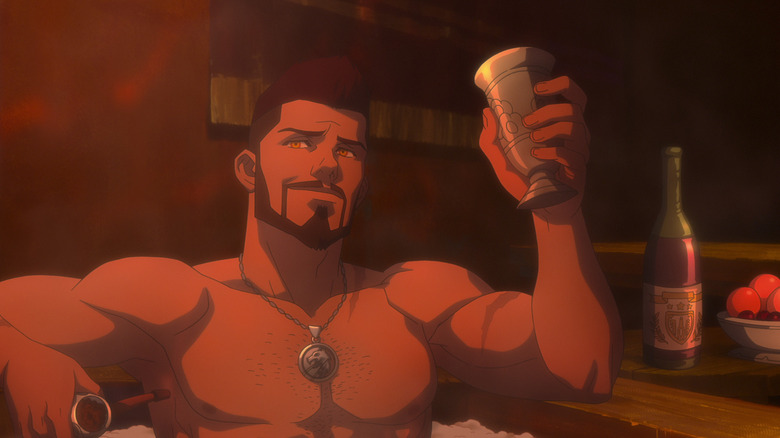 Netflix
(Welcome to The Daily Stream, an ongoing series in which the /Film team shares what they've been watching, why it's worth checking out, and where you can stream it.)
The Movie: "The Witcher: Nightmare of the Wolf"
Where You Can Stream It: Netflix
The Pitch: Looking for more stories in "The Witcher" world or just a fantasy tale full of magic, fighting, and complicated relationships? "Nightmare of the Wolf" fulfills all of the above in an 82-minute animated feature.

Why It's Essential Viewing
It's no secret that Netflix is looking to create its own extended "Witcher" universe. After the popularity of the first season of "The Witcher," in which Henry Cavill plays the gruff and grumpy Geralt of Rivia, the streaming platform ordered a second season, two other "Witcher" projects, and helped create a WitcherCon. One of those projects is a live-action prequel, "Witcher: Blood Origin," which takes place 1,200 years before Cavill's Geralt started killing monsters across the Continent.
The second project is "Witcher: Nightmare of the Wolf," which dropped on Netflix in August 2021. This feature is also a prequel to the Cavill-helmed show, but doesn't go as far back as "Blood Origin." In this film, we focus on another Witcher — Vesemir (Theo James) — a swashbuckling slayer of monsters who roamed the Continent before Witchers were reduced to only a few.
"Nightmare of the Wolf" gives more dimension and depth to the Continent, the land where the three realms (AKA spheres) of man, elves and monsters collided. As the story progresses, it also reveals why there are so few Witchers in Geralt's time and gives us hints of Geralt's own origin story, as Vesemir was his mentor.
While knowing and caring about Cavill's "Witcher" series definitely gives the feature additional depth, "Nightmare of the Wolf" has a strong standalone story that would appeal to those even unfamiliar with "The Witcher" world. At the heart of movie is a love story, a touching yet bittersweet one. And there's also sociopolitical turmoil, commentary on whether ends justify the means, and plenty of extremely graphic violence to make this extremely unsuitable for younger audiences.
The cast also does a great job bringing their characters to life. In addition to James voicing Vesemir, the cast includes "Battlestar Galactica" president Mary McDonnell as Lady Zerbst, Lara Pulver as Tetra, Graham McTavish as Deglan, Tom Canton as Filavandrel and Jennifer Hale as Illyana.
If you're a "Witcher" fan, watching "Nightmare of the Wolf" is well worth your time, even if animated movies aren't your thing. If you're not into "The Witcher" and not into dark fantasy and/or animated features, however, then you probably shouldn't toss a coin to "Nightmare of the Wolf."