Dune Was Inspired By Director Denis Villeneuve's Grandmother And A Certain Star Wars Scene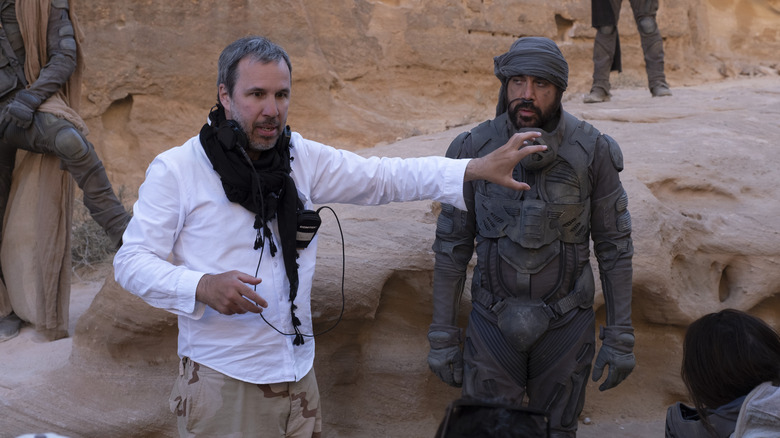 Chiabella James/Warner Bros.
With "Dune" airing at the Venice Film Festival, more and more people are experiencing filmmaker Denis Villeneuve's interpretation of Frank Herbert's foundational book. I was lucky enough to see a screening of "Dune" myself. One of things that's striking about the movie, which people can get a hint of in the trailer, is the utter alienness of the universe Villeneuve has brought to the screen. The landscapes, the designs of the ships, the costuming, the music and soundscape — all of it feels truly unique and unlike any sci-fi film before it. 
I recently took part in a roundtable discussion with Villeneuve and asked him how he and his team created such striking images on-screen.
Looking To Nature, Not the Internet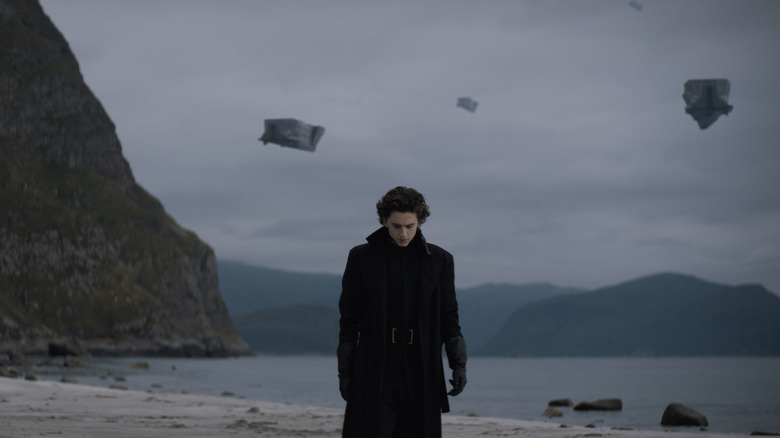 Warner Bros.
For "Dune," Villeneuve directed his team to turn inward when creating and designing Frank Herbert's universe:
"To [production designer] Patrice Vermette and all of the guys, I said, 'Guys, I would love for you to stay away as much as possible from internet, I would love you to meditate. I would love you to dream. I would like this movie to come from inside us, not from other influences outside. I would like us to find our own path into our mind to try to bring something.' We were very arrogant. We wanted to try to bring something new. There are been a lot of sci-fi movies made before us but ... one of the keys was nature. To try to be as close to nature as possible."
The importance of nature is something that Villeneuve has been attracted to since he was a boy. "When I saw the very first 'Star Wars' in 1977 my favorite scenes were the ones that felt the most natural," he said. "The one when we see the droids at the beginning — there was something about the strength of nature. I've been raised doing documentaries where nature is your most powerful eye and I try to bring that into 'Dune.' Strangely, I tried to do a sci-fi movie a bit like a documentary, using nature as a strong ally instead of fighting against it."
Villeneuve was so attracted to biology that at one point he had to decide whether to be a filmmaker or a biologist. Filmmaking won out, but that didn't temper his fascination with nature, something that his grandmother instilled in him at a young age:
"I was raised in a small village where I was in a relationship with the horizon, the St. Lawrence River. That line and that massive sky brings humility. You're so small as a human being when you have that kind of horizon around you, the power of nature. I was raised also by a grandmother that taught me to be mesmerized every day. To be mesmerized by nature, by a flower, by everything .... She said to me, 'I pray every time I'm in my garden to be in relationship with the plants and the nature. If God exists that's where I feel his power.' That's something I heard as a kid — a true, sacred relationship with nature. It's something that really mesmerized me."
Dune is New But Also 'A Selfie' of Villeneuve's Work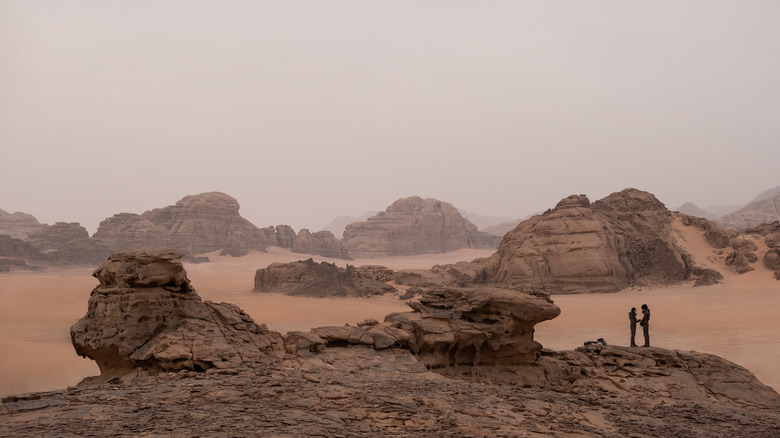 Warner Bros.
The look of "Dune," while uniquely striking, is also clearly made by the filmmaker who brought us "Arrival" and "Blade Runner: 2049."
"I'm the accumulation of all my movies," Villeneuve admits. And while the director emphasizes that he purposely sets up new challenges for himself in each movie he's done, he also agrees that his previous films have influenced "Dune":
"There's a strong influence definitely from 'Incendies,' from 'Enemy,' even from 'Arrival,' from 'Blade Runner.' All the movies that I did before, 'Dune' is an accumulation of my knowledge and experiences. So that's where 'Dune' is like a selfie of myself ... that's where I am right now. By far, honestly, I think it's my most personal movie. Strangely, there's a connection I have with this movie that I never felt before. I feel so close to it."
"Dune: Part One" premieres in theaters and HBO Max on October 22, 2021.