Night Teeth: Release Date, Cast, And More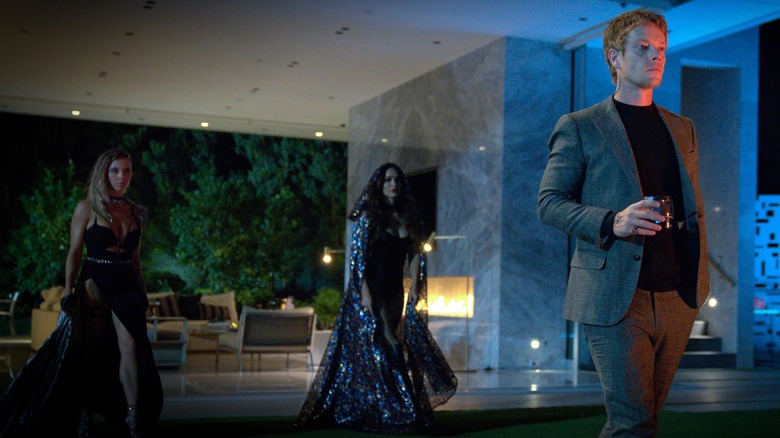 Netflix
(Welcome to ...And More, our no-frills, zero B.S. guide to when and where you can watch upcoming movies and shows, and everything else you could possibly stand to know.)
You know what never gets old? Vampires! Sure, they tend to be hundreds (if not thousands) of years old, but it never really shows. They age like fine wine and never fail to as a source of entertainment. Netflix must've gotten the vampire-loving memo: not only have they claimed the entire "Twilight" saga for themselves, but they're also working on a vampire flick of their own. "Night Teeth" is weeks away from hitting the streamer and we're starting to get excited. 
Here's everything you need to know about the upcoming movie.
Night Teeth Release Date and Where You Can Watch It
"Night Teeth" is a Netflix original movie, making its debut next month on October 20, 2021. The vampire movie hits just in time for Halloween, which is certainly not a coincidence. When you're planning your "Dracula" rewatch and monster movie binges, you might consider adding "Night Teeth" into the mix.
What is Night Teeth?
"Night Teeth" is an upcoming vampire thriller, and Netflix recently revealed a first look at the movie, including some exciting photos and very helpful plot details. The film follows a college student who moonlights as a chauffeur for extra cash, on what may just be his deadliest day on the job. While Benny's (Jorge Lendeborg Jr.) usual gig is carting around LA party girls, he happens to play driver to a deadly pair of bloodthirsty vampires. Taken captive by their charm, he must find a way to survive until dawn and hopefully not become their midnight snack.
Sounds simple enough, right? Your typical don't-let-the-vampire-kill-you thriller. But the wild premise doesn't stop there: Benny also finds himself smack dab in the middle of a war against rival vampire tribes and the human race. Best of luck to Benny, but this sounds like it'll be a deeply entertaining journey for the rest of us.
Night Teeth Cast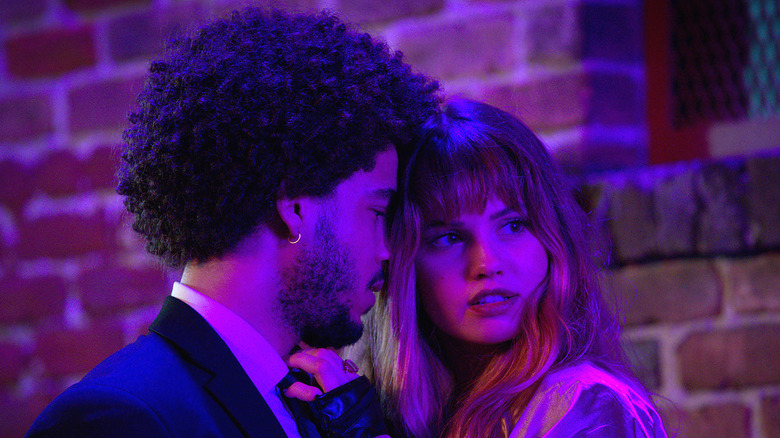 Netflix
Here's where things get really fun. "Night Teeth" is packed with familiar faces that we'll surely see wearing razor-sharp fangs and slurping up blood. Jorge Lendeborg Jr. ("Love, Simon," "Bumblebee") stars as the unlucky chauffeur who finds himself tangled in an endless web of vampire drama. You might recognize Lendeborg Jr as Peter Parker's classmate in the MCU Spider-Man films or from the Focus Features drama, "Boogie." His mysterious passengers are played by Debby Ryan ("Insatiable," "Jessie") and Lucy Fry ("Bright," "Lightning Point"). This isn't Fry's first time playing a vampire — she filled a starring role in the 2014 film "Vampire Academy."
Alfie Allen (of "Game of Thrones" fame) also stars in the film, along with Alexander Ludwig ("Heels," "The Hunger Games"). Two of the biggest names in the film are Sydney Sweeney (who recently dazzled in "Euphoria" and "The White Lotus") and Megan Fox (who needs no introduction). They'll be facing off against Raúl Castillo ("Army of the Dead"), who plays a protector of the human world, determined to send the vampires back into the shadows. The film also stars Bryan Batt ("Mad Men") and Marlene Forte ("Dallas").
Night Teeth Director, Crew, and More
"Night Teeth" comes from director Adam Randall and writer Brent Dillon. Randall previously directed the 2019 film "I See You," starring Helen Hunt and Jon Tenney. The horror thriller premiered at SXSW to pretty solid reviews, with plenty of praise for its slow-burn suspense. "Night Teeth" comes from producers Ben Pugh, Charlie Morrison, Bob Shaye, and Erica Steinberg.