Superhero Bits: Rumored Spider-Man: No Way Home Runtime, Poison Ivy Is Coming To Batwoman & More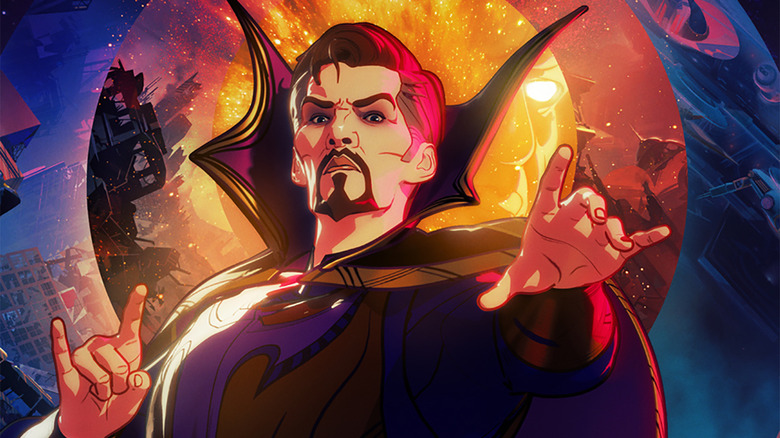 Marvel Studios
(Superhero Bits is a collection of stories, updates, and videos about anything and everything inspired by the comics of Marvel, DC, and more. For comic book movies, TV shows, merchandise, events, and whatever catches our eye, this is the place to find anything that falls through the cracks.)

In this edition of Superhero Bits:
Doctor Strange is about to die in Marvel Comics
"Batwoman" season 3 will bring Poison Ivy into the fray
Has the "Spider-Man: No Way Home" runtime been revealed?
What is the Nathan Fillion Civilian Pavilion?
"Hawkeye" will get in the holiday spirit
All that and more
The Death of Doctor Strange
In September, Marvel Comics will begin a five-issue miniseries that explores what happens when Doctor Strange unexpectedly dies. Here's the official synopsis:
Written by Jed MacKay ("Black Cat," "Moon Knight") with Lee Garbett ("Captain Marvel"), "Death of Doctor Strange" will be a five-issue epic that will tell the final chapter in the life of Doctor Strange. Able to defeat supernatural and interdimensional threats no other hero is equipped to handle, Strange was the only hero standing in the way of powerful new villains eager to claim Earth as their own. When he unexpectedly dies, who is left to protect Earth and keep the mystical evils at bay? And most importantly ... who killed Stephen Strange? If he couldn't stop them, who can? This rousing journey will dive into the mythos behind Doctor Strange, showcasing his unique — and vital — position amongst Marvel's heroes and ultimately transform the future.
MacKay added, "Strange has been a Marvel fixture from the early days, but now, his time has run out and as a Strange fan, it's been my bittersweet privilege to shepherd him through his last day and the effects that snowball out of it."
Stay tuned to find out when the comic launches later this month.
Bridget Regan Joining Batwoman Season 3 as Poison Ivy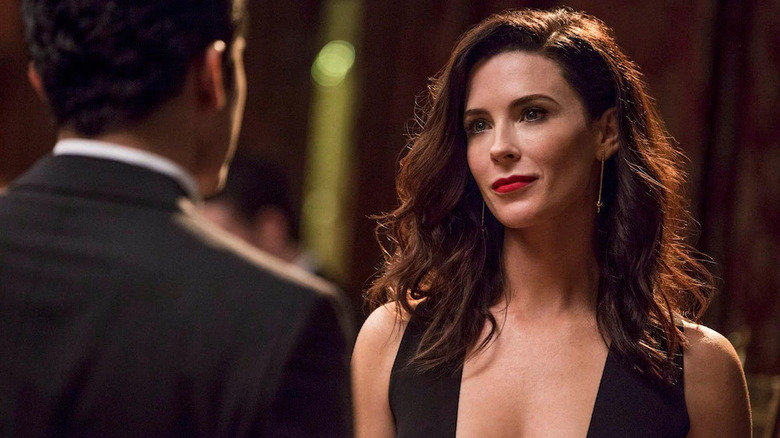 Warner Bros. Television
The third season of "Batwoman" on The CW is bringing a major DC Comics villain into the fray. Deadline has learned that Bridget Regan ("Jane the Virgin," "Agent Carter") will be playing Pamela Isley, aka Poison Ivy. After being out of action for years, Poison Ivy will be returning to Gotham City to give Batwoman and her allies a formidable foe to deal with. We're not sure what kind of impact Poison Ivy will have on the overall trajectory of the third season, but the series is clearly expanding the roster of characters quite a bit.
Other new cast members include Robin Givens as Jada Jet, Nick Creegan as her son, Marquis Jet, and Victoria Cartagena as Renee Montoya. There are likely plenty more cast additions to come, and we'll keep you updated on all of them.
Shang-Chi Cast Play with Themselves in Funko Form
"Shang-Chi and the Legend of the Ten Rings" will soon be in theaters, but the toys inspired by the Marvel Studios movie have been on shelves for a little while now. In case you're curious about what's available out there, Simu Liu, Awkwafina, and Fala Chen played around with some of the Funko POPs, LEGO sets, and a certain faceless, fuzzy little creature that apparently steals the movie.
Spider-Man: No Way Home Runtime Possibly Revealed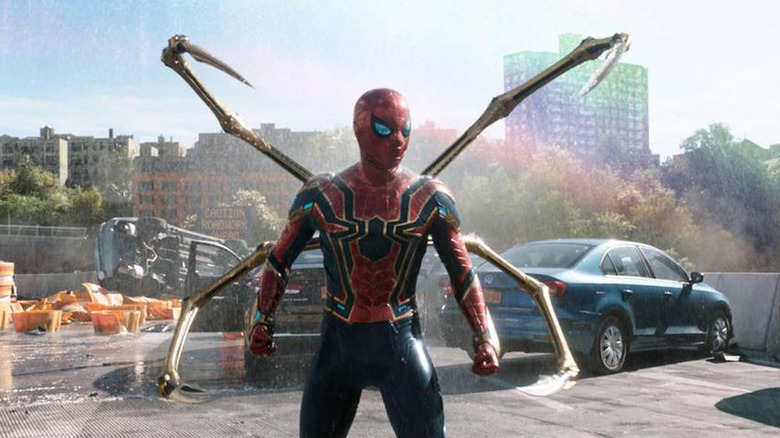 Marvel Studios / Sony Pictures
Since it's not likely that a final cut of "Spider-Man: No Way Home" is complete yet, take this news with a grain of salt. British movie theater chain Cineworld has a ticket pre-sale page for the Marvel Studios and Sony Pictures sequel listing the movie with a runtime of 150 minutes. That would make it the longest runtime for a solo superhero movie from Marvel Studios. The only other Marvel movies to run longer than that are "Avengers: Infinity War" at 160 minutes and "Avengers: Endgame" at 182 minutes.
That might seem excessive, but considering the kind of multiverse ramifications "Spider-Man: No Way Home" has to deal with, it wouldn't be surprising. But again, we're still over three months away from the film's release, and director Jon Watts is probably still cutting the film down in the editing room, so let's not get ahead of ourselves
The Nathan Fillion Civilian Pavillion
Did you know that a radio station started a petition to name a new building in Edmonton (the capital city of Alberta, Canada) after Nathan Fillion? The building would be dubbed The Nathan Fillion Civilian Pavilion, and Warner Bros. Canada asked "The Suicide Squad" cast what they thought about this silly but hilarious endeavor. However, they couldn't manage to get Nathan Fillion himself to chime in. Thankfully, he ended up getting involved later.
The petition in question actually resulted in The Nathan Fillion Civilian Pavilion becoming a reality for a limited time. In fact, the radio station that started the petition was able to speak with the actor himself to get his take on the temporary honor bestowed upon him by his home city. There are still good things happening in the world.
Hawkeye Will Get in the Holiday Spirit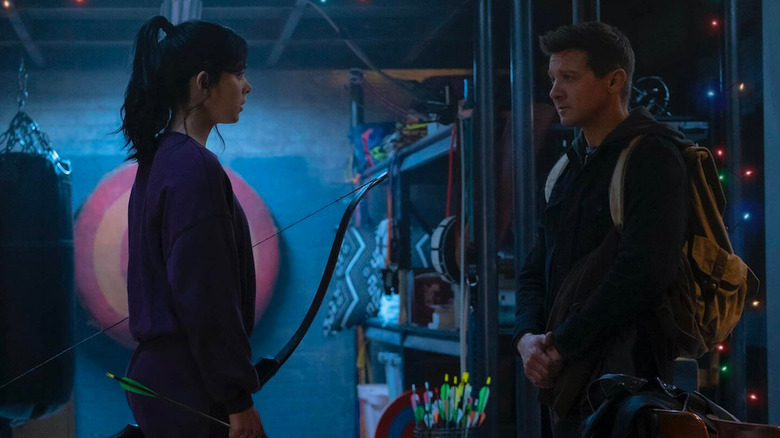 Marvel Studios
Marvel's "Hawkeye" series is slated to arrive later this year, and since its release date comes just before Thanksgiving, that means the show will have some seasonal touches. In TV Guide Magazine's fall preview (via Reddit), executive producer Trinh Tran said the series will be "grounded and funny and packed to the brim with Christmas spirit."
Perhaps people will be enjoying the holidays more now that the devastation caused by Thanos has been undone. However, Tran cautions that it isn't happy holidays for everybody. She added, "The city has, in many ways, recuperated and continued thriving, but the same can't be said for all its citizens."
We'll have to wait and see exactly what that means.
Shang-Chi and the Attempt to Wait Patiently for the Movie
Just a few more days until "Shang-Chi and the Legend of the Ten Rings" hits theaters. If you're trying to wait patiently but you need a bit of a fix to hold you over, here's yet another TV spot with some new footage from the movie, including a new shot of one of the massive dragons.
Doctor Strange Supreme is Coming to Marvel's What If...?
The fourth episode of Marvel's "What If...?" animated series is nearly upon us, and a new poster teases what's in store for fans with an image of Doctor Strange (who will be voiced by Benedict Cumberbatch) looking both extremely powerful and somewhat evil. How will this alternate spin on the sorcerer change Stephen Strange's story? You'll have to wait and see when the episode drops tomorrow.