The Morning Watch: Black Widow VFX Breakdown, Turning The Pages Of Indiana Jones' Grail Diary & More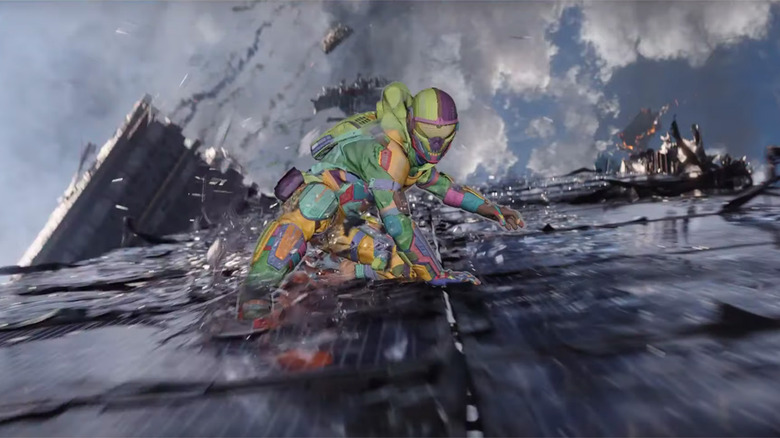 Digital Domain
(The Morning Watch is a recurring feature that highlights a handful of noteworthy videos from around the web. They could be video essays, fan-made productions, featurettes, short films, hilarious sketches, or just anything that has to do with our favorite movies and TV shows.)
In this edition, take a look at a "Black Widow" VFX breakdown focusing on General Dreykov's Flying Fortress and the climactic scenes that take place in the villain's stronghold. Plus, watch Adam Savage take a closer look at the grail diary prop from "Indiana Jones and the Last Crusade." And finally, listen to "Knives Out" and "The Shape of Water" star Michael Shannon sing an original song on "The Tonight Show."
Black Widow VFX Breakdown
First up, CG Record rounded up a couple "Black Widow" VFX breakdowns from Digital Domain and Trixter to reveal how some of the climactic scenes on the Flying Fortress came together. It comes as no surprise that almost the entire fortress is created in visual effects, but you might be surprised to see how certain details were created in post-production, including some of General Dreykov's soldiers.
Opening Indiana Jones' Grail Diary
Next, from one of Prop Store's auctions featuring props from movies and TV, Adam Savage and the Tested crew got to take a closer look at the original production pages from the grail diary featured in Indiana Jones and the Last Crusade. See how much detail went into the creation of this prop for the sake of authenticity, and get a look at some of the pages that were never seen on screen in the film.

Michael Shannon Sings The Armadillo Song
Finally, we already know that Michael Shannon is an acclaimed actor, but did you know that he's also part of a band called Corporal? While talking about their musical exploits on "The Tonight Show," the actor showed off his skills by performing a tune called "The Armadillo Song," which he happened to write when he was just 15 years old. As far as songs that feature armadillos go, it's pretty dang good. Enjoy!