The 20 Greatest James Bond Villains Ever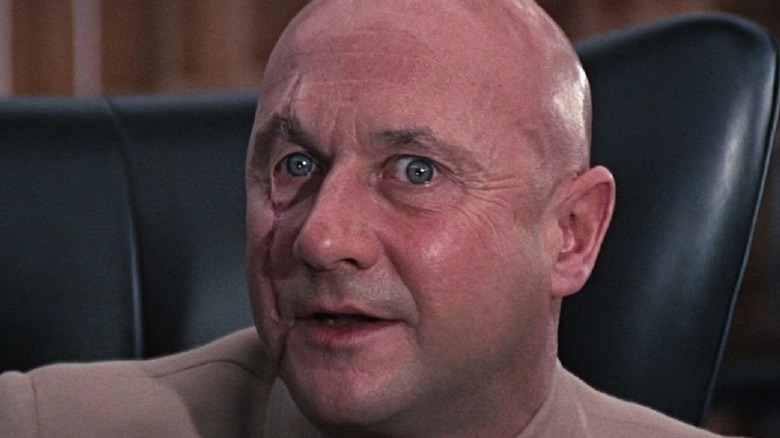 MGM
After several release date pushes, the latest James Bond film, "No Time to Die," is set to hit theaters in October. The 25th installment in the long-running franchise comes with heightened expectations, and not just because of the delays. It marks the final appearance of Daniel Craig as 007 before a new actor slips into the role of the martini-sipping super spy.
While "No Time To Die" won't end the ongoing debate about who the best Bond is and who should take up the role next, it's exciting to see Academy-Award winning "Bohemian Rhapsody" star Rami Malek join the series as the villain Safrin. Malek marks the third time in a row that Bond's main antagonist has been played by an Oscar winner, following Javier Bardem in "Skyfall" and Christoph Waltz in "Spectre."
Bond films are often as good as their antagonists. The first film, "Dr. No," even took its title from the saga's first cinematic antagonist. In the 50 years since, different types of Bond villains have emerged; some are scheming masterminds who lay out meticulous traps, others are imposing henchmen, and are some femme fatales who fall for 007's charms. Each era of Bond has distinct villains, too — Roger Moore's adversaries tend to be wackier, while Daniel Craig has faced off against more realistic threats.
Bond's rogue's gallery is extensive, but these 20 characters stand out as his most fearsome and memorable challenges yet.
Raoul Silva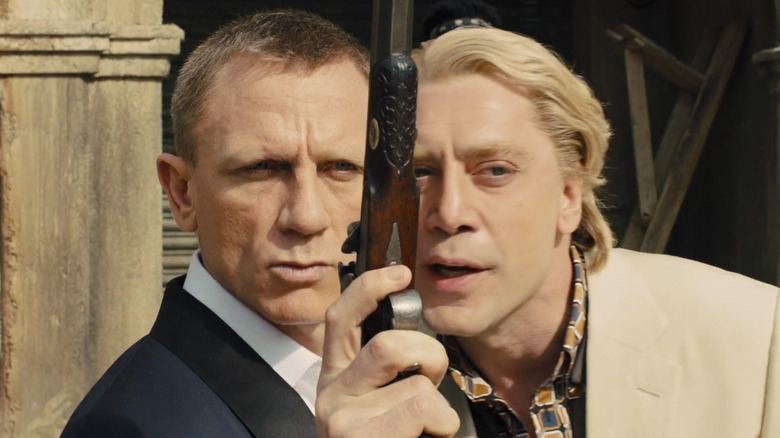 MGM
Javier Bardem is best known for playing the near-silent hitman Anton Chigurh in "No Country For Old Men," but his role in "Skyfall," while still villainous, is very different from the brooding assassin. Raoul Silva is an eccentric criminal mastermind who plots to take down MI6 through a series of elaborate traps, publicly discrediting the intelligence agency through bombings and leaked intel. While he has a flair for the theatrical, Silva is a damaged character who harbors a deep hatred for Bond's employer M (Judi Dench).
A former MI6 operative, the cyber-criminal once known as Tiago Rodriguez was abandoned and left permanently scarred. Driven by vengeance, Rodriguez took on the name Silva and used his knowledge of the MI6 database to expose the secret identities of working field agents. Silva's advanced knowledge poses such a threat to M that Bond must temporarily leave MI6 in order to protect his boss. Silva is fascinated by Bond, and considers him to be a potential ally.
Silva is a dark mirror to Bond: in the opening of "Skyfall," Bond is nearly killed on assignment, so he's able to empathize with Silva's rage. However, upon enduring Silva's sadistic games, during which Silva kills his lieutenant Sévérine (Bérénice Marlohe), Bond realizes that he will never understand Silva's capacity for cruelty. For his transformative performance, Bardem earned a BAFTA, Screen Actor's Guild, and Critic's Choice Award nomination for Best Supporting Actor.
Auric Goldfinger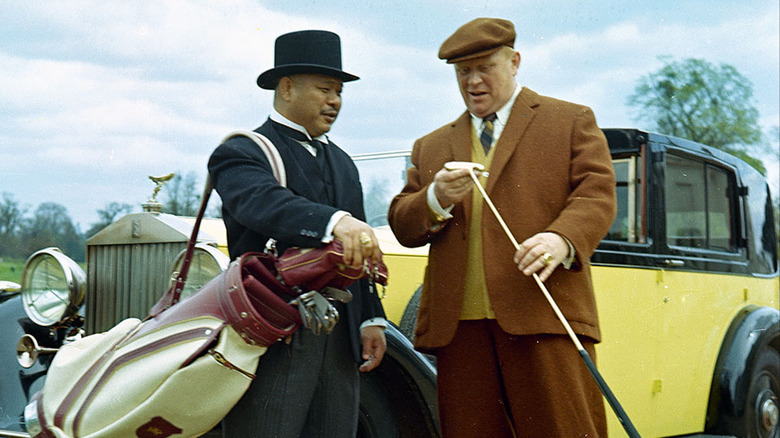 MGM
"Goldfinger" is one of the most important installments in the James Bond franchise. While the first two films, "Dr. No" and "From Russia With Love," were popular and drew praise for Sean Connery's charismatic performance, the third installment, "Goldfinger," launched the series into blockbuster territory and established many of the franchise's recurring tropes, including the high-tech gadgets, exotic locations, self-aware humor, lavish musical numbers, and of course, eccentric and imposing villains.
In a way, every subsequent Bond villain lives in Auric Goldfinger's shadow. A villain the audience loved to hate, Goldfinger is a boastful and cruel businessman whose rudeness provides a stark contrast to 007's slick charms. Bond discovers Goldfinger's deceitful nature early on when he catches Auric cheating at golf, but soon learns that he's up to more than just unsportsmanlike conduct. Goldfinger plots to corrupt the U.S. Government's federal gold supply and crash the global economy, creating chaos in which he could emerge as a world leader. Although previous Bond villains were involved with SPECTRE, Goldfinger's evil plans are entirely his own.
Goldfinger's venomous threat, "No, Mr. Bond, I expect you to die!" is one of the most iconic moments in the series. Bond deceives the prideful villain into explaining his plan, a moment that many Bond films would later replicate. Although Bond producers allegedly considered Orson Welles for the part, German actor Gert Fröbe did a terrific job capturing Goldfinger's menacing aura.
Alec Trevelyan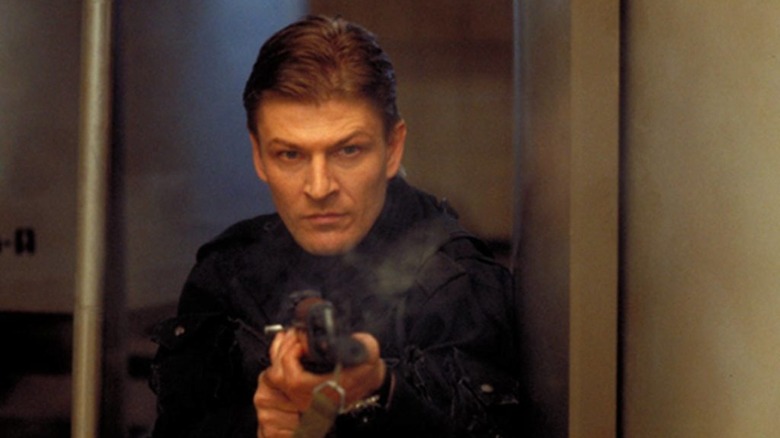 MGM
The opening scene of a James Bond film often begins the new adventure on a fun note, but in "GoldenEye" the initial sequence provides a critical character moment, too. While on assignment, Pierce Brosnan's 007 and his partner Alec Trevelyan, aka 006 (Sean Bean), infiltrate a chemical storage facility looking for connections to the former Soviet Union. Tasked with detonating the building, Bond is devastated when 006 is left behind and presumed dead.
The loss haunts Bond, but he soon learns that his former ally conspired with the Russians to fake his own death in order to front a new criminal syndicate, and is plotting to trigger a global financial meltdown by unleashing a devastating satellite weapon. This pits Bond against a villain who knows his every move, and he's conflicted about facing his former friend. The two have a shared history; they're both orphans, and they overcame their hardships together by going on missions for MI6.
"GoldenEye" was the first James Bond film released after the real life collapse of the Soviet Union, and thus Trevelyan is a different type of Russian villain than the SPECTRE-era antagonists. A nationalist clinging on to a lost regime, Trevelyan seeks revenge on both governments. There were heightened expectations for "GoldenEye," released six years after "License to Kill" underperformed, and Bean's brilliant performance helped successfully relaunch the series.
Ernst Stavro Blofeld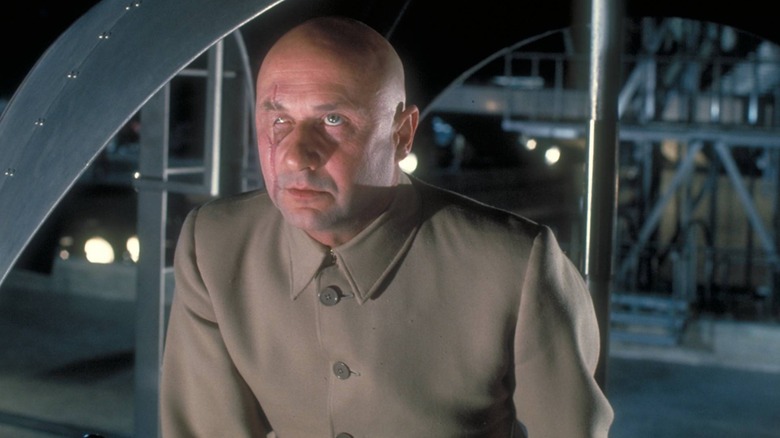 MGM
Although most Bond villains only last for a single film, SPECTRE's leader Ernst Stavaro Blofeld has popped up in the series eight times. Donald Pleseance first played him in "You Only Live Twice," in which Bond leads MI6 in a strike on SPECTRE's underground lair. Telly Savalas stepped into the role opposite George Lzanby's Bond in "On Her Majesty's Secret Service," where he survives the destruction of SPECTRE's headquarters and begins conducting brainwashing experiments in an icy fortress.
When Connery came back to Bond for "Diamonds Are Forever," Blofeld also returned, although this time Charles Gray portrayed him (explained via Blofeld's face shifting abilities). Blofeld appeared to be defeated, despite a brief cameo by John Hollis in "For Your Eyes Only" that's played for laughs, but Max Von Sydow gave him a more menacing touch in the unofficial Bond film "Never Say Never Again."
Blofeld finally reemerged in 2015's "Spectre" with a huge revelation. Not only was the twist that Chrisoph Waltz was playing the iconic character a surprise, but had a secret history: Blofeld and Bond were once adopted brothers. It will be interesting to see where Waltz's version of the character goes next when he reappears in "No Time To Die."
Blofeld is always a menacing presence, employing different henchmen to track down Bond. Blofeld's elaborate schemes and secretive meetings also helped inspire the character Dr. Evil from the "Austin Powers" series.
Le Chiffre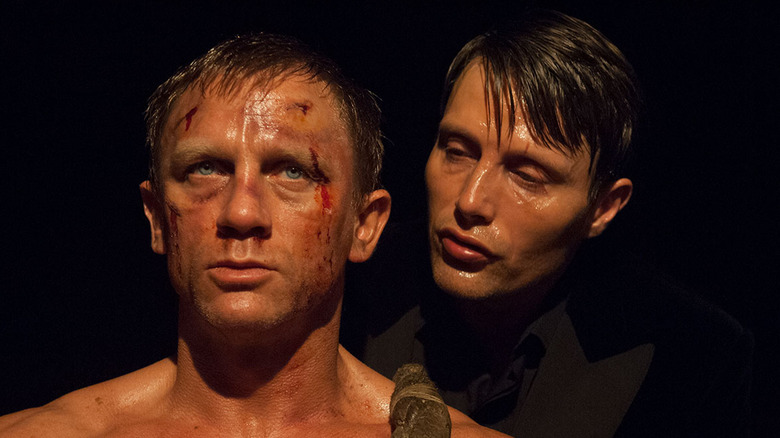 MGM
"Casino Royale" is the darkest film in the Bond series thus far; after the over-the-top campiness of "The World Is Not Enough" and "Die Another Day," Bond producers decided to take the character in a grittier direction. The grounded approach required a villain who could actually exist in the real world. Thus, Mads Mikkelsen's Le Chiffre was a modern antagonist who lacked the eccentricities of Bond's cheesier villains.
Le Chiffre is not a radical mastermind with an elaborate evil plan, but rather the financial operator for terrorist organizations. Under pressure from his ruthless employers to make up lost cash, Le Chiffre organizes a high stakes poker tournament at the Casino Royale hotel in Montenegro and is tracked down by Daniel Craig's Bond. Suspecting that Bond is pursuing him, Le Chiffre torments 007 by kidnapping his love interest, Vesper Lynd (Eva Green).
The realistic depiction of a modern terrorist makes Le Chiffre a more terrifying villain, and his brutal torture of Bond is one of the most sickening acts of villainy in the entire series. Le Chiffre is also a vulnerable character, as he fears that his failure will result in fatal consequences from the high-profile organizations that employ him. Although Bond is able to beat Le Chiffre at the poker table and defeat him, Le Chiffre sets into motion tragic events that foil Bond's plans to escape MI6 and have a normal life.
Francisco Scaramanga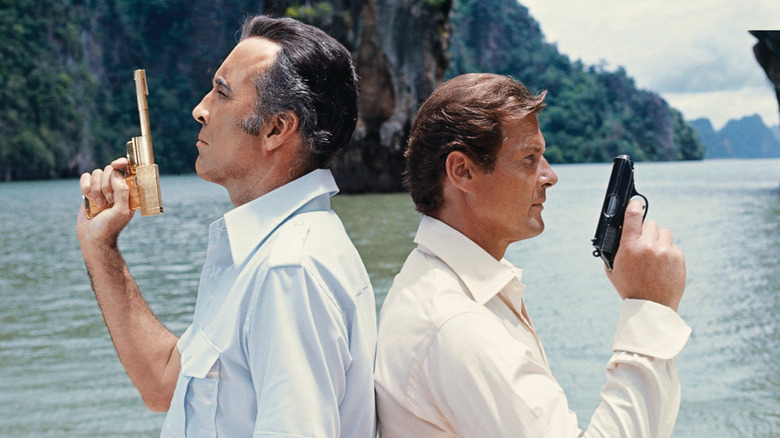 MGM
Few actors have played as many classic bad guys as Christopher Lee. The legendary British actor has embodied characters like Sauraman in "The Lord of the Rings," Count Dooku in the "Star Wars" prequel trilogy, Rochefort in "The Three Musketeers," and Dracula in the '50s Hammer horror films. As such, Lee was a natural choice to play one of Ian Fleming's most notorious villains, Francisco Scaramanga, in "The Man with the Golden Gun."
A talented strategist, Francisco Scaramanga lures potential enemies into a funhouse on his private estate, where he puts them through a set of sadistic traps. Scaramanga is able to easily dispatch gangsters and thugs, and seeks a real threat whose marksmanship rivals his own. He revels in the chance to face off with someone of Bond's reputation. Bond is tracking down a weapons supply shipment in Beirut when he discovers golden bullets left behind at the scenes of mysterious assassinations, leading him to Scaramanga.
Although the later Moore films used goofier villains, Scaramanga poses a legitimate threat to 007. While he employs a criminal gang that helps him track down Bond, including his personal assistant Nick Nack (Hervé Villechaize), Scaramanga is imposing because he prefers to carry out his crimes personally. The final shootout between Bond and Scaramanga is among the most exciting finales in the entire series.
Mr. Big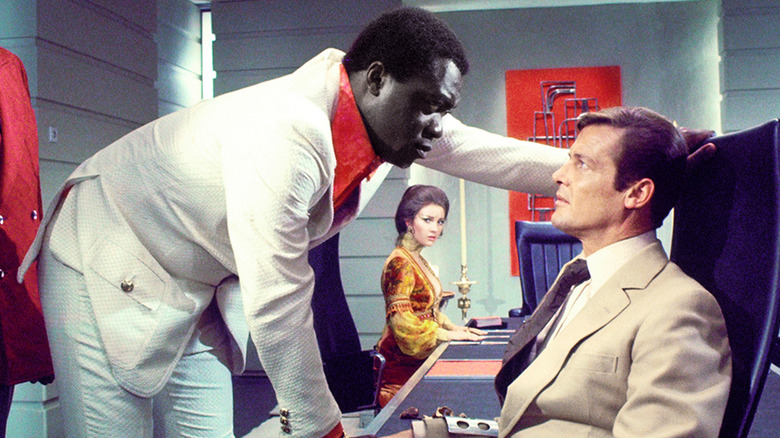 MGM
When news broke of the tragic passing of actor Yaphet Kotto earlier this year, his role as the villain Mr. Big in "Live and Let Die" was cited as one of his most memorable performances. Unfortunately, many elements of the film have not aged well; its depiction of African-American characters and New Orleans culture are wildly offensive. However, Kotto has the honor of being the only black Bond villain to date.
Although SPECTRE was a common antagonist during the Connery era, Roger Moore's first Bond adventure brought him to New Orleans to face off against a drug cartel involved in the killings of British agents. The enigmatic Mr. Big fronts the city's mob scene, but Bond discovers he's also in league with Dr. Kananga, corrupt dictator of the Caribbean island San Monique. When Mr. Big outwits Bond by luring him through the tarot reader Solitaire (Jane Seymour), a shocking twist reveals that Mr. Big and Kananga are the same person.
Bond is an outsider in New Orleans, and his charisma isn't as effective, so facing off against the leader of two powerful organizations makes him vulnerable. Both Moore and Kotto add heightened idiosyncrasy to their characters and make "Live and Let Die" a distinguished new beginning for the series.
Dr. No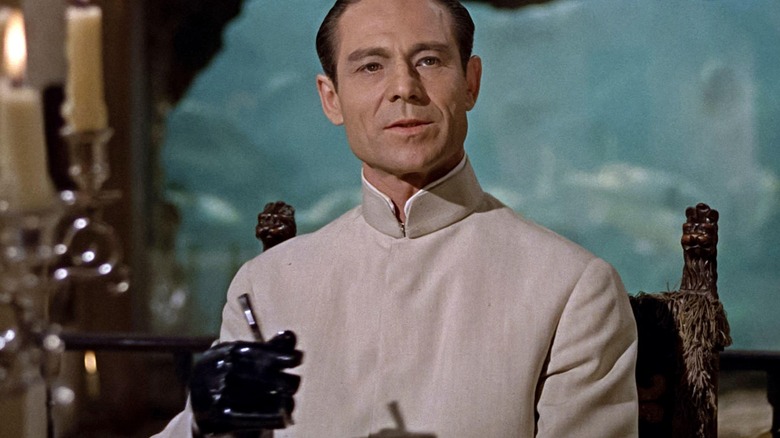 MGM
Without "Dr. No," there would be no Bond franchise. Although "Dr. No" wasn't the first novel in Ian Fleming's series, the film contains many iconic moments, including Sean Connery's introduction as "Bond.... James Bond," the shot of Honey Ryder (Ursula Andress) emerging from the ocean, and the debut of the international criminal syndicate known as the Special Executive for Counter-intelligence, Terrorism, Revenge and Extortion, aka SPECTRE.
SPECTRE is introduced through Dr. Julius No (Joseph Wiseman), a brilliant scientist who aims to disrupt a U.S. space mission. Secluded within a Caribbean lair, Dr. No conducts secret atomic research with his hands scarred by his dangerous experiments. Like many of the SPECTRE villains, Dr. No doubts Bond's intelligence due to the secret agent's outgoing persona, and his arrogance seals his fate as he callously brags to Bond about his plot to destroy the island.
Wiseman added depth to what could have been a generic evil scientist; Dr. No was spurned by rejections from the U.S. and Soviet governments before joining SPECTRE, and he seeks to convince Bond of a genius that he felt has been ignored. "Dr. No" also featured the first iconic death scene in the series, as the titular character plunges to his death in a vat of acid.
Red Grant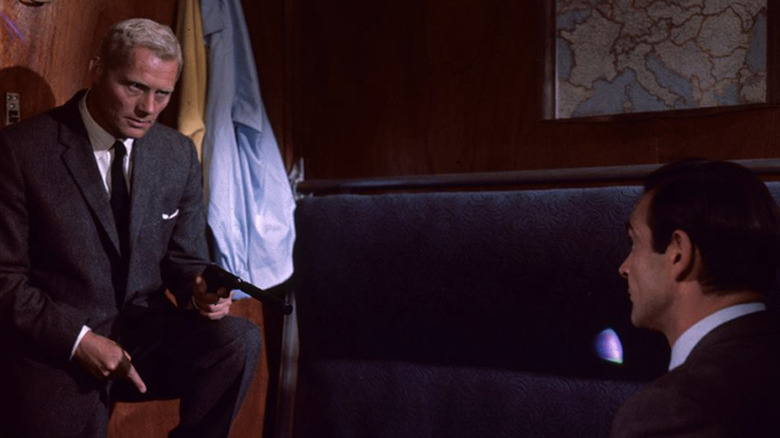 MGM
The second Bond film, "From Russia with Love," upped the stakes from "Dr. No" by introducing several new antagonists, as SPECTRE was keen to get revenge for the loss of one of their most powerful members. Among the team assigned to kill Bond is the highly-trained assassin Ronald "Red" Grant (Robert Shaw), a mercenary who stalks Bond across Russia.
Compared to the diminutive Dr. No, Grant is a physically imposing villain who can overpower Bond in hand-to-hand combat. Shaw is convincing in the action scenes, particularly as the typically confident Bond is nearly beaten to death by the ruthless SPECTRE agent. Much of "From Russia with Love" takes place on a train, and the constricted environment makes the sequence even more thrilling; the fight between Grant and Bond would inspire a similar train action sequence featuring Mr. Hinx (Dave Bautista) in "Spectre."
Grant is utterly ruthless, killing Bond's ally Kerim Bey (Pedro Armendáriz) and poisoning his love interest, Tatiana Romanova (Daniela Bianchi). However, his intelligence also matches Bond's, and he's able to deceive 007 by disguising himself as a fellow British agent and secretly tracking his whereabouts.
Oddjob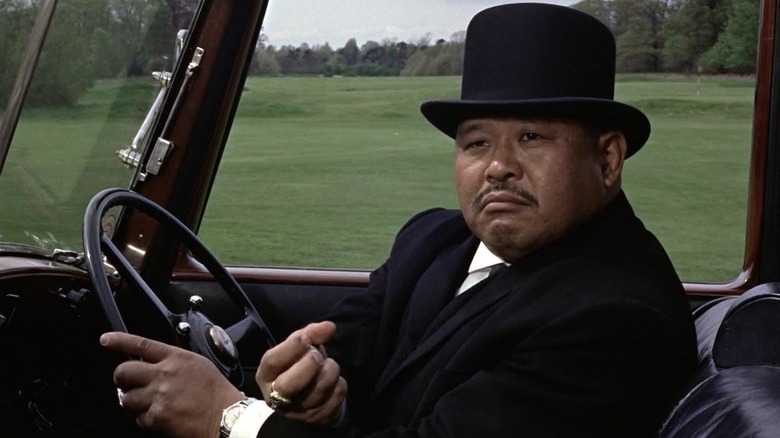 MGM
Among the precedents established in "Goldfinger" is an evil henchman who works alongside the main antagonist. While Auric Goldfinger himself prefers not to get his hands dirty, his ruthless bodyguard Oddjob (Harold Sakata) had none of those reservations. Compared to the loud boastfulness of his employer, Oddjob is nearly silent, and his wordlessness only unnerves Bond as he uncovers the plot to attack the U.S. gold supply.
Oddjob is responsible for some of the most shocking deaths in the series; his spinning metal hat snaps the neck of his enemies, and he suffocates Bond's romantic partner Jill Masterson (Shirley Eaton) before painting her solid gold. Oddjob is menacing in his blind fanaticism for Goldfinger, acting as his personal driver and golf caddy, and their combined threat offers two very different types of villains for Bond to go up against. Even during the final confrontation, in which Goldfinger's bomb is on the verge of detonating, Oddjob shows unwavering loyalty to his employer.
Sakata's constant smile added personality to the character, but like many Bond villains, it's his overconfidence that allows Bond to emerge victorious. Although "Goldfinger" introduced many new gadgets for Bond himself, Oddjob is the one who relies too heavily on technology, as he meets his doom by getting electrocuted by his metal hat.
Elliot Carver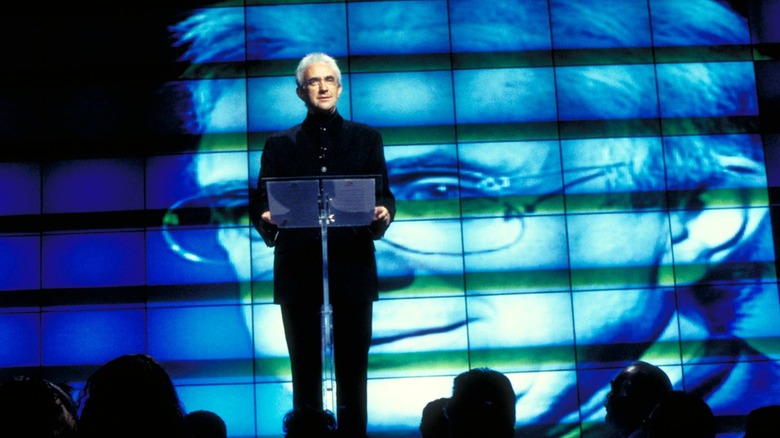 MGM
Pierce Brosnan's second Bond film, "Tomorrow Never Dies," doesn't quite reach the heights of "GoldenEye," but it's one of the most underrated films in the series. While Brosnan's last two entries, "The World Is Not Enough" and "Die Another Day," featured ludicrous plots that veer into science fiction, "Tomorrow Never Dies" keeps things slightly more grounded without sacrificing its upbeat energy. That balance carries over to the film's villain, Elliot Carver (Jonathan Pryce), who's exaggerated but still poses a more believable threat.
Carver is a media mogul who owns various newspaper and television stations. Hoping that World War III could boost his sales and ratings, Carver orchestrates a series of rocket launches that he hopes will trigger conflict between the U.K. and China. Carver attracts Bond's attention when MI6 learns that he's predicted certain events before government authorities. Bond pairs with Chinese agent Colonel Wai Lin (Michelle Yeoh) in order to prevent Carver from starting a global war.
While Pryce's performance is purposefully over-the-top, the threat of a media titan is completely unique in the series. Carver's access to critical information from various world governments gives him leverage over any individual that opposes him, and it's interesting to see Bond join forces with a rival agent in order to solve a mutual threat. Carter's also boasts a fiercely loyal private military force that rivals SPECTRE's.
Max Zorin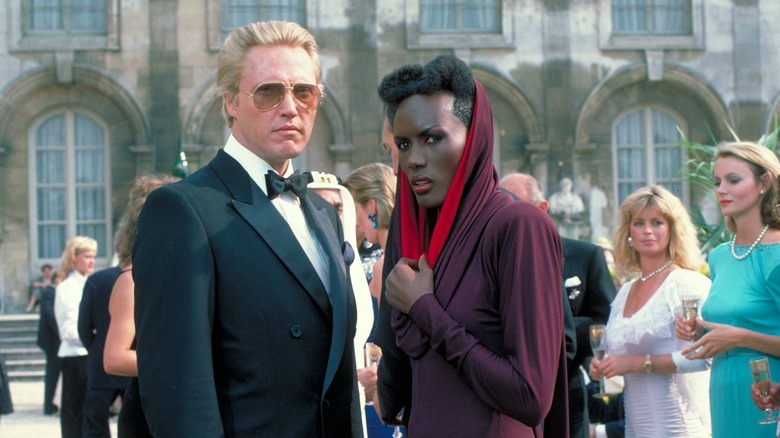 MGM
"A View To A Kill" is often cited as one of the worst Bond films. At 57 years of age, Moore was no longer believable as the superspy. The film's excessive disregard for civilian life also makes it difficult to watch. However, "A View To A Kill" is self-aware, and acknowledges how ridiculous the story is. So does a gloriously hammy Christopher Walken, who brings main antagonist Max Zorin to life.
Zorin is the result of a botched Nazi experiment that granted him super intelligence and an obsession with violence. Zorin uses his highly developed mind to create a successful business out of technological manufacturing and oil investments, but he sees Silicon Valley as a competitor that he needs to eliminate. Constructing a giant blimp with the firepower capacity to trigger the San Andreas and Hayward Faults, Zorin is willing to personally gun down miners during his attack.
Walken has no illusions about how silly the character is, and seems to have a blast ejecting his underlings from his blimp and yelling one-liners like, "Does anyone else want to drop out?" Although it's clear that both Walken and Moore are heavily relying on their stunt doubles, their last battle over the Golden Gate Bridge is entertaining nonetheless. Walken redeems one of the weaker Bond movies with his wacky performance.
Jaws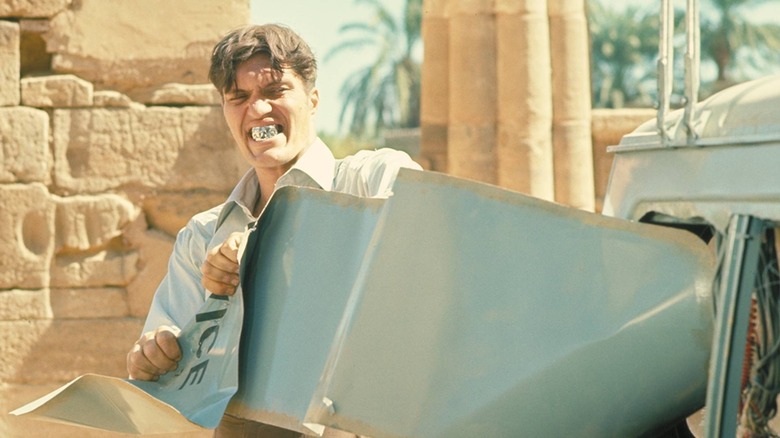 MGM
After Oddjob introduced evil henchman into the series, Jaws became the first bodyguard to appear in multiple films. Richard Kiel debuted as the steel-toothed subordinate to Karl Stromberg (Carl Jurgens) in "The Spy Who Loved Me," but the character was so popular that he returned to work for Hugo Drax (Michael Lonsdale) in "Moonraker."
Characterized by his unmatched strength and the ability to break his opponents' skulls with his teeth, Jaws is nearly indestructible; in just "The Spy Who Loved Me," he survives a car crash and battle with a tiger shark. Although he doesn't have any personal allegiances, Jaws develops a hatred for Bond when the spy escapes his clutches, but fails to get revenge in "Moonraker" after Bond leaves Jaws to fall to his death. However, their rivalry turns into growing admiration, and Bond reveals to Jaws that Drax intends to kill him after wiping out the world from the International Space Station.
Jaws's heart ultimately softens when he falls in love with the equally super-strong Dolly (Blanche Ralavec) and decides to help both her and Bond escape. The rare Bond villain to get a happy ending, Jaws almost returned for "For Your Eyes Only" before the film was rewritten with a more gritty approach. However, Kiel did reprise the role with a fun cameo in the 1999 family comedy "Inspector Gadget."
May Day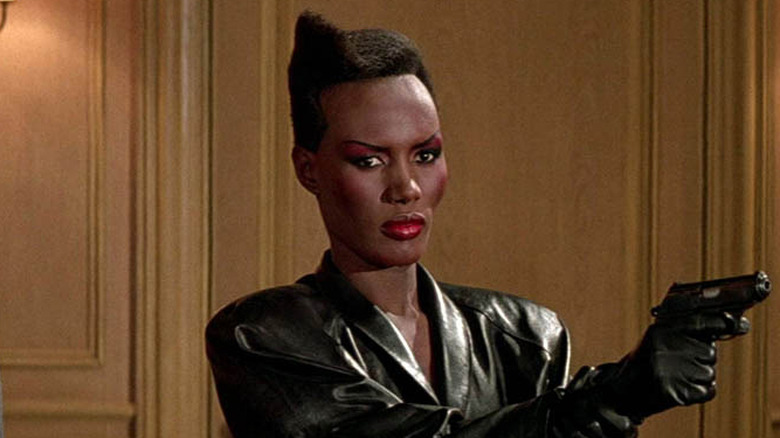 MGM
Chrisopher Walken's zany performance as Zorin in "A View To A Kill" risked turning Roger Moore's last Bond flick into an outright parody, but thankfully Zorin's chief assassin, May Day (Grace Jones), added some actual suspense to the story. Zorin spends much of the film scheming from afar, but May Day actively keeps up with Bond's globetrotting and foils his attempts to uncover the plot above the Golden Gate Bridge.
May Day demonstrates her skills early on when she assassinates a French detective who's passing information to Bond and his personal horse trainer, Sir Godfrey Tibbett (Patrick Macnee). While Day and Zorin are romantically intimate, she is far from his mindless servant, and values loyalty among her personal assistants, Jenny Flex (Alison Doody) and Pan Ho (Papillon Soo). When May Day realizes that she won't be spared from Zorin's bloodlust, she switches sides and helps Bond rescue innocent civilians.
Franz Sanchez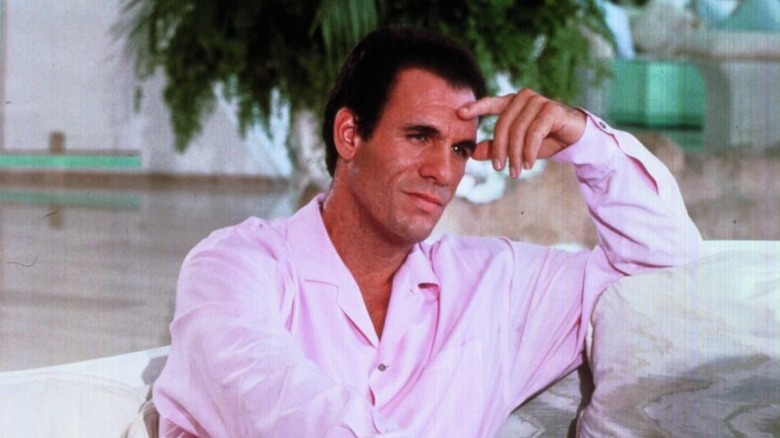 MGM
When it premiered in summer 1989, "License to Kill" was the darkest James Bond film to date. Timothy Dalton's 007 was closer to the hardened spy in Ian Fleming's original novels, a sharp contrast to the campiness of the late Roger Moore era. While Dalton's debut in "The Living Daylights" preserved some of Moore's levity, his second film, "License to Kill," was a violent revenge thriller that was even rated R in some territories.
Bond's quest for vengeance comes after the Central American drug baron Franz Sanchez (Robert Davi) attacks the wedding of Bond's CIA ally and close friend, Felix Leiter (Frank McCrae). Watching an established Bond character experience the death of his wife is emotionally devastating, and places Bond in a vulnerable position as he acts outside of MI6's jurisdiction in order to find Sanchez. Compared to the world domination plots of early Bond villains, the realistic depiction of a villain who could actually exist was a breakthrough for the series.
Rosa Klebb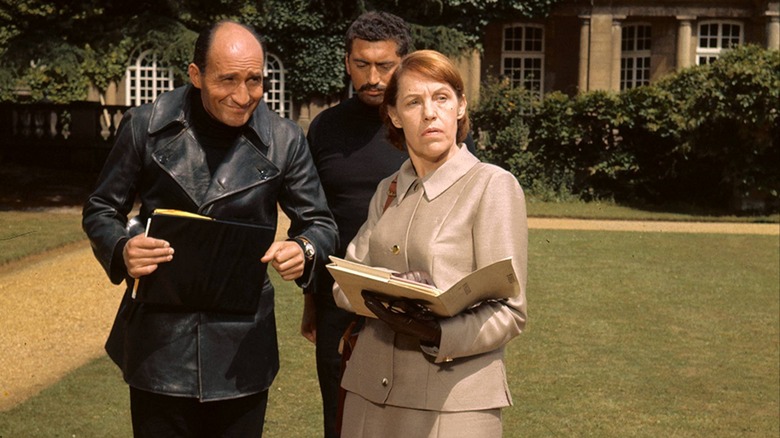 MGM
Although Red Grant provided Bond with one of his greatest physical challenges, he wasn't the mastermind behind the attempt on Bond's life. SPECTRE's top agent, Rosa Klebb (Lotte Lenya), was tasked by Blofeld to get vengeance for Dr. No's death, and she exhausts her resources by deceiving Russian agents into helping her find 007. Klebb has an interesting backstory: she was a former agent at Russia's counter-intelligence outfit, SMERSH, who was emboldened by SPECTRE's radicalism.
Klebb's inventiveness wasn't limited to outsourcing field agents. After Grant's defeat, she emerges to personally threaten Bond. Thinking he could finally relax on a romantic getaway in Venice, Bond is deceived when Klebb shows up at the last minute, disguised as a maid. To stop her, Bond needs the help of his Russian ally Tatiana Romanova, who overpowers Klebb during the thrilling final action set piece.
Hugo Drax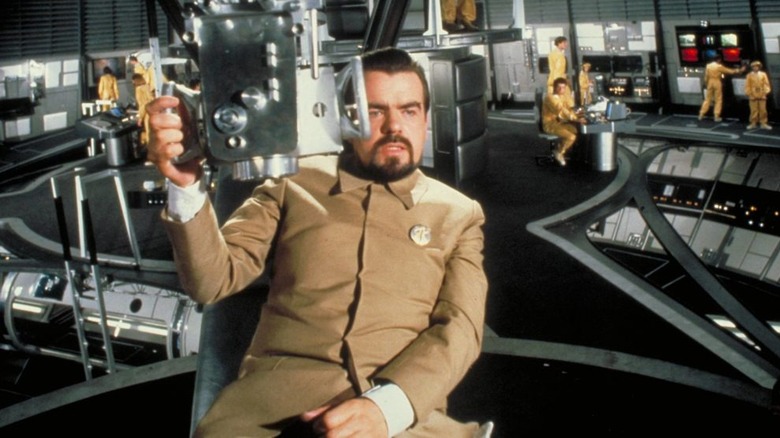 MGM
Following the unprecedented success of "Star Wars," producers were keen to put Bond on an outer space adventure. Bond goes to space after a U.K. shuttle is hijacked by an enigmatic business fronted by Hugo Drax (Michael Lonsdale), who plots to launch a deadly virus from orbit. The insane Drax plans to create "a new master race" by wiping out Earth's population, and creates genetically perfect organisms to populate a new society.
Thankfully "Moonraker" doesn't take its silly premise seriously, and Lonsdale has a blast playing a cheesy bad guy lifted straight from classic science fiction films. Lonsdale makes Drax's self-serious monologues humorous, particularly when Moore distracts him with witty remarks. Like many Bond villains, Drax's selfishness dooms him; he shows no loyalty to his supporters and plans to kill them while creating his supremacist future. Inevitably, Drax;s hired henchman Jaws switches sides to help Bond.
Emilio Largo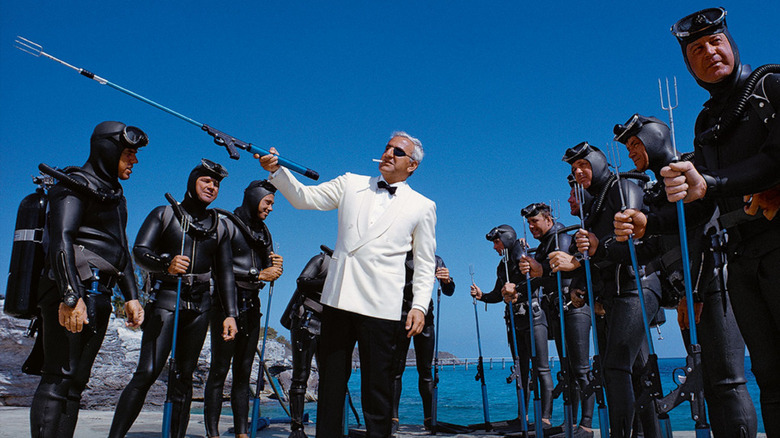 MGM
The '60s Bond films played with Cold War anxieties, expressed through their villains. For example, "Thunderball" examines the threat of a covert submarine attack. In the movie, SPECTRE plots to initiate a nuclear war, and tasks Blofeld's second-in-command Emilio Largo (Adolfo Celi) with striking the first blow. Largo is a modern pirate, meeting Bond at a shady card game and wearing an eyepatch to hide an old wartime injury. A former black market thief, Largo's disregard for civilization landed him a leading position at SPECTRE.
The adaptation of "Thunderball" had a complicated history thanks to a lawsuit by Ian Fleming's co-writers Kevin McClory and Jack Whittingham. As a result, Taliafilm produced an unofficial remake of the movie in 1983 titled "Never Say Never Again," in which Connery returned for a final performance as 007. Although a divisive film, Klaus Maria Brandauer is certainly a highlight as an alternate version of Largo who has risen through the ranks to become the leader of SPECTRE.
Karl Stromberg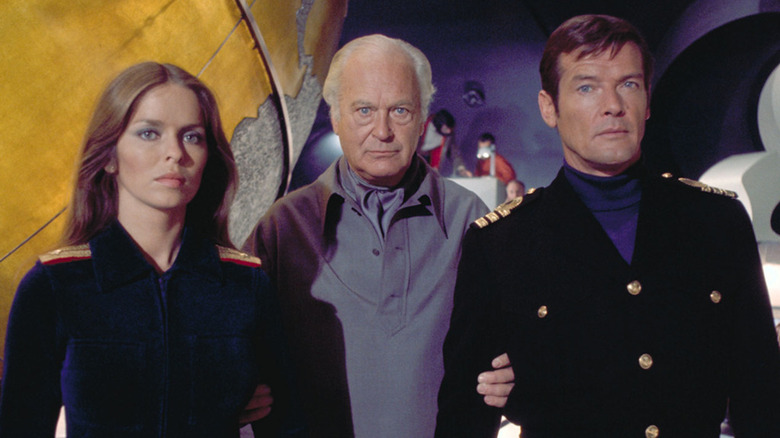 MGM
Karl Stromberg (Curd Jürgens) didn't need SPECTRE to start World War III. His plan to create a new society following a nuclear conflict was entirely his own. Stromberg has one of the coolest evil lairs of any Bond villain, an underwater fortress eerily named "Atlantis" that's capable of covertly destroying international vessels. Stromberg enlists a private military force and captures sailors from British, Russian, and American ships.
Although Jürgens revels in Stromberg's megalomania, he does pose a significant enough threat that Bond must hastily join forces with Russian agent XXX (Barbara Bach). "The Spy Who Loved Me" is the rare Bond film that ends with a climactic battle featuring multiple heroes, as Bond leads an international alliance of sailors in a battle against Stromberg's men. Stromberg is menacing enough that he can boss Jaws around, even if his favorite henchman is the only one of the two to survive the adventure.
Elektra King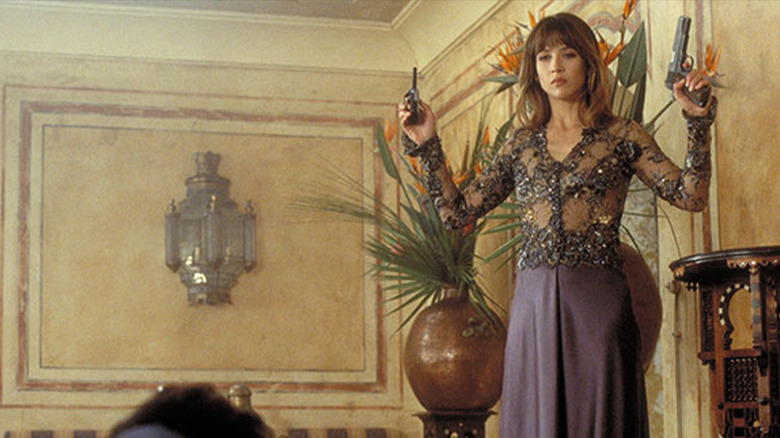 MGM
Although it's one of the weaker installments in the series, "The World Is Not Enough" features a fascinating villain, Sophie Marceau's oil baroness Elektra King. She was the first lead female antagonist who wasn't a traditional Bond girl, as she instead enjoyed a romance with her henchman, Victor Zokas (Robert Carlyle). In fact, King is the one who seduces Bond with her charms. She also tricks MI6 into protecting her, claiming that Zokas is threatening her life.
King has a fascinating backstory, as she blames M (Judi Dench) for the death of her father, and aims to destroy a critical oil pipeline in order to raise the value of her business. For Bond films, that's a big landmark: "The World Is Not Enough" was the first time that M got directly involved with the action. Despite her cruelty, Marceau makes Zokas somewhat sympathetic even in her final moments, as Bond is forced to kill her while she's unarmed.