The 15 Best '90s Comedies Ranked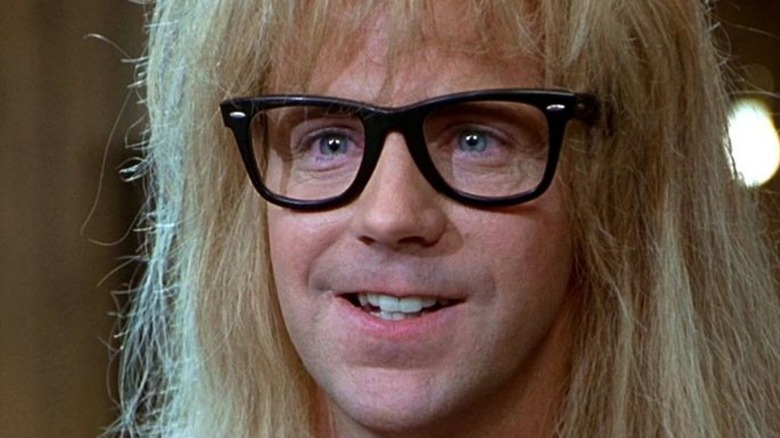 Paramount Pictures
The '90s were a landmark decade for comedy films. The growth of independent filmmaking allowed unique comedic voices to reach mainstream audiences. "Saturday Night Live" generated a new batch of comedy stars, many of whom made successful screen debuts during the decade and are still active today. The old guard was still around, too, creating characters with more depth and nuance than any parts they played during the '80s. It wasn't just live-action, either; for the first time, adult animated shows successfully made the transition to the big screen.
Comedy films also attained critical acclaim, and many awards nominees were comedy hits, including Best Picture winner "Shakespeare in Love." The '90s also launched many successful blockbusters that inspired long-running comedy franchises, including "Men in Black," "Home Alone," and "The Mummy." 
Given all the diversity, narrowing down the best comedies of the '90s is no easy task — but we did it. These are the 15 greatest comedies of the '90s, ranked from worst to best.
15. Pleasantville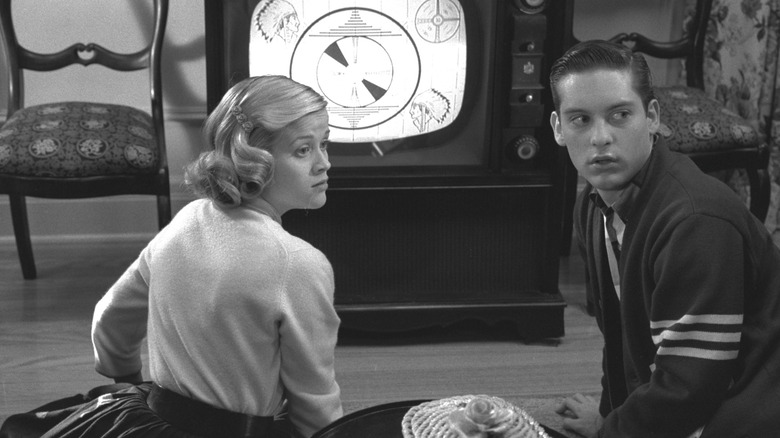 New Line Cinema
While the premise of characters stuck in a fictional sitcom was recently explored in "WandaVision," the concept was previously utilized in the delightful 1998 comedy "Pleasantville." Bickering siblings David (Tobey Maguire) and Jennifer (Reese Witherspoon) are magically transported inside a '50s family sitcom. Even before they arrive, David is obsessed with the show, only to discover that it's not quite as perfect as he imagined. Jennifer is more skeptical, but finds that the simpler, older times give her newfound freedom.
"Pleasantville" satirizes familiar sitcom clichés as the outsiders disrupt them. David teaches his simple-minded coworker Bill (Jeff Daniels) to break tradition and express himself through art. Jennifer inspires high school students to become more intimate in their relationships. "Pleasantville" explores the damages caused by restrictive authority; the town leaders demonize David and Jennifer for bringing color into the black-and-white world, sparking book burnings and riots. But it's too late; for better or worse, Pleasantville is irrevocably changed.
14. The Full Monty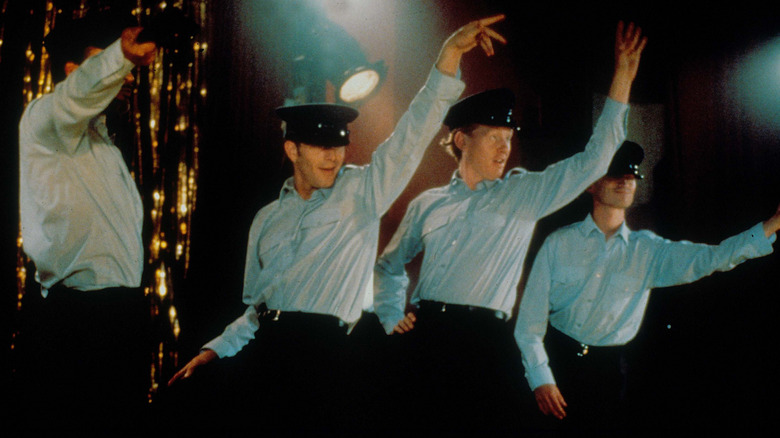 Fox Searchlight Pictures
"The Full Monty" is a hilarious ensemble comedy that also speaks to critical societal issues. The film follows six unemployed workers in England, each laid off after their steel factory closes. Desperately seeking a way to make ends meet, Gaz (Robert Carlyle) devises a scheme to start a male stripping act after watching the Chippendales dancers perform. However, in order to distinguish themselves, Gaz's ragtag band must perform with full nudity.
Despite the raunchy premise, "The Full Monty" is quite heartfelt, thanks largely to Gaz's quest to earn enough money to see his son Nathan (William Snape). At first, Nathan is embarrassed by his father's new gig, but he becomes engaged in the auditioning and rehearsal process. The film has a positive portrayal of masculinity, showing each of the characters growing comfortable with their own body image. Tom Wilkinson has a particularly memorable role as Gerald Arthur Cooper, a one-time supervisor forced to rub shoulders with his former underlings.
13. Beavis and Butt-Head Do America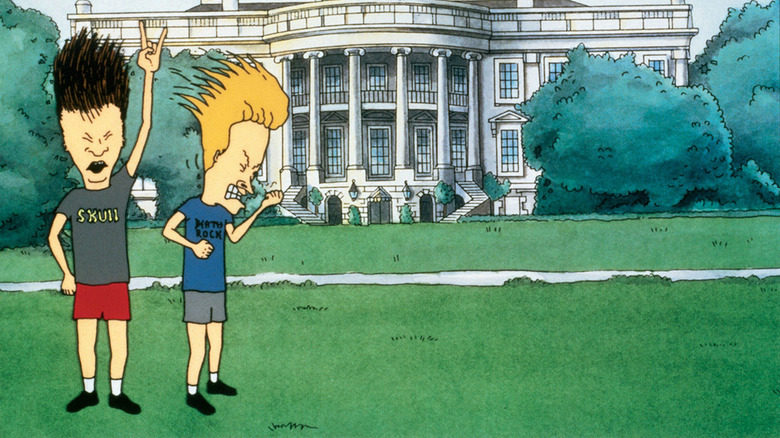 Paramount Pictures
Not every popular television show can sustain its premise for the length of a feature film, but "Beavis and Butt-Head Do America" more than justifies its 80 minute run-time. The delightful idiocy of the titular protagonists and their quest to score girls and alcohol is always entertaining, and it's fun to see the two embark on a road trip adventure, wrecking chaos on various national landmarks. Judge brings his signature brand of satire to the proceedings, too, as Beavis and Butt-Head influence national politics.
As Beavis and Butt-Head search for their stolen television, they become targets of the FBI, who suspect them of being savvy smugglers. Blissfully unaware of everything but their most primal desires — and a woman named Dallas (Demi Moore), whose husband (Bruce Willis) is trying to kill her — Beavis and Butt-Head travel all the way to the White House. Although many of the recurring jokes will be familiar to fans of the show, "Beavis and Butt-Head Do America" is still hilarious, especially for viewers meeting the characters for the first time.
12. Grosse Pointe Blank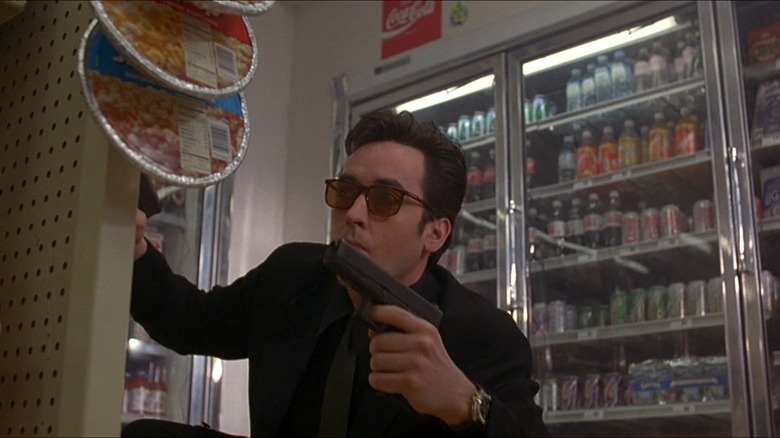 Buena Vista Pictures
While nostalgia for the '80s is a common trend in recent movies and shows, it was more of a novelty in 1997. "Grosse Pointe Blank" reflects on the prior decade when professional hitman Martin Blank (John Cusack) returns to his hometown for a high school reunion. While he's transfixed by the transformation of his small town (and nervous about hiding his line of work from his former classmates), Martin is caught up in youthful passions when reunited with his old crush, Debi (Minnie Driver).
While the story seems heartwarming, "Grosse Pointe Blank" takes a darkly comic turn as Martin's employer, Gross (Dan Aykroyd), tries to hunt Blank down by revealing his identity to national security agents. Cusack is perfect as a surprisingly sensitive yet ruthless assassin, and seeing him cope with his future prospects with Debi is hilarious. Debi's eventual acceptance of Blank's work hits the right satirical note, and the film also boasts surprisingly dynamic action sequences.
11. Flirting With Disaster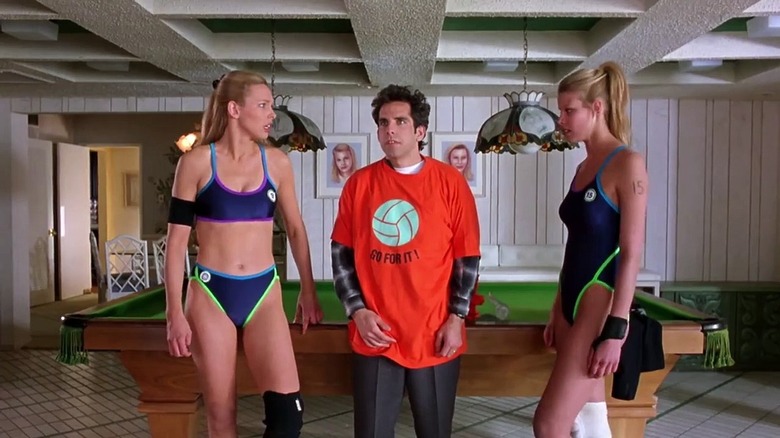 Miramax Films
While he's become a frequent awards season contender with films like "The Fighter," "Silver Linings Playbook," and "American Hustle," writer-director David O. Russell began his career making anarchic oddball comedies. Shortly after releasing his debut film, "Spanking the Monkey," Russell spotlighted familial dysfunction in "Flirting With Disaster." Unfolding with strange pacing and full of absurd, surreal events, "Flirting With Disaster" is both very funny and consistently surprising.
The neurotic Mel (Ben Stiller) lives near his adoptive parents Ed (George Segal) and Pearl (Mary Tyler Moore), but wants to meet his biological parents before naming his son. Mel's wife Nancy (Patricia Arquette) is uncomfortable with the ordeal, and she grows increasingly distressed as the couple and their unborn child embark on a cross-country trip to find Mel's family. Stiller is terrific as a well-mannered yet obsessive character, with Arquette serving as the voice of reason. "Flirting With Disaster" becomes even more chaotic when Mel's parents Richard (Alan Alda) and Mary (Lily Tomlin) enter the fray.
10. Clerks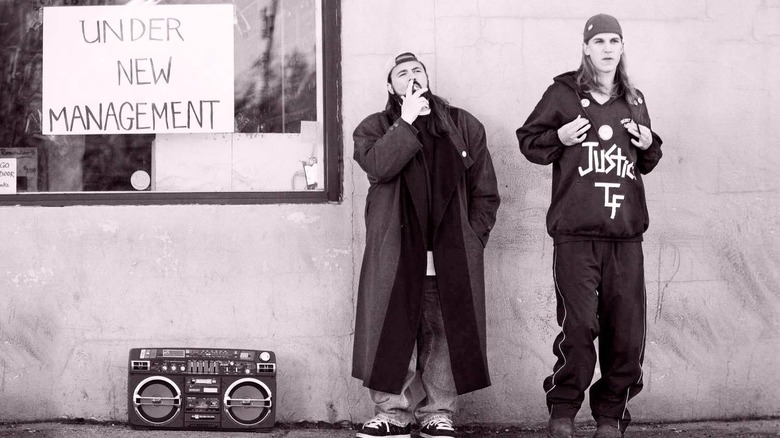 Miramax Films
"Clerks" is not only one of the most quotable films of the '90s, but also one of the most important. Kevin Smith, who wrote and directed, made the film for a mere $27,575, and shot it at the actual convenience store he worked at, maxing out his credit card in the process. The success of Smith's low-budget, DIY-style film changed the game for independent film distribution. 
"Clerks" follows retail workers who converse about life, romance, "Star Wars," and more during an average day on the job. Dante (Brian O'Halloran) wasn't even supposed to show up to work, and contemplates his relationship with his girlfriend Veronica Loughran (Marilyn Ghigliotti). He finds sparse insight from his crude best friend Randal (Jeff Anderson), and stoners Jay (Jason Mewes) and Silent Bob (Smith), who hang out in front of his store.
"Clerks" is full of relatable situations for anyone who has ever hated their job, and produced many memorable exchanges, including the debate over Death Star workers in "Star Wars." The characters established in "Clerks" continue to live on within Smith's connected "View Askewniverse," which includes the upcoming "Clerks III."
9. Dazed and Confused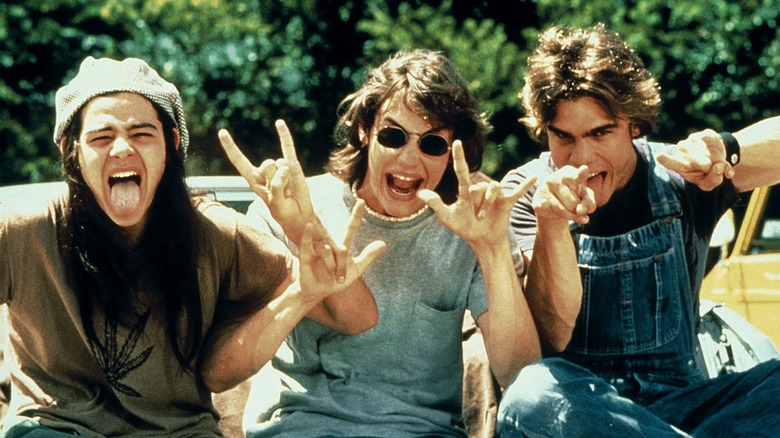 Gramercy Pictures
Richard Linklater captures existential musings and the banality of everyday conversations like no one else. While he would lean into more dramatic territory with "Boyhood" and the "Before" trilogy, Linklater's high school comedy "Dazed and Confused" remains one of his best known and most popular films. The hilarious coming-of-age story follows various struggling teenagers as they survive their last day of school.
The terrific ensemble features early performances from future stars, including Ben Affleck as brutish bully Fred O'Bannion and Matthew McConaughey as the goofy stoner David Wooderson. However, the heart of the film is the younger generation, particularly Mitch (Wiley Wiggins), Pink (Jason London), Kevin (Shawn Andrews), Tony (Anthony Rapp), and Mike (Adam Goldberg), who attempt to survive hazing from the upper class.
"Dazed and Confused" is notable for its great soundtrack, which includes songs from Alice Cooper, ZZ Top, Ted Nugent, the Runaways, Kiss, Black Sabbath, and War, among others. Ironically, the title track "Dazed and Confused" is not used, as the surviving members of Led Zeppelin denied Linklater's request for clearance.
8. Groundhog Day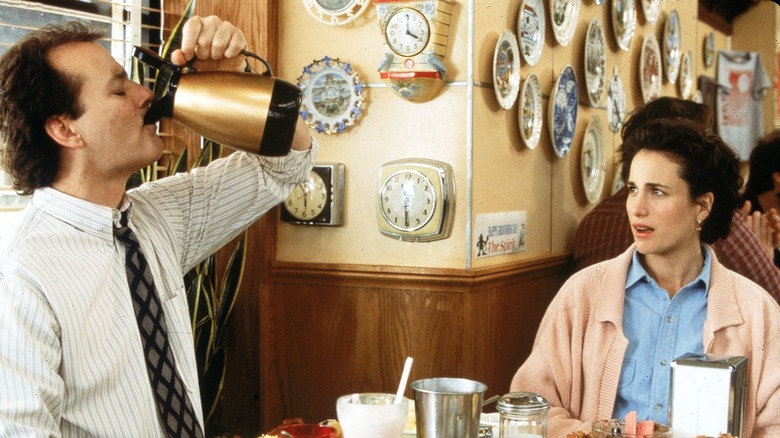 Columbia Pictures
Rarely is a film as synonymous with a holiday as "Groundhog Day." Harold Ramis and Bill Murray were already established stars in the '90s, and they used their seasoned comedic sensibilities to make an earnest, surprisingly moving dramedy about a perpetually angry man who learns to appreciate what he already has.
Cynical weatherman Phil Connors (Bill Murray) is tasked with covering the annual Groundhog Day ceremonies, a cheery celebration that he despises. Everything seems to annoy him: the happy crowd, his obnoxious childhood friend Ned Bryserson (Stephen Tobolowsky), the optimism of his producer Rita Hanson (Andie MacDowell). And then Phil is caught in a time loop, forcing him to relive his miserable day over and over again.
As Phil repeats the same events, he learns more about the town and its residents, leading to both humor and a lot of heart. While "Groundhog Day" can get dark — at one point, bored and depressed, Phil tests out different methods of killing himself — it's ultimately a heartfelt story, especially once Phil falls for Rita and becomes a better person.
7. Kicking and Screaming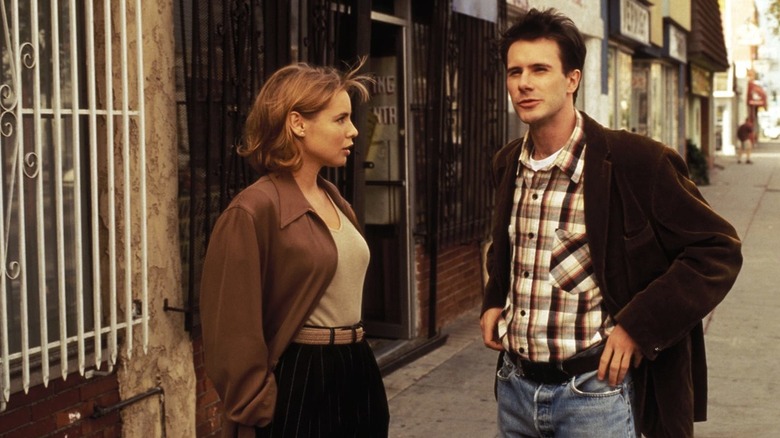 Trimark Pictures
Noah Baumbach's films combine pseudo-intellectual characters, bleak emotional situations, and witty dialogue, all of which are present in his successful first film "Kicking and Screaming," which was released when Baumbach was only 26 years old. The seminal coming-of-age dramedy focuses on recent college graduates who are unable to adjust to the reality of life off campus.
Grover (Josh Hamilton), Max (Chris Eigeman), Chet (Eric Stoltz), Skippy (Jason Wiles), and Otis (Carlos Jacott) mock the incoming freshman's idealism at their graduation ceremony, but upon leaving school discover that adult responsibilities are much more complicated than they expected. Grover is caught off guard when his girlfriend Jane (Olivia d'Abo) considers studying in Prague. Skippy re-enrolls in courses to feel superior. Chet can't move beyond working at a bar. Max finds his cynicism challenged when he falls in love, and Otis is afraid to leave his home and can't travel overseas like he intended.
Ultimately, "Kicking and Screaming" subverted the coming-of-age story, and marked Baumbach as a talent to keep an eye on.
6. Living in Oblivion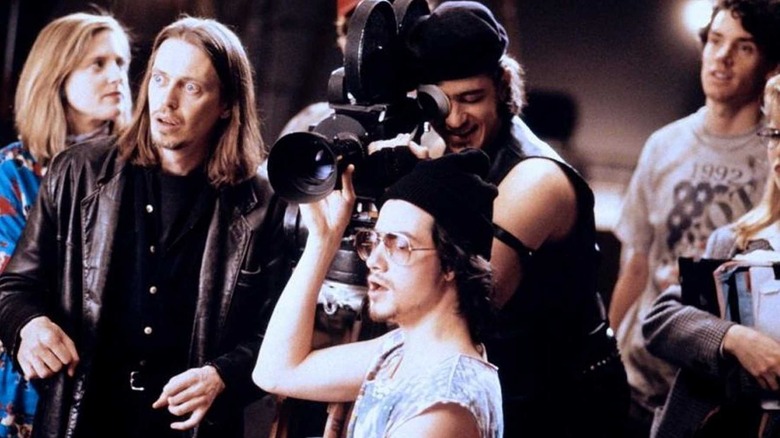 Sony Pictures Classics
In the '90s, filmmaking became more democratic. Video cameras and editing software became cheaper and more accessible, and as a result, more young filmmakers began creating projects outside of the studio system. As a result, the decade produced many films about the filmmaking process itself. "Living in Oblivion" is one of the best.
"Living in Oblivion" explores the various crises and setbacks that writer-director Nick Reve (Steve Buscemi) faces during a day of shooting. Divided into three core scenes, the first act focuses on Nick as he tries to capture a perfect take from his leading lady Nicole (Catherine Keener) in the face of technical difficulties. In the second act, Hollywood star Chad Palomino (James LeGros) disrupts the shoot, as both Nick and Chad vie for Nicole's attention. The final chapter adds another temperamental actor, Tito (Peter Dinklage), who gives Nick a nervous breakdown.
"Living in Oblivion" finds niche humor in the comradery and conflicts that occur on a film set, and accurately captures the state of indie filmmaking in the '90s. The humor is very relatable, although filmmakers might find it a little too close to life, especially if they've ever found themselves in Nick's shoes.
5. Bottle Rocket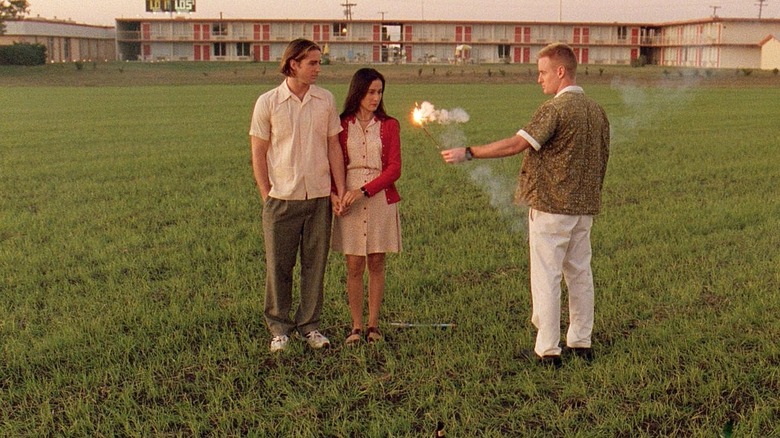 Sony Pictures
Wes Anderson's debut film, "Bottle Rocket," established many of his trademarks, including deadpan humor, bizarre dialogue, symmetrical framing, and characters with lots of emotional baggage. However, it's also darker than Anderson's later work, with a more solemn conclusion.
Anthony Adams (Luke Wilson) is a voluntary patient at a psychiatric ward, but his treatment is interrupted when his friend Dignan (Owen Wilson) breaks him out. Dignan has an ambitious scheme to rob a cold storage facility and enlists Anthony's help, despite the fact that the pair has no knowledge of the criminal world. They assemble a rag tag group of supposed experts, gaining insights from a former robber, Mr. Henry (James Caan), and begin training by pulling off smaller heists. The irony is that both friends are on a doomed path; Adams' recovery is thrown off course, and Dignan is in denial about his amateur abilities.
Naturally, the heist falls apart, but there's a heartfelt connection between the two friends. Dignan believes the heist will re-energize Anthony; Anthony wants to support his friend no matter what. The emotional complexity behind the rapid-fire humor launched Anderson's successful career, and "Bottle Rocket" remains one of his best films.
4. Wayne's World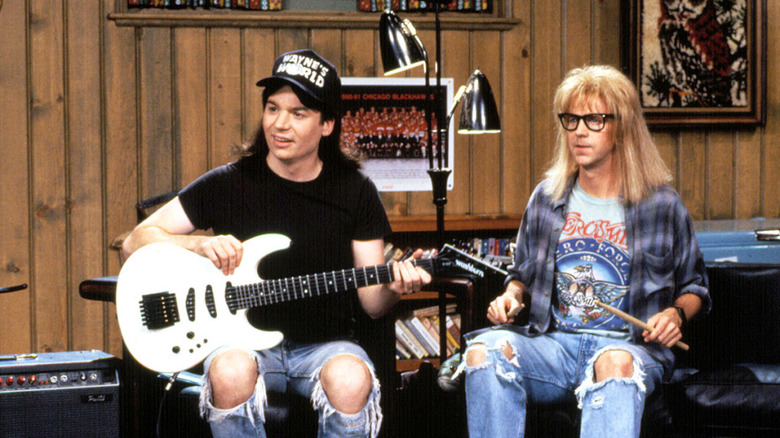 Paramount Pictures
"Saturday Night Live" sketches have inspired many films, some great ("The Blues Brothers" and "MacGruber") and some terrible ("Coneheads" and "Blues Brothers 2000"). However, none created icons equal to Wayne (Mike Meyers) and Garth (Dana Carvey), aspiring musicians who run a public access music show. Meyers and Carvey created a touching friendship between the two eccentric (yet talentless) wannabes, which is tested as they launch their careers in network television.
Interested in profiting off of the cult following Wayne and Garth have built, sleazy producer Benjamin Kane (Rob Lowe) tempts the pair with a lucrative studio deal. While Wayne and Garth are at first inspired by the expanded resources, they find their creativity is limited when they must appease wealthy sponsors. The film often breaks the fourth wall; Wayne and Garth openly address the audience, and there's a clever "Scooby Doo"-style parody ending.
"Wayne's World" features a terrific soundtrack; the movie's use of "Bohemian Rhapsody" resulted in a mid-'90s surge in Queen's popularity, and an unforgettable cameo by Alice Cooper accompanies "Feed My Frankenstein." Wayne and Garth grew so beloved that they returned for "Wayne's World 2," one of the rare comedy sequels that rivals the original.
3. The Big Lebowski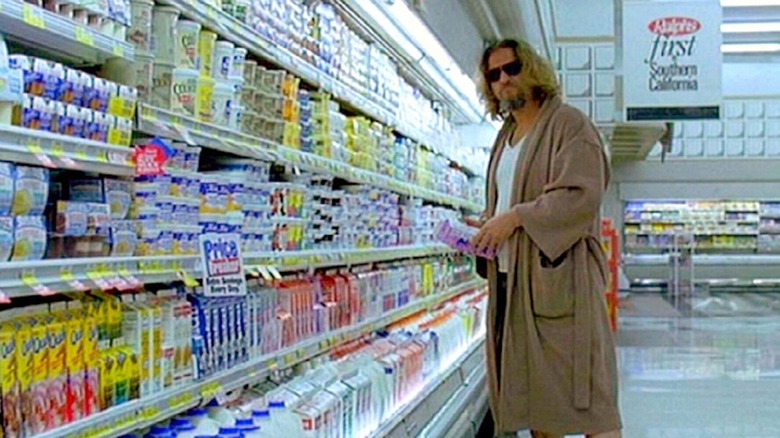 Gramercy Pictures
The Coen Brothers have created many characters who are frequently quoted, but none that rival the absurdist philosopher known as "the Dude" (Jeff Bridges). The Los Angeles bowling king would rather go with the flow and take it easy with his foul-mouthed companion Walter Sobchak (John Goodman) and their diminutive underling Donny Kerabatsos (Steve Buscemi), but a baffling noir storyline forces the Dude to go on a spiritual journey instead.
After seeking justice for the desecration of his favorite rug, the Dude is mistaken for "The Other Lebowski," an influential philanthropist whose chief minion Brandt (Phillip Seymour Hoffman) attempts to appease the Dude by offering him a replacement. This gift makes the Dude a target, and he begins uncovering a mystery that suggests that his doppelganger's wife Bunny (Tara Reid) actually murdered him. The other Lebowski's daughter Maude (Julianne Moore) falls for the Dude and ropes him into a search for a hidden fortune.
The bizarre logic of the plot and the Dude's underlying attitude inspired a massive cult following — "The Big Lebowski even has its own religion, Dudeism. Certain questions still transfix fans. Was Donny really a ghost? Was the Dude intended to be a counterculture icon? Do the characters know they're in a movie? Avid fans know "The Big Lebowski" by heart, but its cult reputation isn't a barrier for first time viewers.
2. Ed Wood
Buena Vista Pictures
Tim Burton often celebrates weirdos and outsiders not accepted by society, and while some of his most memorable creations are elaborate fantasies, his best film is actually based on a true story. "Ed Wood" follows the titular cult filmmaker (Johnny Depp), a director so incompetent that his films would come to epitomize the "so bad it's good" ethos.
It's the good-natured spirit that Depp brings to the role that makes "Ed Wood" surprisingly inspiring. Even as his personal projects are derided, Wood looks to improve. Depp makes this hilarious; as a filmmaker, Wood is completely inept, often making logical jumps, failing to capture the right shots, and discovering errors that he simply incorporates into the stories. Despite his failures, Wood creates a community of ardent supporters. Martin Landau won the Academy Award for Best Supporting Actor for portraying Bela Legosi, a former German expressionist icon who hit a slump late in his career, but is still beloved by his biggest fan, Ed Wood.
Shot in black-and-white with Burton's singularly meticulous attention to detail, "Ed Wood" transports the viewer to the melancholy world of '50s Hollywood. "Ed Wood" is Burton's most personal reflection on filmmaking, particularly when Wood finds a surprise drinking partner in fellow actor-writer-director Orson Welles (Vincent D'Onofrio). That Welles made "Citizen Kane" (considered the greatest film ever made) and Wood made "Plan 9 From Outer Space" (considered the very worst) doesn't matter.
1. Office Space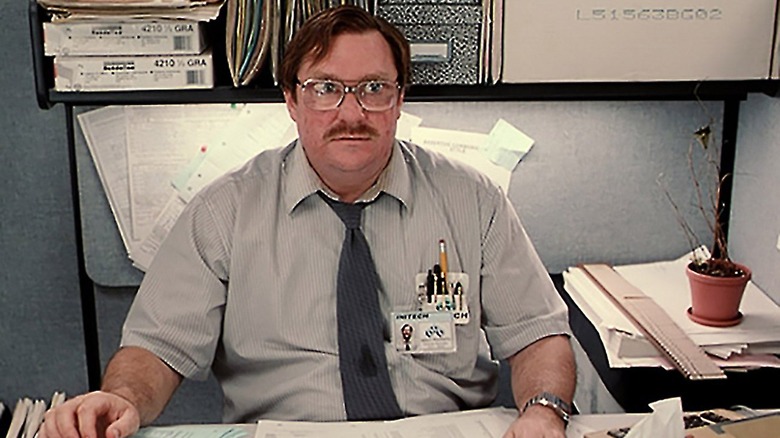 20th Century Pictures
Mike Judge's seminal workplace comedy is among the most accurate depictions of oppressive office culture. It's a terrific ensemble comedy featuring memorable side characters and a surprising caper element that makes the final act more dynamic. Although other '90s comedies featured outlandish concepts and combined different genres, "Office Space" is a straightforward, relatable story about a guy who hates his job.
Peter Gibbons (Ron Livingston) works grueling shifts at the tech company Intech, where he suffers through interactions with his condescending supervisor Bill Lumbergh (Gary Cole). Peter lacks the confidence to speak to his crush, a waitress named Joanna (Jennifer Anniston), but a surprising meeting with a hypnotherapist gives him newfound freedom. Now taking a more carefree approach to life, Peter disrupts the office environment by openly expressing his desire to not work. Peter decides, with companions Michael Bolton (David Herman) and Samir Nagheenanajar (Ajay Naidu), to hack Intech's programming system so that they can access their paychecks without showing up to the office.
"Office Space"' is a crowd pleaser. The romance between Peter and Joanna is cute, and while the themes are relatable, absurd side characters like the mumbling Milton Waddams (Stephen Root) and corporate goon Bob Slydell (John C. McGinley) provide exaggerated, cartoonish comedy. The references to specific '90s pop culture and technology make "Office Space" something of a time capsule, and it finds a heartfelt conclusion as Peter reflects on the reality all workers face, offering a touching message that isn't dated in the slightest.