The Daily Stream: Crashing Is An Awkwardly Hilarious Journey Of Self-Discovery And Stand-Up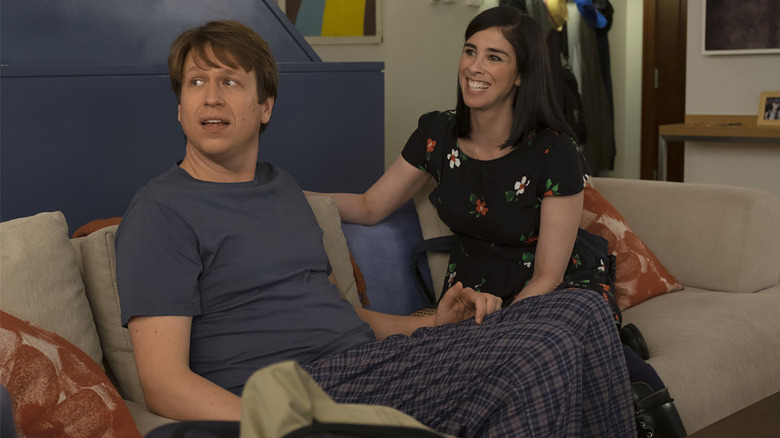 HBO
(Welcome to The Daily Stream, an ongoing series in which the /Film team shares what they've been watching, why it's worth checking out, and where you can stream it.)
The Series: Crashing
Where You Can Stream It: HBO Max
The Pitch: Stand-up comedian Pete Holmes stars in this semi-autobiographical series that finds him learning lessons about himself on and off the stage as he tries to break through the New York City comedy scene after his wife Jessica has an affair and leaves him without the home and marriage that he's known for years. Thankfully, there's a cavalcade of comedians willing to let him crash on their couches while also mocking his very existence, especially when it comes to his surprisingly devout faith in Christianity.
Created, written, and executive produced by Pete Holmes himself, the series is deeply personal, pulling from his long experiences not only in the stand-up world, but in his complicated life that has been full of strange relationships and encounters. It's all helped along the way by executive producer Judd Apatow, who worked on many of the scripts and directed a few episodes. Plus, directors such as Ryan McFaul ("Lady Dynamite"), Gillian Robespierre ("Obvious Child"), Chris Kelly ("Saturday Night Live"), and Jeff Schaffer ("Curb Your Enthusiasm") direct the majority of the series, knowing exactly how to depict the world of comedy with hilarity and a touch of indie spirit.
Why It's Essential Viewing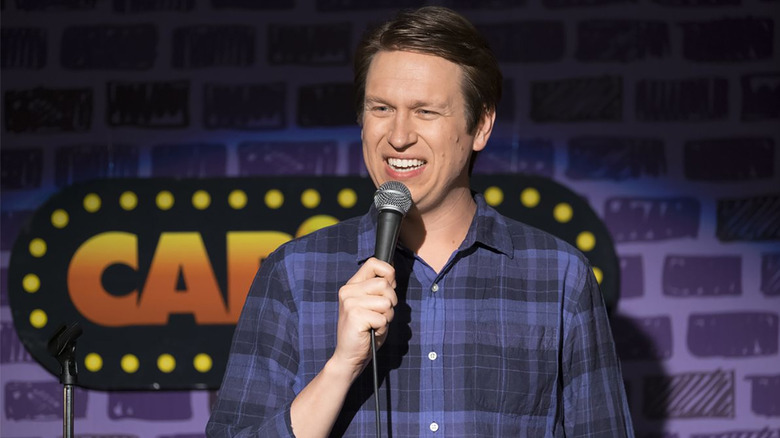 HBO
Whenever a stand-up comedian becomes a well-known name, they often try their hand at starring in a comedy series inspired by their own life. Sometimes it's a full-blown network sitcom with a live audience like "Seinfeld," "Martin," or "Roseanne." Other times it's something that gets a little more deep and personal like "Master of None," "Atlanta," or "Louie" (though the latter has become tainted by Louis CK's transgressions off screen). "Crashing" falls into the latter, thanks to a detailed dive into the world of stand-up comedy coupled with the sometimes painfully awkward personality of a bright-eyed, bushy-tailed Pete Holmes with limited relationship experience and a vibe that screams country mouse.
There has never been a movie or TV series that has more accurately depicted the stand-up comedy scene than "Crashing." Though movies like "Funny People," "Top Five," "Obvious Child" and more have featured stand-up comedy as a key part of the story, "Crashing" puts it front and center. The series digs into the trenches of open mic night and begging strangers to come to shows, the horrible experience of bombing, the surprising successes that come from the strangest places, and the brutal but comical exchanges that comedians have with and about each other. At times, it seems like this version of Pete Holmes gets a little too lucky with some of his peak moments in comedy, but that's bound to happen when you're surrounded by the likes of Sarah Silverman, Dave Attell, Bill Burr, Greg Fitzsimmons, John Mulaney (playing a complete douchebag version of himself), and Artie Lange, in a sobering, self-aware performance that is just as heartbreaking as it is hilarious.
But it's the personal approach of Pete Holmes using his own life that makes "Crashing" soar above every other project that's taken place in the world of stand-up. Because Holmes brings in so many of his intimate experiences, plenty of advice from comedians, and some of the most awkward romantic engagements that you've ever seen, "Crashing" has an authentic touch that only someone as earnest and charming as Pete Holmes could pull off. Even when he's a clueless, square, overbearing single man desperate for any kind of connection, you can't help but root for him to figure out the mess that is his life. The use of his devout faith and eventual skepticism adds another unique touch that no comedy has explored in such a casual but sincere fashion.
The only downside to "Crashing" is that it was canceled after three seasons. Thankfully, the final episode of the third season ends up feeling like a proper series finale, though it's clear that Holmes had plenty more stories that he wanted to explore. The good news is that much of what ends up on the screen in "Crashing" can also be experienced in a different way through Holmes' long-running podcast, "You Made It Weird," which is packed with the most personal details of his life and plenty of gut-busting and meaningful conversations with comedians. So watch the show, listen to the podcast, and just enjoy the tall drink of ginger ale that is Pete Holmes.