Shang-Chi Star Meng'er Zhang On Kicking Simu Liu's Ass And Being More Than The Sidekick [Interview]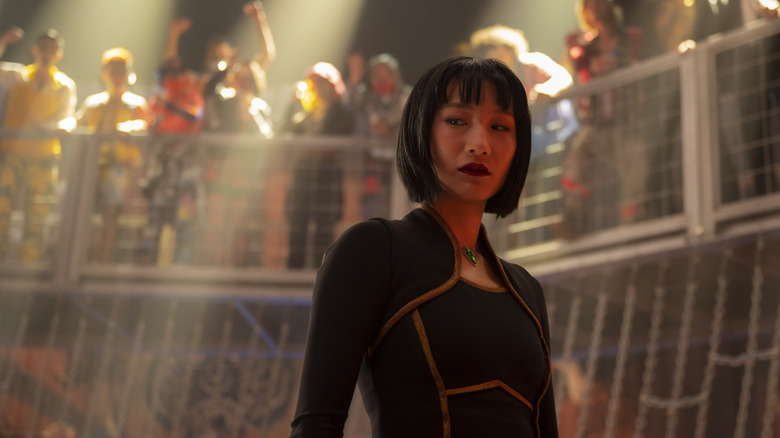 Marvel Studios
Meng'er Zhang doesn't want her "Shang-Chi and the Legend of the Ten Rings" character to be seen as that "rebellious Asian girl." You know the type: the one with the blunt bangs and the blue streak in her hair to show that she's not like other girls — she dyes her hair and she (usually) has amazing martial arts skills and/or hacking skills! It's a trope that started off in animation and gradually became the visual cue for the "Asian rebel girl" that you would see in films like "Pacific Rim" or "Scott Pilgrim vs. the World," or TV shows like "Glee."
But Zhang went out of her way to show that Xialing, the sister of Simu Liu's Shang-Chi in the upcoming Marvel movie, is more than just a stereotype. 
"Originally my character had some little red color extension underneath the natural black hair, and we had already shot that for over a month," Zhang told me in an interview over Zoom ahead of the release of "Shang-Chi." But then Zhang read the Teen Vogue article that pointed out that tired cliché, and she asked director Destin Daniel Cretton that the hair streak be taken out. "It's just a stereotype, and I don't want my character to follow that trend," Zhang said.
Xialing defies all kinds of expectations. She's the estranged sister of Shang-Chi, who had run away from their home as a teenager. But unlike Shang-Chi, she wasn't raised as an assassin. Instead, she spent much of her childhood overlooked and shunned by her father Wenwu (Tony Leung). She ultimately decides to take her fate into her own hands, building the underground fighting ring that we see in the trailers for "Shang-Chi" and becoming a skilled fighter who knocks Liu's Shang-Chi down to size a couple times.
I chatted with Zhang on portraying a complicated character like Xialing, what it was like to kick Simu Liu's ass, and how easy it is to lose one's voice at karaoke.
"It's just like a dream come true to me."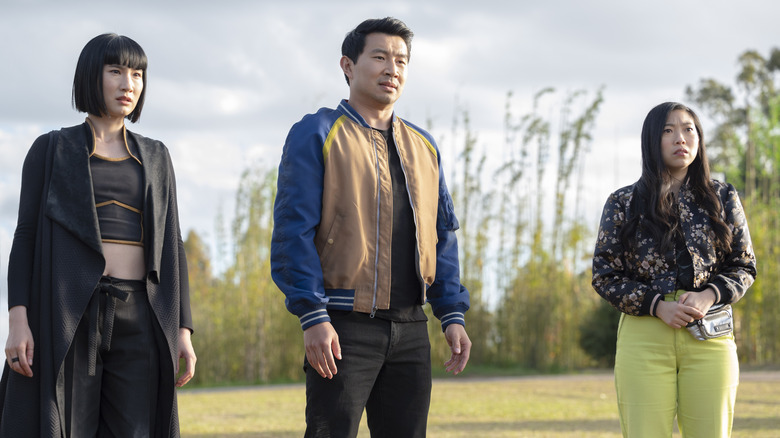 Marvel Studios
This is your first feature film role. Was there anyone on the cast who you turned to, to show you the ropes, to get you acclimated to the process?
Oh, yes. I mean, everyone, this cast is amazing and I got to work with Sir Ben [Kingsley], I got to work with Tony Leung, Michelle Yeoh, Awkwafina, Simu, he's like a real brother to me. I mean, everyone helped me and Destin, I feel really lucky to work with every one of them and yeah, it's just like a dream. It's just like a dream come true to me.
So what was the process by which you were cast? You, I assumed, auditioned and were part of a big casting call?
Yeah, I had no idea I was auditioning for a Marvel film. When I sent my self-tapes, I just saw an audition call in a group chat, and it said they needed a girl who can speak Chinese and English. So I thought, well, I can do that. So I sent my self-tapes and I got a call back, and when they flew me to do a screen test with Simu, that's when I found out that I was auditioning for "Shang-Chi," and I just got nervous.
But the screen test went really well. I mean, Simu showed up in the room in his slippers, in his training suit because at that moment, he has already started his training. So he gave me a brother vibe and everyone put me at ease and it's just really fun and Simu will allow me to do whatever I want to do for my character, it went really well.
So you primarily act opposite Simu and Awkwafina, who are from Canada and America respectively. When you were performing with them, was there ever anything that was lost in translation or kind of a funny culture clash, especially when it came to comedy?
No, I mean working with them is so fun because we really vibe together and they're really like brother and sister to me. I just got married, I met my husband [Yung Lee] on this film, he is one of the action designers and yes, we didn't prepare anything.
But Simu, he took us to a Disneyland trip and Awkwafina, she booked a whole venue to celebrate for us. We're just like a real family, and I remember Awkwafina asked my husband Yung, "How many people you want to invite," and Yung said, well, three and Awkwafina said, "Okay, well I booked the whole thing."
Everyone had fun, everyone sang at the top of their lungs and everyone lost their voices the other day. It's just so much fun.
I understand that, I went to karaoke this past weekend and totally lost my voice singing too. So Xialing is a character who is always overlooked and pushed to the side, did you relate to that in any way when you were kind of creating her character and performing as her?
I mean, Xialing is really a complex character. She has the tough and cold exterior, but she also has the sensitive and vulnerable part deep down inside of her, and I mean, I just feel really strongly connection with her from the very beginning. I just feel she's always here inside of me somewhere, and I think the world is going to love her. She's a strong woman, she knows how to stand her ground and find her voice and use it.
"It's just a stereotype, and I don't want my character to follow that trend."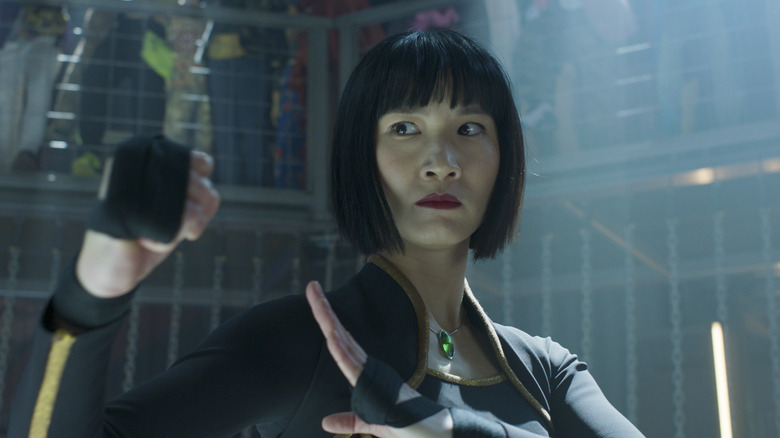 Marvel Studios
So, were you given a lot of freedom to help craft the character of Xialing? Because she's not really a character in Marvel Comics and she's also sort of a new character introduced a little later into the film.
Yes, yes. I mean, originally my character had some little red color extension underneath the natural black hair, and we had already shot that for over a month, and one day I read an article from Teen Vogue talking about how Asian female characters in Hollywood films, they always have some color in their hair to show that they're rebel, they're tough, they can fight. And it's just a stereotype, and I don't want my character to follow that trend. I called our director Destin and I asked him if we could take that out, and everyone was so supportive and the whole production agreed on that, and we took it out the next day.
So can you talk a little bit about the fight scenes? Because you get almost as many as Simu and you are basically equal to him too in terms of the fighting level. How was it like working on that fight choreography, especially with the late stunt supervisor, Brad Allan?
I didn't have any martial arts background before this film, so they flew me four months early to train and it was really an intense training. But for those stunt part, I didn't do all of them. I did whatever they allowed me to do for those dangerous parts, I have amazing stunt doubles and we really completed the character together. And yeah, Brad, he's such an amazing man, and he allowed — because my husband Yung, he's part of the stunt team — Brad allowed my husband to go on sets to give me some direction, and that's really sweet of him.
So while Xialing is allied with Shang-Chi for most of the movie, we do see that she ends up in a place of power that we won't spoil. But would you say that she's a little bit more morally dubious than maybe we would anticipate her being?
Well, I'm very excited for whatever is next for Xialing, and I think just come to the theaters and see the film, and a tip, but I think everyone knows just to sit till the very end of the film and you will have some surprise.
With that, can we expect any more of you as Xialing in the MCU?
I don't know, I want to know too. I wish I know, I can tell you more about it.
Who would you like Xialing to maybe go up against in the MCU?
Ooh, I don't know. I mean, my favorite Marvel superhero is Ant-Man, so I would love to, you know.
"Shang-Chi and the Legend of the Ten Rings" hits theaters on September 3, 2021.