Solitary Trailer: When There's No More Room On Earth, Prisoners Go To Space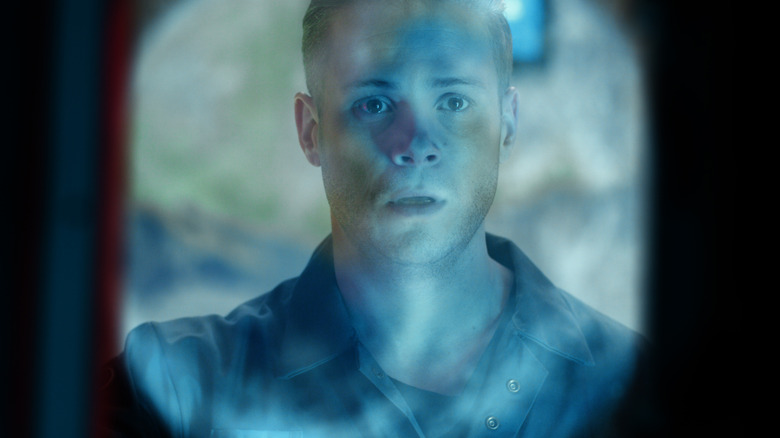 Vertical Entertainment
What if the very last thing you remembered was going to sleep in a hospital room and waking up as a prisoner? Imagine having absolutely no idea of how you got there or why. Now, to add even more insult to injury, imagine you're sharing a small and claustrophobic cell with an unknown individual who seems to know much more than she's letting on (and is very possibly a dangerous criminal), all while your collective punishment is apparently to be sent off into the depths of space as humanity's first group of colonists to another planet entirely. Fun, right?
That's the compelling premise of "Solitary," a new sci-fi/thriller from Vertical Entertainment, and /Film is exclusively revealing the trailer, poster, and first look images for the film. Check them out below.
Solitary Trailer
The footage teases mysteries and secrets threatening to be revealed, both space-set and planet-bound tension and thrills, and plenty of pulse-pounding action on top of it all. Here's the poster for "Solitary."
"Solitary" is written and directed by filmmaker Luke Armstrong, who will be making his feature film debut after working primarily in the world of visual effects and digital compositing for much of his career. The major blockbuster productions he has credits on include popular, critically acclaimed, and widely-liked projects such as "Skyfall," "Annihilation," "Avengers: Infinity War," "The Witcher," and much more. The upcoming film also stars Johnny Sachon ("Cloud 9," "Deep Cuts") as the main protagonist Isaac, Lottie Tolhurst ("Mr Selfridge," "Harlots") as the mysterious and volatile Alana, and Michael Condron ("The Tudors," "High-Rise," "Game of Thrones") as Ken Bradley, along with Brian Bovell ("Jamie Johnson," "Tom and Jerry," "Shadow and Bone") as Harry, and Ben Valentine as Pundit Chris.
"Solitary" is currently scheduled for release on September 24, 2021.
Here's the official synopsis for the film:
When Issac wakes up inside a room with no memory of how he got there, he discovers he's a prisoner sent into space to form Earth's first colony on another planet. The only thing worse than his fate is his unpredictable and ruinous cellmate, Alana, who is determined to destroy everything, including Issac.