The Morning Watch: Spider-Man: No Way Home Trailer Easter Eggs, Kevin Smith Breaks Down The Mallrats Stink Palm Scene & More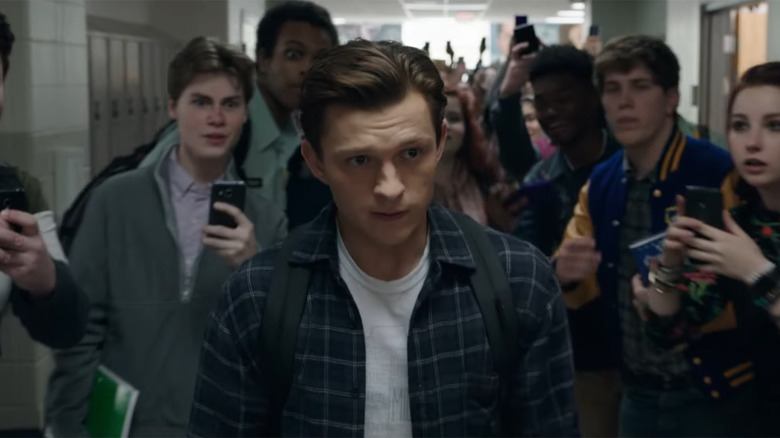 Sony Pictures / Marvel Studios
(The Morning Watch is a recurring feature that highlights a handful of noteworthy videos from around the web. They could be video essays, fan-made productions, featurettes, short films, hilarious sketches, or just anything that has to do with our favorite movies and TV shows.)
In this edition, take a look at over five dozen "Spider-Man: No Way Home" trailer Easter eggs, callbacks, and comic book references. Plus, listen as writer/director Kevin Smith breaks down the famous "Stink Palm" scene from "Mallrats" and reflects on the day that it was shot. And finally, listen to the 10 things that "21 Jump Street" and "The Wolf of Wall Street" star Jonah Hill can't live without.
Spider-Man: No Way Home Trailer Easter Eggs
First up, ScreenCrush put together a round-up of over five dozen Easter eggs, callbacks to the Marvel Cinematic Universe, and comic book references that appear in the first trailer for "Spider-Man: No Way Home." Along with all the buzz about the returning villains from other Spider-Man movies outside of the MCU, there are plenty of other interesting details that have led to speculation about the plot and exactly what's going on with the multiverse in this movie. So dig in, and then go check out our own trailer breakdown.
Kevin Smith Breaks Down the Mallrats Stink Palm Scene
Next, writer/director Kevin Smith is supposed to be working on a "Mallrats" sequel, even though he's quite busy with the production of "Clerks III" right now. While we wait to see if the sequel to his sophomore effort actually comes together, let's listen as the filmmaker looks back at one of the most famous moments from the commerce-centric comedy: the "Stink Palm." In a new edition of "Scene Studies," Smith remembers how it all came together and what it was like to shoot this scene so many years ago.
10 Things Jonah Hill Can't Live Without
Finally, GQ brought in a sun-kissed, blonde Jonah Hill to reveal the 10 things that he simply can't live without. There's a health food energy drink that he's obsessed with but miraculously doesn't have any personal investment in at all. Plus, Hill loves his surfboard, a customized "Strong Baby" ring given to him by his older sister (not Beanie Feldstein, who is his younger sister), and a gi for doing jiu-jitsu. Watch the full video for more.