23% Of MCU Fans We Polled Said This Is The Best Phase 3 Movie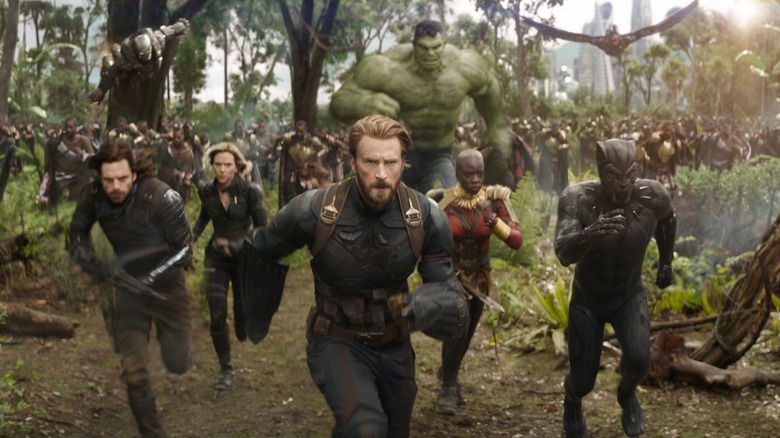 Marvel
(Welcome to Survey Says, a feature where we conduct a movie-related survey for a random group of people and explain why they're completely right, completely wrong, or somewhere in-between.)
When it comes to the big questions in life, we must turn to the internet. Sure, we can come to our own conclusions and like, have opinions and stuff. But where's the fun in that? Anyway, you never really know how you feel until some rando on the internet says something that ignites your fury. Allow me to be that rando, because today we're asking the biggest question of them all — what's the best movie in Phase 3 of the MCU?
You might already have an answer in your head, but this isn't really about you. It's about the 635 randomly polled Americans who we've decided have all the answers. We had to outsource this one because this is really serious stuff — the MCU's third phase is no joking matter. It's the culmination of 10 table-setting years, bringing together all our favorite heroes for an epic final face-off. Together they take on that big, purple bad guy, and absolutely nothing goes wrong. But before all that grandstanding, we meet a couple of new heroes, including that one wizard man and the catsuit guy. Is this getting too vague? No worries, we're gonna go deep into the nitty-gritty to break this one down.
And The Survey Says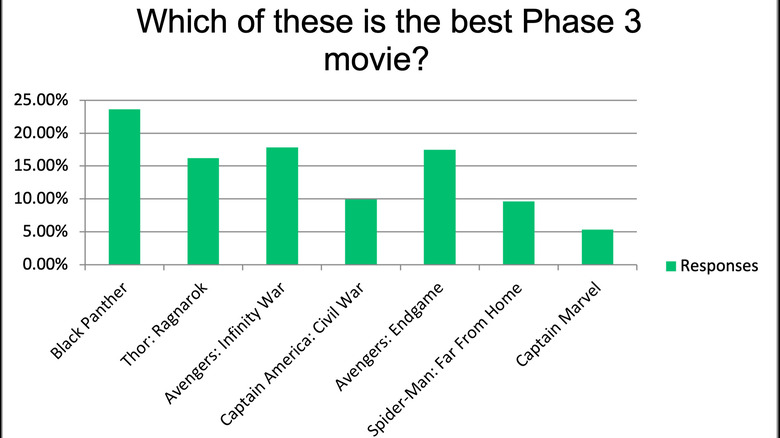 /Film
The results are in, and "Black Panther" came out on top by a pretty comfortable margin. It's hard to believe, but it turns out people on the internet can be right sometimes! (Cough, except at SlashFilm.com, where everyone is always right, all the time). Here's where the Phase 3 movies stacked up.
Black Panther 23.62%

Avengers: Infinity War 17.80%

Avengers: Endgame 17.48%

Thor: Ragnarok 16.22%

Captain America: Civil War 9.92%

Spider-Man: Far From Home 9.61%

Captain Marvel 5.35%
Respondents: 635, US
Things are looking good — much to my surprise, the right film has been awarded the top spot. "Black Panther" has earned many accolades, especially given this groundbreaking entry in the franchise became the first superhero movie nominated for the Best Picture at the Academy Awards. In addition to snagging an Oscar nomination and being a massive box office success, this movie is just plain good. In fact, "Black Panther" is easily one of the best films in the MCU thus far.
Black Panther Still Shines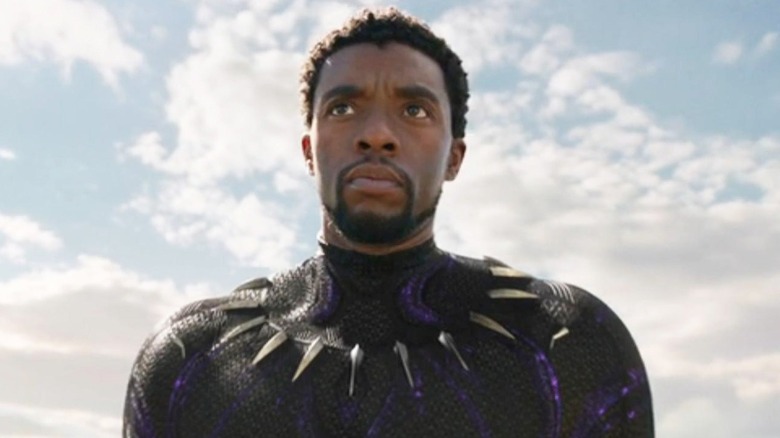 Marvel
After 18 films in the MCU, we'd fallen into a pretty comfortable rhythm. But "Black Panther" dared to break away from all that.
We were very used to US-centric stories that focused on villainous foreign threats (whether they be invading aliens or Middle Eastern terrorists a la "Iron Man"). But "Black Panther" whisked us away to the fictional and futuristic Wakanda. Helmed by the franchises first African-American director, Ryan Coogler, the movie features a predominantly Black cast and grapples with issues of ancestral land and modern day Blackness. Just on its face, "Black Panther" was thematically rich and actually took time to delve into the complex issues it reckoned with.
Another major plus, "Black Panther" offers one of the greatest MCU villains to date in Michael B Jordan's Erik Killmonger. The best villains improve their heroes by exposing their flaws, and Killmonger more than accomplished that. Prince T'Challa (Chadwick Boseman) was content to leave the doors of Wakanda closed, a continuation of an outdated tradition. But throughout the film, tradition clashes with the modernity of the present — Shuri and M'Baku butt heads, just as T'Challa does with Killmonger. And while the former fight together in the end, T'Challa squares off with Killmongers. But he also learns from him.
Every great villain needs a worthy opponent, and T'Challa is a hero worth celebrating. He consistently proves himself to be a wonderful man with a strong sense of heart. The inner conflict sparked by Killmongers presence makes him better, because T'Challa walks the fine line of accepting his villain's critique, while rejecting his tactics.
Paired with its every nuance and clever scripting is that fact that "Black Panther" is fun. The movie is both hilarious and emotional, with whip smart action and very fun gadgets. Best of all, it's packed with talented performers whose individual characters could each carry their own movie.
What The Survey Gets Wrong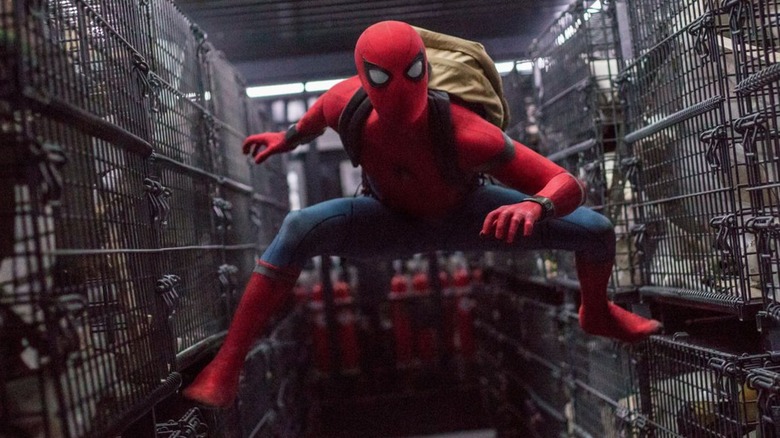 Marvel
With the crowning jewel of the MCU's third phase officially named, we can talk through the rest of the survey rankings. The third Phase of the MCU is really strong. It has a few weaker entries in "Doctor Strange" and "Ant-Man and the Wasp," but those aren't on the board for good reason. When it comes to the films following closely behind "Black Panther" for the top spot, the Avengers finale films are pretty close together. And while I'll always be a stickler for "Avengers: Endgame" over "Avengers: Infinity War," the percentage is so slight that it's not worth an argument.
Shockingly, fan favorite "Thor: Ragnarok" was only voted top dog by 16% of fans polled. Behind it are "Captain America: Civil War," "Spider-Man: Far From Home," and at the bottom, "Captain Marvel." All in all these are strong MCU entries, so being at the bottom of this poll isn't really a slam on their merit. Though it does hint back to the unfair backlash "Captain Marvel" received even before releasing in theaters...
All in all, it's a matter of preference. This is a pretty solid collection of movies, each entertaining and showcasing different talented casts. In fact, the most controversial thing about this poll should be what's not on the board. In case you didn't notice, "Spider-Man: Homecoming" is nowhere to be found!