Candyman Is A Horror Movie About Processing Racial Violence Through Storytelling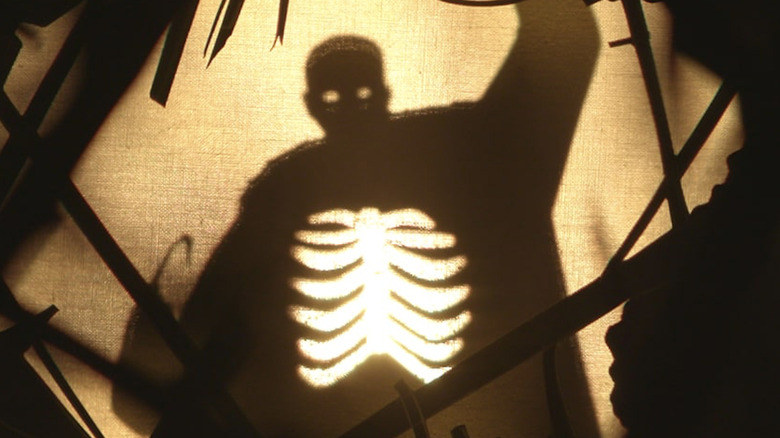 Universal Pictures
The original "Candyman" is a horror classic, and while horror classics can often be seen as untouchable, the new "Candyman" is ready to bring something new to the table. The original film dealt with Black communities living in Chicago's Cabrini Green projects, but for the most part, it was a story told entirely from a white person's POV. The new "Candyman," however, is offering up a Black perspective — the main characters are Black, as is the creative team behind the project. And during a press conference for the upcoming film, the cast and crew of "Candyman" delved into how the film has been made all the more timely by processing racial violence through storytelling. 
A Community That's Disappeared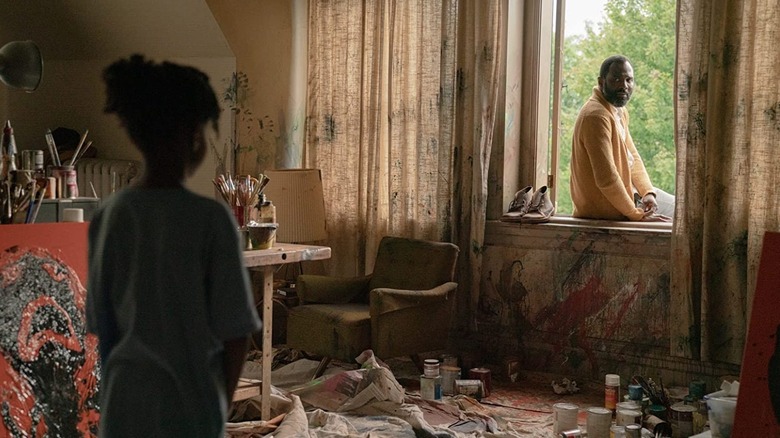 Universal Pictures
/Film's Danielle Ryan attended a "Candyman" press conference where director/co-writer Nia DaCosta, and stars Yahya Abdul-Mateen II, Teyonah Parris, and Colman Domingo spoke on how the new movie — which is more sequel than remake — uses the Candyman story holds a mirror up to real-world trauma. "The film is really about how storytelling is used around these horrific events to either help process or, to campaign or to create a martyr out of people who ended up leaving us too soon through these terrible acts of racial violence," DaCosta said, adding: 
And so that seals some specific, but it also has so many facets to it. How does storytelling operate in our culture and how does storytelling operate out to the point of getting us somewhere like a character like Candyman. And then of course he's real and he does kill people.
In the original film, grad student Helen Lyle ventured into the Cabrina-Green housing projects to investigate an urban legend about Candyman — a figure who appears if you say his name in a mirror five times. In the years since the first film was released, the Cabrina Green neighborhood has been significantly renovated, complete with upscale high-rises and townhouses. And that, too, ties into the film's narrative. 
"I think the key thing for us was you have to go back to the scene of the crime as it were," DaCosta said, expanding:
"And I think we would want to connect to the land, to the place because the story of Cabrini-Green isn't over. Because now it is a story about a community that's been disappeared from that location. And we want to talk about what was left behind. So gentrification just ended up having to be a part of the story in a bigger way."
An Unavoidable History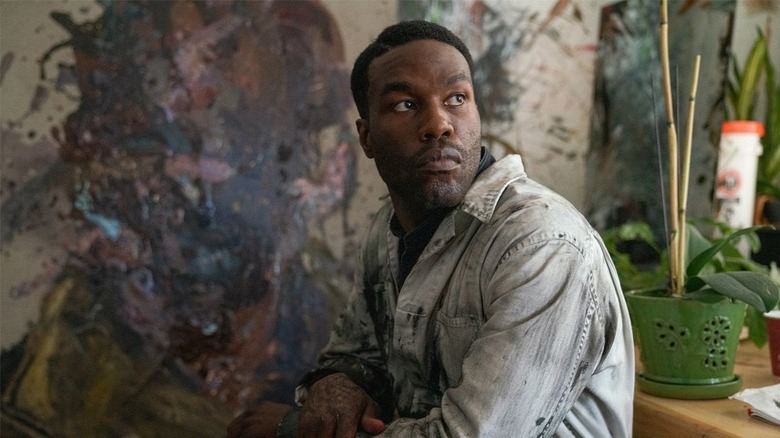 Universal Pictures
Black trauma is an important part of the new "Candyman," and star Yahya Abdul-Mateen II spoke about the research he did on the subject for the film coupled with his own personal experiences. "The research interested me, when I talk about the research with stories like this is that the research is never very, very far from my own life and my own experience," he said. You talk about the experience of what it is like to be a Black man in America, living with the fears of trauma at the hands of the police, trauma at the hands of white oppressors. We have those stories that are passed down from generation to generation and eventually land upon us. For me, I drew upon all of my own experiences, but only, but also historical experiences to eventually portray Anthony that was being weighted down by an unavoidable history."
The last year has held a magnifying glass up to racial injustices in America, and that's bound to be a factor in how audiences view the new "Candyman." As Abdul-Mateen II said: 
That is one of the tough things about making movies like this that tend to deal with these issues, because I think we make it in good faith that we're making the art to speak to the issues and to also somehow provide more than just conversation with actions that are designed to improve our conditions. But sometimes, we still make art knowing that when it comes out, it'll still be relevant. That's an important thing to do as an artist, but sometimes as a storyteller. That's one of the difficult things to do as well.
"The story behind Candyman is one that's repeated and repeated and generations and generations is still happening," co-star Teyonah Parris added. "We're 30 years later from the original, and unfortunately, it's still quite relevant and quite appropriate to shed light on this issue, which is the way that we've, re-imagined it, in our telling the story. The issues of police brutality, brutality against black bodies, black trauma, healing, and what it takes to heal from generational traumas and things that you didn't necessarily even know you were affected by because it happened to your ancestors. But it's in the DNA, it's in the blood, it's in the history. We have these traumas that we have to face and deal with. And so, that's still relevant today. And I hope that this film will help us have those conversations and take actionable steps to healing and calling things as they are violence, trauma, whatever it is, brutality and hopefully move closer towards that healing that we all seek."
Taking the Trauma Back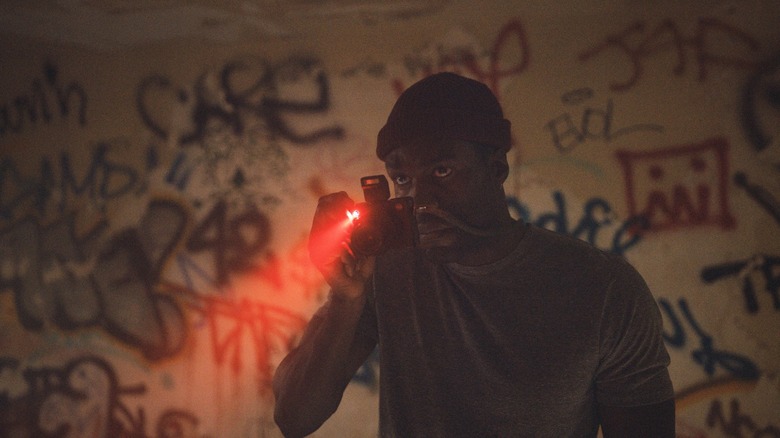 Universal Studios
But there's more to "Candyman" than just highlighting racial violence. As Yahya Abdul-Mateen II said, "I would also add that one of the themes that I like to think about recently is taking the trauma back, taking ownership of our stories, taking ownership of the things that happened to us. Not necessarily taking ownership, but taking control of what happened, of what happens now." Abdul-Mateen II added that the fears within the new "Candyman" are going to differ a bit from the fears in the original:
"[In] the original 'Candyman,' there was a real fear, a real specific fear, and even imagining what if Candyman were real? After leaving this movie, that question has a completely different meaning and completely different implications on what if Candyman were real? And I think the implications behind that now, or more about agency and more about taking back a narrative. And the power that can come from claiming that type of authority over your history, which I think is going to be a very unexpected and exciting part of the conversation of this film."
"And then, as it's explored in our film, I think it sort of elevates it," added co-star Colman Domingo. "It dials it up a few notches because it really deals with things that are on our minds right now. Especially this year of racial reckoning in America and around the world, I think arguments about ideology and who we are as Black people with art and with criticism, with gentrification taking over spaces. I think it's unpacking a lot of those things that we're actually dealing with. And this genre in particular is so seductive and sexy for this work and this deeper examination. It's a way that it's palatable and we can really do all this unpacking together. That's what I really love about being a part of it."
Domingo also added that despite these weighty, heavy themes, the new "Candyman" will be plenty entertaining, too. But it's also not afraid to ask those serious questions, and tackle those serious themes: 
I want people to be thoroughly entertained, thoroughly freaked out, and also thoroughly inquisitive to have a deeper interrogation over the themes of this film. I think it's setting us up in every single way to really do the work that I think that we've had laid out for many years in our culture. To have examinations of violence on brown and black bodies. I think that I love the themes of criticism and where our work comes from. How do you try to elevate the trauma and put it into an art form in some way, shape or form? And then, how it's criticized in the masses. What's important? What's of value? Who you are. So, it's unpacking a lot. I truly hope that there is many conversations being had at the workplace, at coffee houses, at homes, that you don't just turn it off when you go home, but you take it with you and you really unpack a lot of it.
"Candyman" opens in theaters on August 27, 2021.