Candyman Star Yahya Abdul-Mateen II Prepared By Watching The Fly And Rosemary's Baby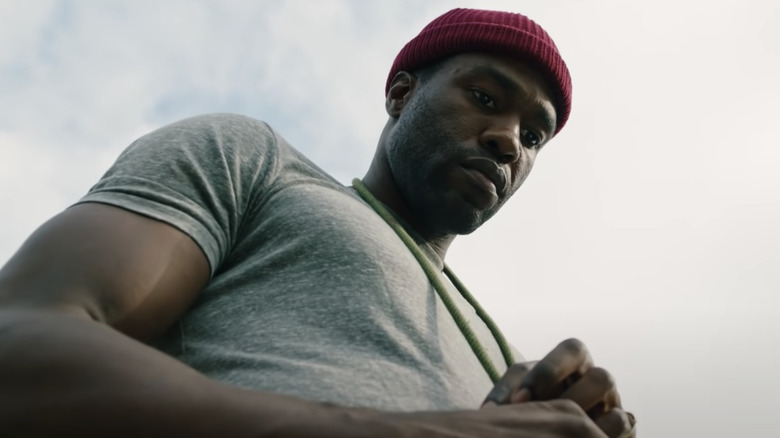 Universal
Jordan Peele isn't the only prominent Black filmmaker influenced by "Rosemary's Baby." "Candyman" is also drawing inspiration from that movie, along with a certain body-horror classic starring Jeff Goldblum.
Our "Candyman" coverage continues with some quotes from film and television star (and fan of The Office) Yahya Adbul-Mateen II and director Nia Dacosta about the movie's romanticism and its influences. For Adbul-Mateen, two touchstones were indeed "Rosemary's Baby" and "The Fly."
Little-known fact: if you read the name "Candyman" in five headlines, it will be the same as if you said it aloud in front of the mirror. /Film's Danielle Ryan came away from a recent "Candyman" press conference with a bundle of interesting quotes. The first comes from Abdul-Matteen II, who spoke about two other famous horror films that provided inspiration for him, over and above the original "Candyman" starring Tony Todd.
"The Fly, that was one of the ones that she [DaCosta] recommended to me, as well as Rosemary's Baby," Abdul-Matteen II said: 
"In terms of The Fly, that was one that I watched and paid attention to the physical and psychological deterioration of that character. But in terms of the relationship between the two of us, that was something that I think for me I connected to in the room after meeting Teyonha [Parris] and just really having an opportunity to tell a story of a young, successfully, upperly, aspiring Black couple with very high aspirations and a real desire to build a life together. They were at the start or something. I was also interested in some of the ways that I like to think about storytelling and it's like, 'Well, what are these characters in love with?'"
Working Through Trauma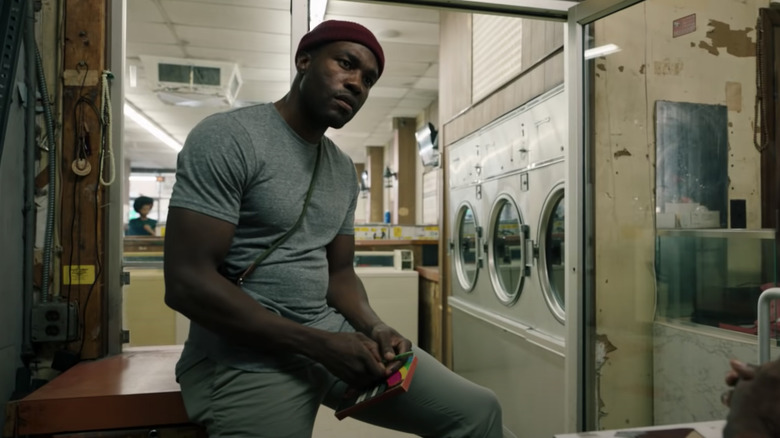 Universal
In the trailer for "Candyman", you can see hints of Cronenberg-ian body horror, so it's interesting to hear Abdul-Matteen II name-check "The Fly." The "Rosemary's Baby" comparison also seems understandable in light of what DaCosta had to say about Brianna, the character played by Teyonah Parris (who appeared in "WandaVision" this year and is reteaming with DaCosta on "The Marvels").
"I'll talk specifically about Brianna," DaCosta said: 
"So Brianna, I think something that people talk about a lot in the Black community is how Black women hold it up basically, and how a lot of the trauma that happens, Black women don't get to really process and work through their trauma. Because they're too busy dealing with everyone else's, and that's what I want to talk about with Brianna is that, obviously her partner is having a really hard time, but she has her own trauma that we see in the film that she has never really dealt with. And the closer this legend of Candyman gets, the more, it keeps coming up and coming up and haunting her the way that Candyman haunts Cabrini-Green. And so that was something I really want to talk about because I see it and I've experienced it myself. And I thought that was a really important part of the love story."
Love vs. Art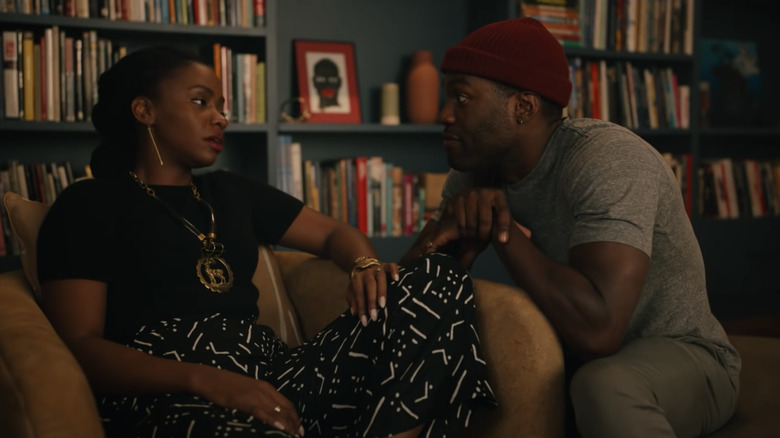 Universal
If Brianna is something of a stand-in for Rosemary, that would make Abdul-Matteen II's character, Anthony, an analog for her husband, Guy, in this comparison. In "Rosemary's Baby," Guy hands his wife over to be impregnated by Satan in order to further his own acting career. In "Candyman," it sounds like Anthony is also caught between his relationship with Brianna and his artistic calling.
Abdul-Matteen II elaborated: 
"Most of the time to think that if there's a good story ... the thing that [the characters] love the most, the actions of the story or the plot will try to take that away from them. And eventually you have to fight to hold onto those things. So, Anthony was a person who was very much in love with his relationship, but also in love with the possibility of being an artist. And as he was striving to grow both of those things, the fate and the history of Candyman and Cabrini and the traumas of those locations eventually pulled him away from the things he loved the most. So, there was plenty to fight for in this story, including, especially the relationship between the two."
The Original Movie's Influence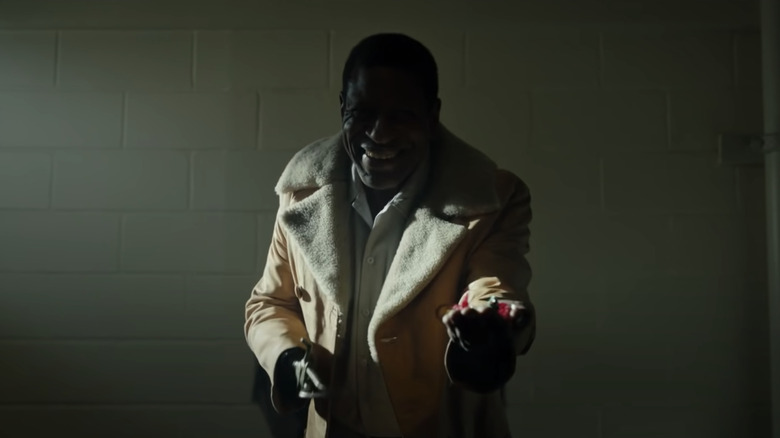 Universal
As much as "The Fly" and "Rosemary's Baby" might have found their way into DaCosta's "Candyman" revival, the original 1992 film was an obvious go-to as well.
"I'm a huge fan of the original film," DaCosta said: 
"Hadn't watched the sequels until I was much older and I didn't watch them that much, if I'm being perfectly honest. But what I want to keep was the, I guess, the romantic nature of Candyman. I think there's something really interesting about that, that they did in the first film. I really loved the way he was this darkly romantic, like Gothic sort of antihero character. And so I really wanted to keep that, those layers to him, but then also it was just important for again, to expand on who he was, what that meant."
"Candyman" hits theaters on August 27, 2021.