'A.P. Bio' Season 4: Release Date, Cast And More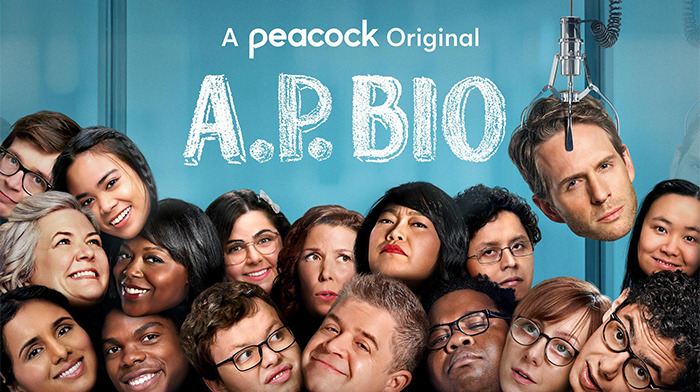 (Welcome to ...And More, our no-frills, zero B.S. guide to when and where you can watch upcoming movies and shows, and everything else you could possibly stand to know.) 
All right, everyone start shutting up! A.P. Bio is back in session for a fourth season next month on Peacock. Before the series returns, we've got everything you need to know about the gifted (and weird) class under the tutelage of teacher Jack Griffin (Glenn Howerton), Principal Ralph Durbin (Patton Oswalt), and an outstanding ensemble cast of comedy stars at Whitlock High School. Find out the A.P. Bio season four release date and more below.
A.P. Bio Season 4 Release Date and Where to Watch
A.P. Bio originally debuted on NBC, but beginning with the show's third season, Peacock became the exclusive streaming home for the comedy series. Rather than having a weekly release like it did on network television, the entire season now drops on Peacock at one time. All eight episodes of A.P. Bio season four will be available starting on September 2, 2021.
What is A.P. Bio?
A.P. Bio is a comedy series focusing on a former Harvard philosophy professor and scholar Jack Griffin, who has a mid-life crisis and returns to his hometown of Toledo, Ohio after missing out on his dream job. The first season was focused on Jack using his awkward and quirky high school students to take down the rival scholar who took his job rather than teaching them any advanced biology whatsoever. The second and third season still have Jack Griffin using his students for wild schemes, but in support of boosting his career in a variety of ways, though each season he seems to find himself getting just a bit more comfortable with life in Toledo.
A.P. Bio Season 4 Synopsis
Here's the official synopsis for A.P. Bio:
When disgraced Harvard philosophy scholar Jack Griffin (Glenn Howerton) loses out on his dream job, he is forced to return to Toledo, Ohio, and work as a high school advanced placement biology teacher. As he comes crashing into Whitlock High School, Jack makes it absolutely clear that he will not be teaching any biology. Realizing he has a roomful of honor roll students at his disposal, Jack decides instead to use the kids' brainpower for his own benefit. Over time, his students help him realize his dream job might actually be the one he has right now. Eager to prove that he is still king of the castle, Principal Durbin (Patton Oswalt) struggles to control the force of nature that is Jack Griffin.
A.P. Bio Season 4 Showrunner, Crew and More
A.P. Bio was created by Mike O'Brien, a former Saturday Night Live writer and cast member, who also acts as executive producer, writer, and showrunner of the Peacock series. SNL creator Lorne Michaels is also an executive producer on the show along with Andrew Singer and their Broadway Video production banner. NBC's Late Night team of Seth Meyers and Mike Shoemaker are executive producers through their own Sethmaker Shoemeyers Productions.
A.P. Bio Season 4 Cast
Glenn Howerton (It's Always Sunny in Philadelphia) leads A.P. Bio as Jack Griffin, bringing a familiar sardonic and sarcastic demeanor along with him. Patton Oswalt (Ratatouille) plays the delightful but bumbling Principal Ralph Durbin, who tries to keep Griffin on track but can't help but be charmed by his manipulative ways. Mary Sohn, Lyric Lewis, and Jean Villepique are a trio of talkative teachers who bring plenty of zest and laughs to the proceedings. And Paula Pell plays the oddball school secretary Helen Henry Demarcus.
However, attention must be paid to the stellar cast playing Jack Griffin's high school students. Aparna Brielle, Allisyn Snyder, Miguel Chavez, Spence Moore, Nick Peine, Jacob Houston, Eddie Leavey, Marisa Baram, Jacob Manown, and Sari Arambulo make up the titular class, and they each bring something special to the table. Whether it's endlessly hilarious reaction shots to Jack's wild antics or their own teen trials and tribulations, any one of them is a secret MVP in any given episode.
The fourth season of A.P. Bio is bringing a new wrinkle to the class by having Jack Griffin's father showing up, played by B-movie icon Bruce Campbell. Previous guest stars have included Jon Lovitz, Ron Funches, Nikki Glaser, Taran Killam, Christopher Lloyd, and Tim Heidecker, so hopefully some more funny faces will be popping up.
A.P. Bio Season 4 Trailer
Let me be clear, this trailer does not do the series justice. Take a dive into the first three seasons on Peacock and you won't be disappointed. This is the best streaming show that you're not watching.