'Shang-Chi' Trailer Explains How To Pronounce The Hero's Name (And Has Some Superhero Stuff)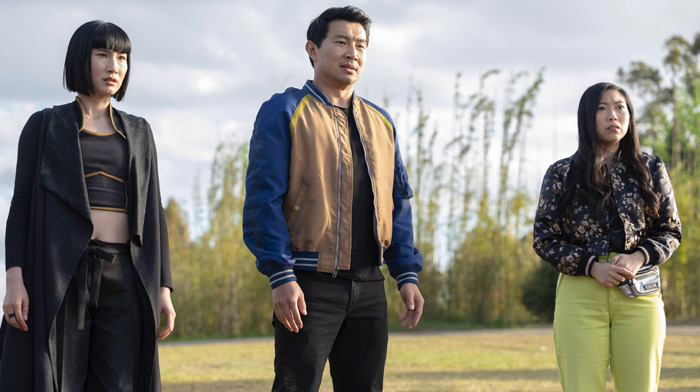 Marvel Studios' Shang-Chi and the Legend of the Ten Rings (read our full review here) is coming out in less than two weeks. Today the company released a new trailer which showcases some new footage, including a section in which Simu Liu's title character explains to his best friend, played by Awkwafina, how to pronounce his name. Here's a hint: you've probably been saying it wrong this whole time.
Shang-Chi Trailer
For years, I thought the first part of Marvel superhero character Shang-Chi's name was pronounced "Shang," in a way that rhymed with "pang" or "fang." That's the downside of reading a name on the page and never hearing it spoken aloud (and also growing up in a Western-dominated culture). But as the marketing for Marvel Studios' Shang-Chi and the Legend of the Ten Rings ramped up, I learned it was actually pronounced like "SHONG-Chee," and the little gag at the end of this trailer helps spread that awareness to wider audiences so people don't feel silly mispronouncing it when they're chatting with friends about the film.
Early reviews indicate that Shang-Chi is a bit of a mixed bag, but at least there seems to be near-universal acclaim for the movie's action. As our review states, "Shang-Chi's fight scenes are breathtaking — whether in the bruising street-fighting scenes when Shang-Chi is dodging magical steel blades on (and outside of) a bus, or when the film goes full wuxia in scenes with [Tony] Leung and Michelle Yeoh."
Even though this character has been on Marvel's wishlist for movie protagonists for a long time, it has taken decades to finally center him in a film. Maybe that has to do with the complicated nature of its villain, The Mandarin. Maybe it was Marvel overlord Ike Perlmutter thinking that Shang-Chi toys might not sell as well as other characters. Maybe it was some combination of the two. Regardless, a new era of the Marvel Cinematic Universe is almost upon us, and if you want to be a part of the early conversation, you're going to have to see this one in theaters, because Disney is refusing to put it on the Disney+ Premier Access tier simultaneously. And it won't be long until Eternals rolls out, followed by Spider-Man: No Way Home and more canonical Disney+ Marvel Studios shows like Hawkeye and Ms. Marvel. And all of that is just in 2021. The Marvel machine rolls on, churning out a never-ending assembly line of content into the public's gaping maw.
Here's the film's official description:
Marvel Studios' "Shang-Chi and The Legend of The Ten Rings" stars Simu Liu as Shang-Chi, who must confront the past he thought he left behind when he is drawn into the web of the mysterious Ten Rings organization. The film also stars Tony Leung as Wenwu, Awkwafina as Shang-Chi's friend Katy and Michelle Yeoh as Jiang Nan, as well as Fala Chen, Meng'er Zhang, Florian Munteanu, and Ronny Chieng.
Shang-Chi and the Legend of the Ten Rings is slated to blast into theaters on September 3, 2021.