'Best Sellers' Release Date, Cast, And More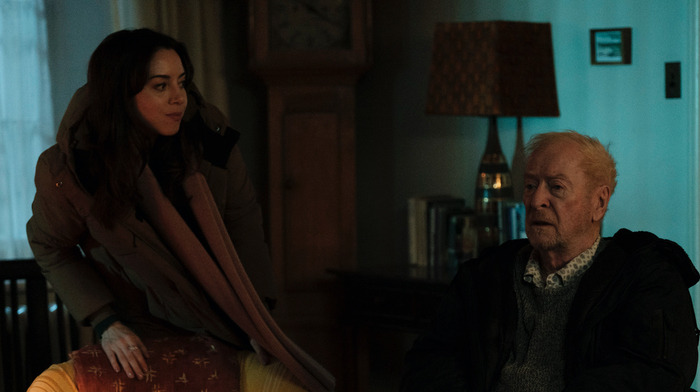 (Welcome to ...And More, our no-frills, zero B.S. guide to when and where you can watch upcoming movies and shows, and everything else you could possibly stand to know.)
The most ambitious team-up in cinematic history is almost here. That's right, I'm talking about Michael Caine and Aubrey Plaza appearing together in the same movie. For years, movie audiences have shouted, "When will we get a Michael Caine/Aubrey Plaza vehicle!?" The answer is: soon. The film is Best Sellers, and I've rounded up the important details about this impending flick.
Best Sellers Release Date and Where You Can Watch It
Best Sellers will arrive on September 17, 2021. And, for a nice change of pace, the film is currently set to open both in theaters and On Demand. A lot of studios are doubling down on theatrical exclusivity right now, primarily because that's how movie theaters want it. But we're still in a pandemic, and it's probably better to be safe than sorry.
What is Best Sellers?
Best Sellers is a comedy-drama that hails from Chicken Soup for the Soul Entertainment (yes, really). It looks to be the story of how a cynical young person befriends a cynical old person, and they connect despite a generational gap. Also, there are jokes. Filming on Best Sellers began back in 2019, so this one has been waiting in the wings for a while. "Not since As Good as it Gets have we seen such a mismatched pair take to the road," said distributor Screen Media. "Aubrey Plaza's humor and charm paired with Michael Caine's endearing curmudgeon-ism really captivated us. We know audiences will be drawn to their improbable friendship as much as we were."
Best Sellers Synopsis
Here's the official Best Sellers synopsis:
Lucy Standbridge (Aubrey Plaza) has inherited her father's publishing house, and the ambitious would-be editor has nearly sunk it with failing titles. She discovers she is owed a book by Harris Shaw (Michael Caine), a reclusive, cantankerous, booze-addled author who originally put the company on the map decades earlier. In a last-ditch effort to save the company, Lucy and Harris release his new book and embark on a book tour from hell that changes them both in ways they didn't expect.
Best Sellers Director, Crew, and Cast
Best Sellers is directed by Lina Roessler (Little Whispers: The Vow, Mustard Seed) and written by Anthony Greico. The cast includes Sir Michael Caine (The Dark Knight) Aubrey Plaza (Safety Not Guaranteed), Ellen Wong (Scott Pilgrim vs the World), Scott Speedman (Underworld), and Cary Elwes (The Princess Bride).