'Ride The Eagle' Director Trent O'Donnell On Pandemic Filmmaking And 'New Girl' Memories [Interview]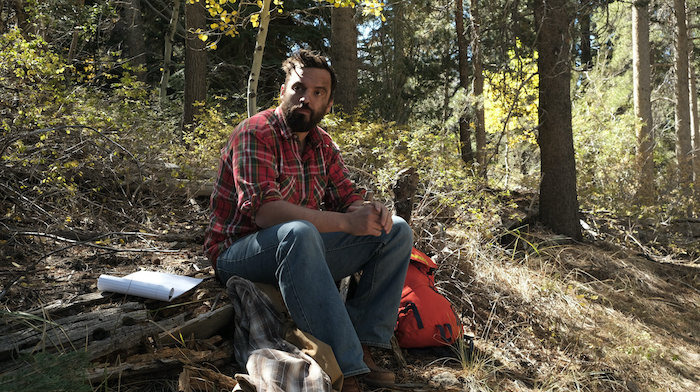 Trent O'Donnell and Jake Johnson go way back. O'Donnell worked on New Girl for five years, directing 28 episodes and serving as executive producer on 68 episodes of the beloved Fox sitcom. O'Donnell and Johnson remained good friends following their time together on the series. Together, the two co-wrote and self-financed their latest collaboration, Ride the Eagle. Johnson stars. O'Donnell directs.
The film is a tender comedy about a son reconnecting with his estranged mother (Susan Sarandon) following her passing. Recently, O'Donnell told us about the logistics of shooting the movie during the pandemic, his time directing New Girl, and much more.
Where you shot is so beautiful. Was it a nice escape?
It was the best. I've traveled a lot, but my favorite place in the world is probably Yosemite, honestly, apart from being there when it's ridiculously crowded inside the park. But just that whole area, I just love so much. It was such a joyful experience because we're all friends, or someone was a friend of a friend, and we all got to be really close during the making of the film. And it was kind of this nice little time-out from COVID as well because when we headed up to Yosemite, we basically all went and got tested. We all got negatives, and we drove up straight away, and we all lived together.
We didn't so much have traditional hours either. We would get up, shoot the nice light outside, then we'd come back in, have something to eat, shoot some interiors during the day. Then we'd jump back outside and go hard for that sort of magic hour, low, pretty light in the afternoon. Then at night, we'd go back inside, and we'd all eat. And we were all cooking ourselves as well every night. And then we'd do a couple of scenes at the end of the night as well. A lot of it was just the freedom of having a small crew because we didn't really have a time limit, everyone was just there to make the movie. It was really great.
You and Jake self-financed this, too?
We did. We put in the money ourselves to make it. It was enough money for me. It was a lot of money to me, not so much to Jake because he's a Hollywood actor guy. But we did pay for everything.
What was it about this story that made you want to directly invest in it?
We just felt that it was something that was kind of personal to us both, in sort of non-direct ways. It's not exactly Jake's family or exactly my family, but there are elements of the story in both, particularly in our extended families. We felt that it was a nice kind of relatable area. So many people have these families that have had these gripes, and these falling-outs and these grudges held for years. And to what point, I guess?
Jake and I both have young kids now, and it's hard to fathom, but it feels like a rich area when a parent and a child drift apart and fall out. We just felt that was an interesting area. We wanted to look at this story of forgiveness on both parts, but we didn't want it to be preachy, we didn't want there to be an overtly moral lesson come out of this. No party is particularly the one who's right or wrong, but both of them have done good and bad things, and we just liked that messy area.
Plus, it's a buddy comedy between someone who's living and someone who's passed.
That was a fun element of it as well. And look, that happens. Sometimes people who have drifted apart from loved ones, and then that person dies, you suddenly discover so much about them when you're getting into dealing with their death, just in stuff like their estate. Selling their house. Going through their house.
What were the logistics of shooting Susan Sarandon's scenes?
Firstly, casting her was kind of wild, because she was just an archetype to us. I think even in the script we had, "A Susan Sarandon type." We took a swing and said, "Let's just offer it to Susan." Honestly, we were already starting to think about, "Who will we really get to be able to play this role when Susan obviously says no?" Neither of us had worked with Susan before. We just sent her the script and the material, and then she read it really fast, and then called us, and we had this incredible afternoon, where Jake and I were in a car together on the phone to Susan for an hour and a half.
She just dug into it. She made it better as well because she talked about what she liked and what didn't play for her as well, and we started to make adjustments, and really work with her to shape Honey. And then the actual logistics, we flew out to New York, and we shot all of her scenes. We shot at Susan's place out there. Again, it's just that we were a funny, weird, bespoke production model, that was small enough that we could just do those sorts of things, and we could take the production to her. It was great and totally worth it, and it couldn't have been a better experience working with her on this.
How much joy did you get out of seeing J.K. Simmons yell at Jake Johnson?
He's incredible, and that was another benefit of shooting this during a pandemic. I've worked at J.K. before, and I had his email. He foolishly gave me his email once, and I didn't go to agents or managers, I just emailed J.K. directly and said, "Hey, would you do this thing? This is the gist of it." And then I sent him the pages, and he was like, "Yeah, I'd love to do it." And then I was like, "Okay, so what day works for you? Expecting that he was going to say like, "In three months I've got two hours on a Thursday morning," or something like that. And he was like, "I'm wide open. Let me know when you want to do it. I'm not doing anything." And it was great, and we were this little tiny model, and he came out just killed it. It was so fun.
What was it you two worked on before?No Activity, this show that I did for Paramount Plus. J.K. did a guest role every season. His stuff in that show is wonderful as well. Once a season he does these incredible monologues, and just great, very grounded character performance stuff. He's really wonderful.You also reunited with one of the stars of The Good Place. Is TV a great place to make connections?
It is definitely. Definitely. I mean, that show, everyone was nice on it. That was just a great cast. And it's one of the best things about being an episodic director, all that dropping in and getting to work with these great actors. And you form friendships, and then you start to stay in touch. D'Arcy [Carden] is a really good friend, and she's someone that I always want to work with, and so when we sort of came up with this, we started to think of it with her in mind. But it is. It really is. As I said, it's the joy of getting to drop into those shows, you get to work with people like her.
You worked on New Girl for years. What were the rules for directing that show? 
Jake Kasdan shot the pilot for New Girl, and he developed the sort of visual tone for the show. As in, the show was not handheld, or not often. It was generally studio mode, cameras were on dollies a lot of the time. And fairly traditional, but fairly cinematic kind of coverage, like longish lenses, and using the space as much as possible. There's that tone. But then, when I was producing director there, the thing that I would mostly look for is just that performance tone. They were all such gifted comedy performers, but the show also had a realness to it, and we wanted to believe that these are real people, that these are real events, that these things would happen. So a lot of it was just shaping, because we had these great comic, improvised talents, keeping it within the tone of what the show is, and not letting it get too zany and too out of control. That was probably the thing that we sought the most consistency with, I would say.
There's not much room for improvising in television, but was New Girl different there?
It was. It was very much from before my time there even. There was obviously Liz Meriwether, who created New Girl, and is just whip-smart and so fast. She sort of started that model before I was there, and then they had the cast that could accommodate that. So a lot of the time, some of the funniest bits and moments, they were improvised on set.
I'm sure you've noticed, but New Girl fans are such passionate fans. 
It's just really cool. I've felt very lucky honestly, to have my time there, particularly because I wasn't the guy that put together the magic of that show. Liz, and Brett, and David had created this magic, and all sorts of luck, and everything goes into making a show like that, where the cast has so much great chemistry. And then the writing was so good for it, that I just felt very lucky. There was a great system in place by the time that I turned up there. But it was a really fun time for me just to work with these great comic performers. It's just really cool when lots of people liked it. It was just really fun.
***
Ride the Eagle is now available on VOD.