King Shark In 'The Suicide Squad' Was Written Specifically With Sylvester Stallone In Mind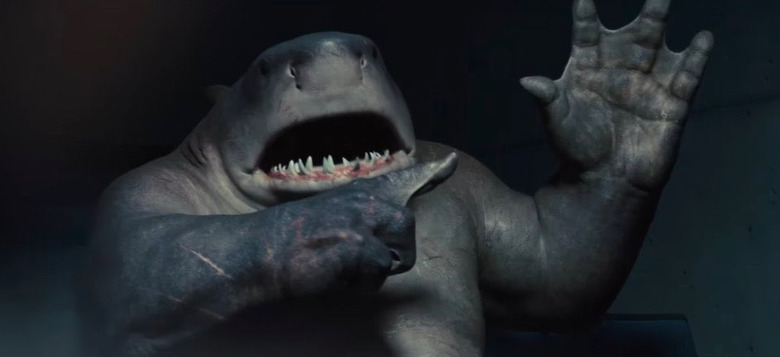 We're all in love with The Suicide Squad's King Shark, the dad-bod abomination that bites the heads off people and rips men in half. The character is voiced by Sylvester Stallone, and according to Suicide Squad director James Gunn, that was the plan all along. In a recent interview, Gunn revealed that he's reached a point where he can pretty much get any actor he wants – kind of a #humblebrag there, James – and he wrote King Shark specifically with Stallone in mind.
For a while there, we had no idea who was providing the voice of King Shark in James Gunn's The Suicide Squad. Steve Agee was the body double on set for the character, but many people assumed that Taika Waititi would be providing the voice. Then the first trailer arrived and let the cat out of the bag (or I guess shark out of the bag): Sylvester Stallone was voicing the character.
Stallone's monosyllabic take on King Shark is much different from the talkative version voiced by Ron Funches in the excellent Harley Quinn animated series, and that's fine. There's room for different King Sharks, I say. And based on the trailer alone, King Shark is going to be a fan favorite. He's a big, beefy, kind of dumb killing machine, and that's the kind of character we can all get behind.
When it came to writing King Shark, James Gunn recently revealed that he always had Stallone in mind. "Strangely, as I've become more able to get whatever actor I want for roles in movies, I started taking risks and writing for actors that I don't know," Gunn told Den of Geek. "So for instance, I wrote Bloodsport for Idris Elba, having never met him, but being a big fan of his work in other places. And I knew Sly, and I know him pretty well. So I wrote the role of King Shark with his voice in mind."
Now we just have to wait and see if King Shark is one of the characters who survives the film. Gunn has said multiple times that most of the characters in the film are doomed – it is called The Suicide Squad, after all – but I really hope that thiic shark makes it. The Suicide Squad opens In Theaters and HBO Max on August 6, 2021.
Welcome to hell—a.k.a. Belle Reve, the prison with the highest mortality rate in the US of A. Where the worst Super-Villains are kept and where they will do anything to get out—even join the super-secret, super-shady Task Force X. Today's do-or-die assignment? Assemble a collection of cons, including Bloodsport, Peacemaker, Captain Boomerang, Ratcatcher 2, Savant, King Shark, Blackguard, Javelin and everyone's favorite psycho, Harley Quinn. Then arm them heavily and drop them (literally) on the remote, enemy-infused island of Corto Maltese. Trekking through a jungle teeming with militant adversaries and guerrilla forces at every turn, the Squad is on a search-and-destroy mission with only Colonel Rick Flag on the ground to make them behave...and Amanda Waller's government techies in their ears, tracking their every movement. And as always, one wrong move and they're dead (whether at the hands of their opponents, a teammate, or Waller herself). If anyone's laying down bets, the smart money is against them—all of them.