Daily Podcast: Life-Changing Films, Movies That Fall Apart In Act 3, And More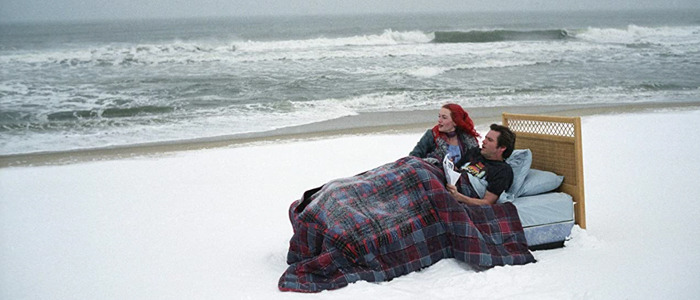 On the May 4, 2021 episode of /Film Daily, /Film senior writer Ben Pearson is joined by managing editor Jacob Hall, weekend editor Brad Oman, and writers Hoai-Tran Bui and Chris Evangelista to answer some listener questions from the mailbag.
In The Mailbag:
Hi gang, Hakim
from Los Angeles writing in. I'm curious:
what current/historical event or subculture would you all want to be explored in a film that hasn't been (doc or narrative)
? Love the show. Keep up the awesome work! All the best, Hakim
Hey guys, love the show and appreciate the work that you do as
well as the different perspectives everybody brings. My question is this:
what is a movie that you feel you could do a one person reenactment of
? Mine would be
School of Rock
. While it is not necessarily my favorite movie, I pretty much know it by heart and I feel that I could perform most of the movie by myself if I had to. Anyway keep up the great work! – Matt, New Jersey P.S. Today's podcast discussed the best opening credits sequences and I just wanted to add Men in Black as an opening that deserves some love.
Hi Peter and /Film crew, I listen to your podcast while making dinner. I really loved the segment at the end of /Film Daily Ep. 875 where Ben, HT, and Chris discussed their favorite opening credit sequences. Film titles have shifted through the years from being Main Titles, which take place at the beginning of the film or tv show, to Main On End Titles, which take place at the end of the film or tv show. Marvel has taken advantage of this Main On End Title format for most of their films and tv shows. One Main on End Title that springs to mind is from
Black Panther
.
https://www.youtube.com/watch?v=9YGTeFM00iU
They have Vibranium Sand which pulses to the beat of the soundtrack and forms characters and landscapes from the film. Main Titles seem to be more prevalent in Television shows in recent years. Some great examples of this are
Westworld
and
Game of Thrones
...chef's kiss!! If you are interested in learning more about Main Titles, please check out Art of the Title.
https://www.artofthetitle.com/
  I LOVE this site and it's a great historical resource! Maybe the crew can talk about their
favorite Main On End Titles from films or TV shows or their favorite Main Titles from television shows
. Keep up the great work and can't wait to hear your next podcast. – Vince from New Jersey
First of all, love the show. I play a little drinking game where I take a sip whenever Peter says,"I don't know." I've been hammered for years now (just kidding). I was wondering,
what do you guys think are some great movies that fall apart in the third act
? Examples for me are
Signs
and
From Dusk Till Dawn
. Secondly, the opposite:
movies that you considered turning off but then the third act saved it?
Examples for me are
Hardcore Henry
and
The Prestige
. – 
Donnie from Florida
Hello /Film team, as a self-proclaimed film buff, I'm a firm believer that movies are capable of shaping one's life. With that, I'd like to know
what are some "life changing" films which you guys can recommend
? By "life changing" films, I'm pertaining to films that you guys have personally resonated to, so much so that it changed the way you perceive life or how you treat other people. I'd love to have an insight as to what films shaped the life of my favourite movie critics. Love the podcast, love your works, and thank you! – James from Manila, Philippines
All the other stuff you need to know:
You can find more about all the stories we mentioned on today's show at slashfilm.com, and linked inside the show notes.
/Film Daily is published every weekday, bringing you the most exciting news from the world of movies and television as well as deeper dives into the great features from slashfilm.com. 
You can subscribe to /Film Daily on
Apple Podcasts
,
Google Podcasts
,
Overcast
,
Spotify
and all the popular podcast apps (
RSS
). 
Send your feedback, questions, comments and concerns to us at
peter@slashfilm.com
. Please leave your name and general geographic location in case we mention the e-mail on the air.
Please rate and review the podcast on Apple Podcasts, tell your friends and spread the word! 
Thanks to Sam Hume for our logo.