'Host' Executive Producer And Cast Are Creating A Live-Action, Real-Time Horror Video Game Called 'Ghosts'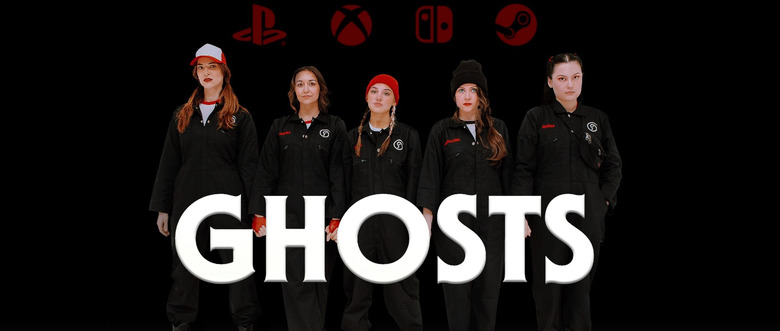 Back in the 1990s, there was a strange wave of video games that used live-action footage (called full-motion video) instead of traditional graphics. Using actual low resolution video footage, B-movie actors, and shoestring budget sets, the intention was to create a game that offered a little more realism than your average 32-bit cartridge game. It never really caught on, but now the executive producer and cast of Shudder's hit horror movie Host are trying to bring it back with a new horror video game called Ghosts. And they're going to get a little help from Jim Henson's Creature Shop to make it happen.
Shepherd, Limited Run Games, and Visible Games are working with Host writer/executive producer Jed Shepherd and cast members Haley Bishop, Radina Drandova, Jemma Moore, Caroline Ward, and Emma Louise Webb on the live-action Ghosts video game. While bringing back a video game format like this is interesting in itself, even more fascinating is that the video game will be played out in real time, only available to be played at a specific time.
But we're getting a head of ourselves. For the uninitiated, let's look back at what full-motion video games were back in the 1990s. Here's a rundown of some of the weirder titles utilizing the format:
Night Trap is probably the most infamous full-motion video game, since it was brought before congress as an example of violent video games plaguing the nation's youth. Other key titles included The 7th Guest, Voyeur, Phantasmagoria, Double Switch, and Daryl F. Gates' Police Quest: SWAT. All utilized live-action video with bad acting and allowed players to control how the story unfolded in a sort of choose-your-own-adventure movie. So you can see how this can be utilized for a horror video game.
When it comes to Ghosts, players will control a TV producer camping out in the broadcast van for a failing cable channel while a presenter and some ghost hunters explore a haunted building. Your task is to monitor activity in and outside the building to keep you and your cohorts safe. As the title indicates, there are ghosts roaming about, with creatures designed by Trevor Henderson and brought to life by Jim Henson's Creature Shop. But the major threat is an entity known as The Long Lady, and if you make eye contact with her, you're dead.
Writer/director Jed Shepherd, who wrote and directed Ghosts, said in a press release (via GamesRadar):
"Last Halloween, frustrated by the neverending lockdown situation in the UK, like a lot of people I turned to video games for escapism. Looking specifically for horror games to freak me out, I re-discovered the live-action video games (FMV) of the '90s... Games that dared to try something a bit different and really pushed the capabilities of the game systems of their time. It suddenly dawned on me what I had to do – I had to make a live-action video game starring my friends Emma, Haley, Jemma, Radina, and Caroline and make it as scary as hell. I want to make you afraid of even looking at your Nintendo Switch but feel absolutely compelled to play the game anyway to help the ladies survive."
So how does the real time aspect of this game work? Well, it's only going to be available to be played at 10:00 P.M. local time. It will not be accessible at any other time, meaning you'll be playing with everyone else in your time zone, making for a cool shared experience. We're not entirely sure how the live-action format works in real-time, but modern technology likely allows for full-motion video to be utilized to much greater effect nowadays, so this should be a rather interesting experiment.
As a bonus, the artwork for the game has been created by Evil Dead and Night of the Creeps poster artist Graham Humphreys, and it will be revealed sometime in the near future. Fans will also be able to snag t-shirts from Fright Rags featuring the video game's art.
Check out the full announcement video featuring the cast of Host below, and get ready for a little scare:
Excited to announce that I'm making a REAL-TIME, live-action HORROR video game w/ creature design by @slimyswampghost & made by Jim Henson's Creature Shop!

Released by @LimitedRunGames & starring Haley, Jemma, Emma, Radina and Caroline. They can tell you all about it-#ghosts pic.twitter.com/5PeUa4CrHT

— Jed (@Jedshepherd) April 7, 2021
Ghosts is expected to hit PlayStation 4, Xbox One, Nintendo Switch, and Mac/PC on February 22, 2022.