Daily Podcast: Best Food Movies, Movie-Based Book Recommendations, What Happened On The Justice League Set, And More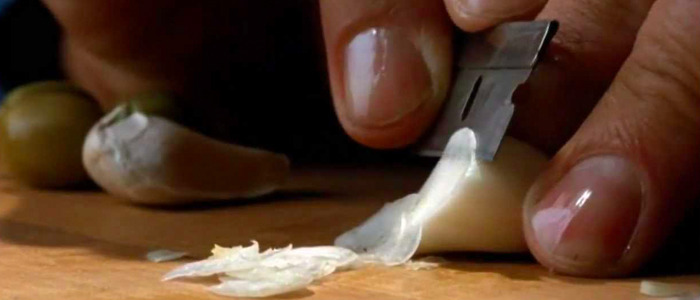 On the April 6, 2021 episode of /Film Daily, /Film senior writer Ben Pearson is joined by /Film managing editor Jacob Hall and writers Hoai-Tran Bui and Chris Evangelista to discuss the latest film and TV news and answer some listener questions in the mailbag.
Opening Banter: In The News:
HT:
'Justice League' Clash: Joss Whedon Reportedly Threatened Gal Gadot's Career, Ray Fisher Shares Troubling Cyborg Changes During Reshoots
In The Mailbag:
What are some of your
favorite movie watching snacks and beverages
(either at home and/or in the theater)? Do you have any
favorite movies that are about food
? What are some of your
favorite food related scenes in movies that aren't otherwise specifically about food
? Thanks for the always entertaining pods! – Matthew M, New Haven CT
Chris! Oh dear Chris. I have been noticing that our tastes in movies and shows often are the same. I was very curious: what are your thoughts on this Nordic style horror/thriller genre? Have you watched: Fortitude on Prime or Trapped and Black Spot on Netflix? Or perhaps The Head, an HBO MAX original? If you have seen these types of shows, which ones did surprise you in a good way? Any recommendations? I have seen all previously mentioned shows and just love that type of tone and grisly over the top violence in them. Also what are your expectations for the upcoming Antlers movie? Unless you have seen the screener already, I can't wait for it to come out on any platform, I have high hopes. On top of that I have not heard you talk about Servant, the Apple TV+ original produced by M. Night Shyamalan. Have you seen it? I think it is pretty dope, all the fine wine consumption on top of this suspenseful storyline. Acting is top notch as well! Man I have tons of questions built up for you Mr. Evangelista lol, just leave me your phone number and I will call you with the rest of them haha JK. Thank you guys! Y'all became such a big part of my life it is very surprising for me to realize. Wish you all great success and chill vibes! – Yerbol from the Bay Area (PS It's been 2 years or so since the last time I wrote, my son is now 4yo and I am choosing to show him anything that interests him, whether it is age appropriate or not, nothing is off the table, but I am explaining the scary and new concepts to him like I would to an adult. So far he has seen parts of IT chapter one and parts of Ghostbusters original and reboot. He is very cool about it.)
Hey all, a couple weeks ago Chris mentioned the two Hitler biographies and based on his recommendation I'm going to get the audiobooks through audible. But my question is,
what audiobooks (or just regular books) would you recommend – specifically, what movie-based books do you all like
? I've already done Space Odyssey (the 2001 a space odyssey movie book) and Clash of the Titans, and I have the Peter Jackson and the making of middle earth and taking shape 1&2 in my wishlist. – William VanBeek from Green Bay, wisCANson
Listener Responses About How to Curate Watchlists
Hello people, I absolutely used to get stuck on all of the streaming services, trying to decide what to watch. Sometimes my wife and I would spend so much time trying to pick something, it would get too late and we'd end up watching nothing. To help with that, I started keeping my own list of movies. This wasn't using the in-service queues, which I found more anxiety-inducing than anything; this was just a simple excel file I had quick access to and could update easily. Basically, any time we saw a movie that looked interesting, or we mentioned an old movie we'd like to watch, I'd throw it on the list. (I actually kept two lists.. one for "us" movies and one with movies she wasn't interested in.) When it comes time to watch a movie, I hit an online random number generator and whatever row comes up, we watch. It totally cuts out the indecision, and it has an awesome element of surprise to it. It's like opening a movie present! It also helps with that weird backlog stress.. now it's on the list, so it'll come up eventually. I don't have to spend time thinking about when I'm going to watch it. Anyway, it wasn't that hard to do and it worked really well for us, so I hope that helps! – Jason, Edmonton Canada
Hi Peter, I've been listening to /Film Daily for a while now, love the cast! As sort of an avid TV watcher, I couldn't help but to cringe a little when I heard about your "meticulously refined" processes for deciding what to watch. You'll find my method detailed below. Maybe some of you will even find it inspiring! Since 2013, I log every episode and movie I watch on
trakt.tv
. I also rate every movie, show, and season after I complete them. My regular process on the site is as follows:
About once a week, I go through the first page of the Trending, Recommended, and Watched categories under the TV section, to see if there's anything new I should have a look at. Every show there is put on one of these three lists: Anticipated, Watchlist, or Uninterested. I also turn on the Fade filter for Watched and Listed, so I can easily spot any newcomers. I do the same for the Popular category, but here I go 5 pages deep. I also do the same for the Anticipated category, but here I handle anything that's on at least 100 lists globally on the site (their measure of anticipation for a show is the number of lists it appears on). If there is the slightest chance I might like a show, I'll put in on the Anticipated list.
Once or twice a week, I look in my own Anticipated list to see what new shows have premiered recently and what's coming up soon. I look at comments, reviews, Rotten Tomatoes, cast and crew, and so on, and move the new shows to either Watchlist or Uninterested. If I'm still undecided, I leave the show in Anticipated for next time (when more comments and reviews might be available to help me).
Every once in a while, I look at the top of my Watchlist and make sure that those shows are queued in Apple TV (or Netflix for Netflix shows). I also try to do this whenever I add a new show to my Watchlist, but sometimes I forget, and sometimes I add it to Watchlist before it's available on Apple TV, so a recurrent check here is a good catch-all.
Every day, I look at the Calendar, to see what's airing today and this week. One trick for upcoming shows is to have them both in Anticipated and Watchlist until decided, because anything in Watchlist will appear in the Calendar. You'll just have to remember to remove the show from Watchlist if you change it from Anticipated to Uninterested.
Decide what to watch and watch it. This should be easy now, and no need for endless scrolling anywhere.
I also do the same for movies, except I go 10 pages deep in the Popular category, and require 250 lists for consideration in the Anticipated category.This whole process might sound complicated and time consuming, but once you have it down, it generally only takes a few minutes per step. Except for step 2, depending on how much time you want to dedicate to looking at reviews and such before moving stuff from the Anticipated list. I generally don't spend too much time on it; if unsure, I'll just leave it there for another week or two.I hope this might help you find inner peace and clarity. With best regards, Andreas from SwedenAll the other stuff you need to know:
You can find more about all the stories we mentioned on today's show at slashfilm.com, and linked inside the show notes.
/Film Daily is published every weekday, bringing you the most exciting news from the world of movies and television as well as deeper dives into the great features from slashfilm.com. 
You can subscribe to /Film Daily on
Apple Podcasts
,
Google Podcasts
,
Overcast
,
Spotify
and all the popular podcast apps (
RSS
). 
Send your feedback, questions, comments and concerns to us at
peter@slashfilm.com
. Please leave your name and general geographic location in case we mention the e-mail on the air.
Please rate and review the podcast on Apple Podcasts, tell your friends and spread the word! 
Thanks to Sam Hume for our logo.