'Star Trek: Discovery' Season 4 And 'Star Trek: Lower Decks' Season 2 Debut New Trailers, Both Seasons Arrive This Year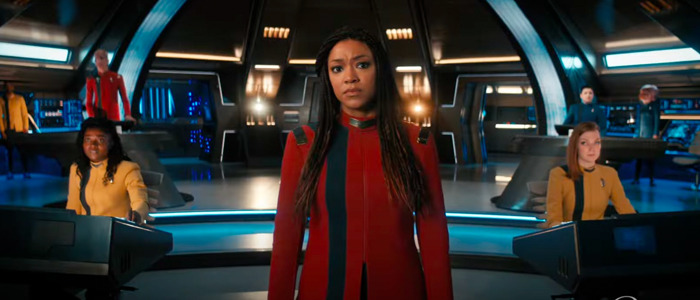 As part of its #FirstContactDay celebration, Paramount+ has unveiled the first Star Trek Discovery season 4 trailer, which showcases some excellent new uniforms for our favorite crew members and lays out the gravity (pun absolutely intended) of what lies ahead for Michael Burnham (Sonequa Martin-Green) and her merry band of space pals.
Plus, check out the new trailer for Star Trek: Lower Decks season 2.
Star Trek Discovery Season 4 Trailer
"We're all living in uncertainty," Burnham intones in the trailer's opening seconds. "Even for a crew as familiar with it as this one, the stress is taking its toll. But we are not in this alone. None of us are." Those words could just as easily be spoken about the chaos all of us have endured over the past year, meaning that Discovery can do what most great space-set science fiction does: comment on the present through stories set in the future. And if nothing else, you've gotta love the way those colors pop in those slick, updated uniforms. All this needs is a shot of Burnham stopping someone in the hallway and saying, "Look at me. Look at me. I am the captain now."
Star Trek: Lower Decks Season 2 Trailer
Meanwhile, here's the trailer for the second season of the delightful Star Trek: Lower Decks, the animated comedy series which takes the piss out of Star Trek while at the same time being a loving entry into its canon. This trailer is especially action-packed, and features an appearance by Captain Riker (Jonathan Frakes), formerly Commander Riker, a mainstay character from The Next Generation show and its connected movies.
Star Trek: Discovery season 4 will premiere on Paramount+ sometime in late 2021, while Lower Decks season 2 will debut on August 12, 2021.