Daily Podcast: Why Does Almost Everything About 'Space Jam: A New Legacy' Sound Horrible?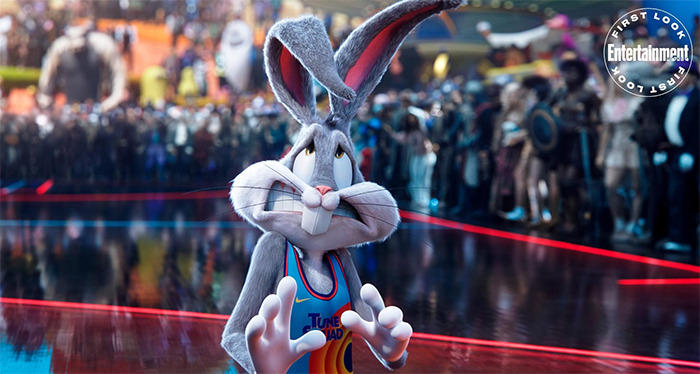 On the March 8, 2021 episode of /Film Daily, /Film editor-in-chief Peter Sciretta is joined by /Film weekend editor Brad Oman and writer Chris Evangelista to discuss the latest film and TV news, including Space Jam: A New Legacy, The Talisman, Queen's Gambit and Impeachment: American Crime Story.
In The News:
Chris:
'The Talisman' TV Series Headed to Netflix With Producers Steven Spielberg and the Duffer Brothers
Peter asks "What is your personal connection to Space Jam?"
The plot: Dom's tech skills draw the attention of a CGI humanoid named Al G Rhythm, played by Don Cheadle. One thing leads to another, and LeBron and Dom somehow get sucked into the Warner 3000 entertainment "Server-verse," Al G Rhythm is keeping Dom in the Server-verse in order to steal some of LeBron's followers on social media. And apparently the only way to get Dom back and stop this AI villain is with a game of basketball. In order to save his son and escape this intellectual property hell hole, LeBron James has to round up the Looney Tunes (including a banished Bugs Bunny) to defeat a new team of villains called The Goon Squad.
The WB connected computer world: The Server-verse is chock full of Warner Bros. characters. It is said that the likes of Batman and King Kong can be spotted courtside when the big game unfolds, and there will be references to The Matrix, Wonder Woman, Mad Max, and Casablanca, just to name a few. 
The computer animated look of the looney toons characters
Coogler quote on the emotional core: "The general idea was the examination of Black fatherhood and how fatherhood could be unique to LeBron James specifically. There are parents who want to push their kids to do certain things because this is what they do, but sometimes you have to look into a kid and be able to have an open mind and ear to help them become the thing they've dreamed of."
All the other stuff you need to know:
You can find more about all the stories we mentioned on today's show at slashfilm.com, and linked inside the show notes.
/Film Daily is published every weekday, bringing you the most exciting news from the world of movies and television as well as deeper dives into the great features from slashfilm.com. 
You can subscribe to /Film Daily on
Apple Podcasts
,
Google Podcasts
,
Overcast
,
Spotify
and all the popular podcast apps (
RSS
). 
Send your feedback, questions, comments and concerns to us at
peter@slashfilm.com
. Please leave your name and general geographic location in case we mention the e-mail on the air.
Please rate and review the podcast on Apple Podcasts, tell your friends and spread the word! 
Thanks to Sam Hume for our logo.