'Demi Lovato: Dancing With The Devil' Trailer: YouTube Original Docuseries Is A Harrowing Look At Addiction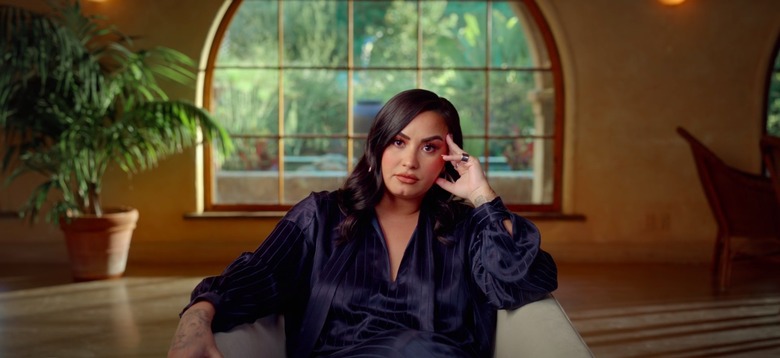 Things looked like they were on the upswing for Demi Lovato in 2018. At just 25 years old, the pop singer had tallied a billion views for her music videos on YouTube, scored a Grammy nomination, two Billboard Pop Song number one hits, and was counting six years sober after a battle with addiction early in her teens. But Lovato's relapse would land her in the hospital after a near-fatal overdose on July 28, 2018. And a new YouTube Original documentary shows just how close it was for the pop star.
"I had three strokes. I had a heart attack. My doctors said that I had five to ten more minutes," Lovato says in the trailer for Demi Lovato: Dancing With the Devil. The four-part docuseries comes to YouTube in March, and you can watch the trailer below.
Demi Lovato Dancing With the Devil Trailer
Lovato reveals all in Demi Lovato: Dancing With the Devil, an upcoming docuseries about the devastating effects of drug addiction and the still-lingering effects that the singer has experienced in the aftermath of her near-fatal overdose. In the trailer for the four-part YouTube Original docuseries, Lovato reveals how she was left with brain damage after her overdose, and still can't drive because of blind spots in her vision. Reading was difficult for her because of her blurry vision, so "it was a big deal when I was able to read out of a book, which was like two months later."
Interviews from friends and colleagues, as well as her distressed parents, confirm that Lovato "should be dead." But Lovato is determined that this would be her last close call. "I've had a lot of lives. I'm like a cat, you know? I'm on my ninth life," she says in the trailer, adding, "I'm ready to get back to doing what I love, which is making music. I'm not living my life for other people or their headlines, or their Twitter comments."
Lovato's title song for the documentary series, Dancing With the Devil, can be heard throughout the trailer, and prove that she at least hasn't lost those raspy, powerful vocals she's known for.
Here is the synopsis for Dancing With the Devil:
Premiering March 23, Demi Lovato holds nothing back in this powerful four part documentary series exploring every aspect that led to her nearly fatal overdose in 2018, and her awakenings in the aftermath. Director Michael D. Ratner is granted unprecedented access to the superstar's personal and musical journey during the most trying time of her life as she unearths her prior traumas and discovers the importance of her physical, emotional, and mental health. Far deeper than an inside look beyond the celebrity surface, this is an intimate portrait of addiction, and the process of healing and empowerment.
Dancing With the Devil premieres on YouTube on March 23, 2021.