John Krasinski Sings 'The Office' Theme Song And Has Creepy Twins On A Rejuvenated 'Saturday Night Live'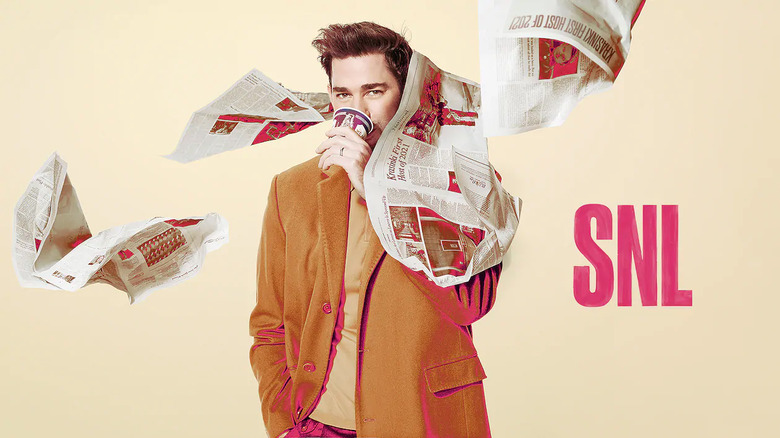 Saturday Night Live closed out 2020 with a festive and fun Christmas episode hosted by veteran cast member and Wonder Woman 1984 co-star Kristen Wiig. It was the last SNL before the Presidential Inauguration gave us renewed hope for a year that wouldn't be quite so full of nightmarish days.
With the first SNL of 2021, you can feel that rejuvenation with first-time host John Krasinski taking the stage. Maybe it's because there's barely a mention of the former President of the United States, but this episode was full of energy, and even the bad sketches were full of life, despite not floundering on the comedy side of things.
The Best
The Loser – It's about time Andrew Dismukes got a chance to shine. Even though this is mostly John Krasinski's sketch, as the brother he's trying to defend, Dismukes has some really funny interludes while embarrassing monologue continues. This sketch had me rolling. The endless list of weird flaws, especially the extended description of what's wrong with the little brother's genitals, is pure gold. I wish the last joke packed a little stronger of a punch, but there's no denying this was the best of the night.
Twins – At first, I was a little worried that there was going to be another sketch addressing the Reddit stock market situation after it was already covered about as well as it needed to be in the cold open. Thankfully, this turned into something much better, using the now common scenario of cable news interviews unfolding from the home's of various anchors, analysts, and experts. Kate McKinnon and Mikey Day are equally terrifying and funny as these unnerving twins, and the escalating fear from Beck Bennett combined with Cecily Strong's nonchalant dismissing of him only makes it better.
Subway Pitch – Whenever Beck Bennett puts on a little bit of a tough guy accent from New York or Chicago, I know that I'm probably going to love a sketch. Throw in John Krasinski doing the same thing, and I'm fully on board. The fact that the sketch is about advertising for Sunday only makes the proceedings even funnier. The childish escalation and confrontation with the young, new advertising pitch is expected, but that doesn't make it any less funny.
The Average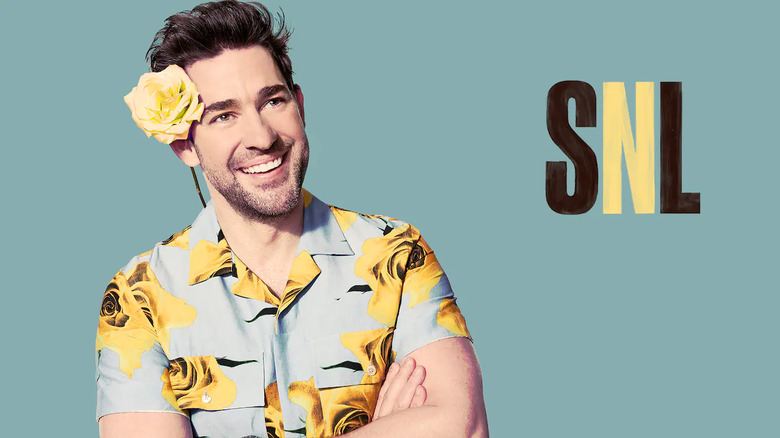 Supermarket Sweep – As someone who has watched plenty of Supermarket Sweep during the pandemic, I can't tell you how right on the money this premise is about certain duos in the 1990s, who clearly weren't hiding anything. This sketch is right in the wheelhouse of Kate McKinnon and Aidy Bryant. Their friendship and chemistry makes this sketch wonderful and funny at the same time. It feels a little clunky here and there, but overall, it's more than a solid bit that barely missed out on being one of the best.
Blue Georgia – Since Georgia officially flipped blue during the last election, things have changed in the Southern state. These country-lovin' citizens talk about electric truck dealerships, gluten free avocado toast, and alternative gender bathrooms with such kindness. The entire time, you're waiting for the shoe to drop that reveals Georgia hasn't really gone blue, so it makes the ending a little predictable, but it's still a charmingly amusing little dream world. Also, it's just great to have Aidy Bryant back now that she's done shooting her Hulu series Shrill.
Pandemic Game Night – So many Karens and Terrys were apprehended by the FBI after storming the US Capitol, and here their innocent game nights are interrupted by all those unexpected arrested. The escalation is chuckleworthy along with all the references to the real people whose images were famously spread across the internet after the insurrection. But at the same time, it feels a little too easy.
What Still Works – Not everything is significantly better at Saturday Night Live in the wake of Donald Trump leaving the White House. While we hopefully don't have to worry about dealing with that nonsense ever again, that doesn't mean SNL is handling current events any better when it comes to their timely and relevant satire. They round up the biggest recent headlines, from Marjorie Taylor Greene to GameStop stock to everyone hating Tom Brady again. There are some funny moments throughout, especially OJ Simpson getting the COVID-19 vaccine, but otherwise it just feels like a hodgepodge of satire to see what sticks.
The Worst
Opening Credits Songs – I was genuinely excited to see how this sketch played out when the concept was introduced. But then I had a complete 180-degree turnaround and went to flat out hating his uninspired and lazy this sketch was. If the point of the sketch was to make the songs sound lame as hell, they succeeded, but it's not done with any real musical style or cleverness. The only bright spot is John Krasinski singing The Office theme song, which may have been the entire driving for this sketch. It's simply not worth it.
Ratatouille – Here's another example of an awesome premise completely wasted. What if Remy from Ratatouille didn't just help Linguini learn how to cook, but also had to help him figure out other skills, like having sex? Unfortunately, the sketch gets bungled, partially due to technical clumsiness, partially because the sketch doesn't effectively use the setup. Is it because SNL was worried about using a Disney character with such adult themes? I don't think that's stopped them before, so maybe this one ended up being hurt by cuts for time or something. Either way, it was supremely disappointing.
Weekend Update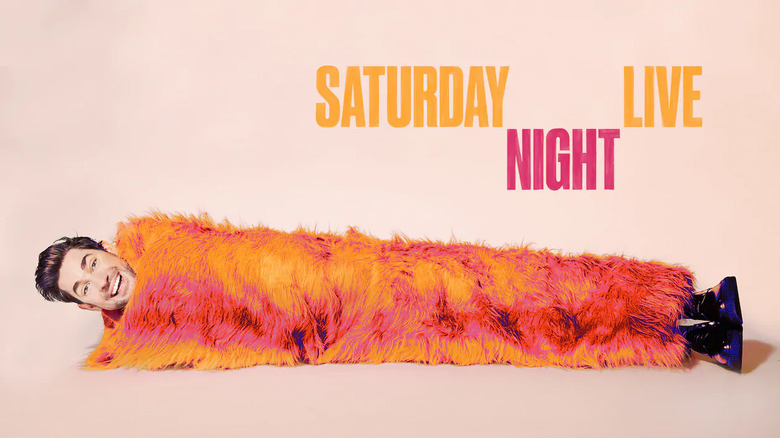 I can't tell you how nice it is to have a Weekend Update that doesn't have to spend half the time talking about all the ludicrous and heinous s*** that Donald Trump has been doing. Of course, we still have to deal with the rest of the political idiots creating problems for us, but having Colin Jost and Michael Che have more time to dig into a wide assortment of headlines was a lot of fun. Che drops the ball on what should have been good one-liners, but it allows for Colin to rib him from the side a bit, so I can't complain too much.
My Pillow CEO, Mike Lindell, on Getting Banned from Twitter – Remember what I said about Beck Bennett doing tough guy accents? Though Mike Lindell isn't exactly a tough guy, he has that same kind of vibe, and watching him become more and more unhinged while holding his pillow totally cracked me up. If this were a regular sketch, it would have been the second funniest bit of the entire night.
Cathy Anne on the Capitol Insurrection – Cecily Strong is popping up a lot more often, just like Aidy Bryant, and it was so good to have her get back into this character, especially having her talk about the Capitol insurrection. The bluntness and confidence of this character is what makes her work every single time. Whenever Strong ends up leaving SNL, I hope that Cathy Anne will finally get to light that cigarette.
Fran Lebowitz and Martin Scorsese on New York City – In case you haven't seen the Netflix special Pretend It's a City, director Martin Scorsese absolutely loves Fran Lebowitz. He's constantly cracking up at her throughout the show, and that's exactly what this bit is. I'll give Kyle Mooney points for keeping the bit at 110% the entire time, especially ramping it up to tearing his eyebrows out, but it's just fine.
The Host
It's been awhile since I've seen someone excited to host Saturday Night Live on the same level as John Krasinski. You can tell that he clearly loves the show and is more than jazzed to make his hosting debut. Though it might seem a little late to have the monologue mostly focus on him being Jim from The Office, they do figure out a way to make it relevant again by reminding us that everyone has been watching the show while in quarantine. Plus, we're not gonna be mad about him giving a "Jim" look to the camera and then passionately kissing Pete Davidson.
As for Krasinski's hosting talents, he was full of enthusiasm and had plenty of fun. Though he didn't do anything particularly dynamite, he was comfortable and confident, giving us a solid episode. Even though we only got to see him one truly over-the-top character, he definitely deserves to come back again, maybe whenever A Quiet Place Part II finally gets released.
The MVP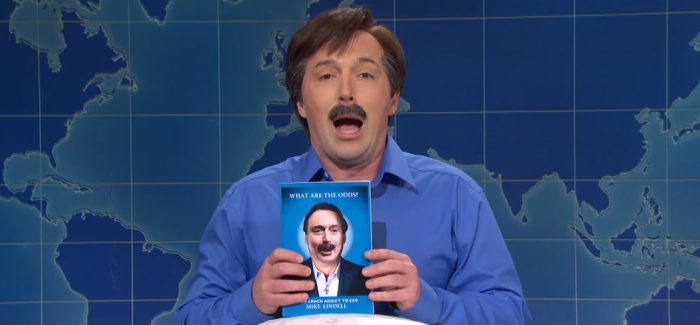 Beck Bennett – Part of me wanted to give this to Aidy Bryant for making a triumphant return to Saturday Night Live, but Bennett had me laughing much more consistently throughout the night. From the Subway sketch to Weekend Update, and even his supporting part in the scary twins sketch, Bennett was on fire. But I will also say that I'm extremely psyched to have Bryan back with the cast, if only to see what she and Kate McKinnon can cook up.
The Final Word
It feels like an enormous weight has been lifted off the shoulders of Saturday Night Live. They don't have to deal with the insanity of Donald Trump anymore, and even though their timely satire still isn't quite up to snuff, this episode felt like everyone was having infinitely more fun than they've had before. There was renewed energy. That could easily be due to the holiday hiatus, but I think that everyone is feeling infinitely better, even if we're still dealing with a lot of bulls***. Hopefully they can keep this up with the rest of the consecutive shows on the way.