Daily Podcast: Tomb Raider Sequel, Jungle Cruise Updates, Kevin Hart, And Questions From The Mailbag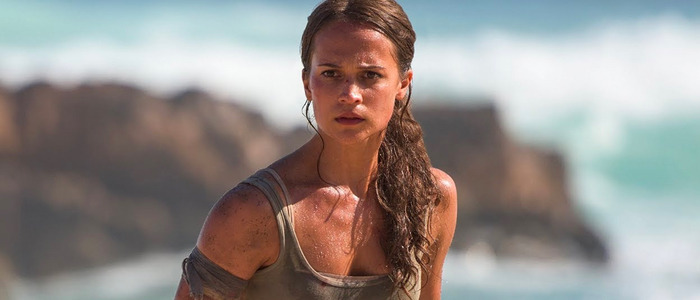 On the January 26, 2021 episode of /Film Daily, /Film senior writer Ben Pearson is joined by /Film managing editor Jacob Hall, and writers Hoai-Tran Bui and Chris Evangelista to discuss the latest film and TV news and answer a few mailbag questions.
Opening Banter: In The News: 
(Chris)
'Tomb Raider' Sequel with Alicia Vikander is Now Being Directed by 'Lovecraft Country' Creator Misha Green
(HT)
Movie Theater Chains Fight to Survive: AMC Staving Off Bankruptcy, Regal Shattering Release Windows
(Ben)
'Borderlands' Film Recruits Kevin Hart as Roland, Which May Signal a New Direction for His Career
In the Mailbag:
Straight up – do you count Spice World: The Movie as a musical? It features songs, performances and the soundtrack is an album? I was trying to make a small list of my favourite musicals! Keep up the amazing pod guys! Also
what are your favourite musicals
? P.S. – 21st Century
Spielberg was really really good!
Hi SlashFilm Daily crew, I heard on today's episode that you're looking for both good and silly questions for mailbag on the show. Something I've always done at each of my workplaces with my coworkers has been to
cast the movie about my job
. Who would play me, who would play each of my coworkers, who would play our boss, etc. So what household name is going to star as Peter in SlashFilm Daily: The Movie? What character actor will portray Jacob? Which famous comedian will play Brad, which classic straight man will take on Ben? Which young up and comers will take on the iconic roles of Chris and HT? Thanks for the listens through the week! Really appreciate having this podcast to listen to. – Karl from Canada
Love Slashfilmdaily and all the hosts!  Can't wait until you can get back to a daily format. Podcasts have been such an essential part of quarantine life and keeping my sanity. To that end, I'd love to hear from the panel what movies are their
favorite mood boosters
. Something funny, something hopeful? Thanks! – Missy in FL
Other Articles Mentioned:
(Chris)
'The Little Things' Review: The Dream of the '90s is Alive in This Predictable Serial Killer Thriller
All the other stuff you need to know:
You can find more about all the stories we mentioned on today's show at slashfilm.com, and linked inside the show notes.
/Film Daily is published every weekday, bringing you the most exciting news from the world of movies and television as well as deeper dives into the great features from slashfilm.com. 
You can subscribe to /Film Daily on
Apple Podcasts
,
Google Podcasts
,
Overcast
,
Spotify
and all the popular podcast apps (
RSS
). 
Send your feedback, questions, comments and concerns to us at
peter@slashfilm.com
. Please leave your name and general geographic location in case we mention the e-mail on the air.
Please rate and review the podcast on iTunes, tell your friends and spread the word! 
Thanks to Sam Hume for our logo.