'Raya And The Last Dragon' Wants To Redefine How We Talk About "Strong Female Characters"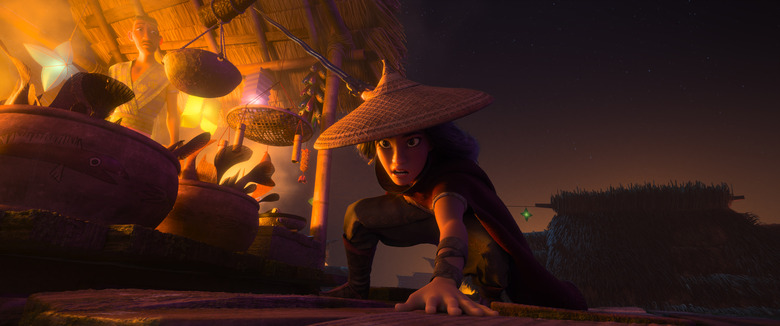 The term "strong female character" is bandied about in Hollywood so much that it's lost much of its meaning. It's become a buzz word to describe physically strong and usually stoic female characters — not the emotionally nuanced and complex characters that should be the first thing to come to mind. But the largest flaw with the concept of the "strong female character" is usually that there's only one of them in a major feature film, as if that's enough to fill the quota. But Raya and the Last Dragon bucks that trend by giving you not just one "strong female character," but three.
In Raya and the Last Dragon, Kelly-Marie Tran's titular lone warrior soon learns that she's not alone, no matter how she would prefer to work. After gaining a new unlikely friend in Awkwafina's dragon Sisu, Raya quickly accumulates a group of allies — but you can't have a team without a good enemy. That enemy is Namaari, voiced by Gemma Chan, a former friend turned foe who forms the third part of this all-female trio of lead characters.
"I remember the first time we were recording some of these scenes," director Carlos López Estrada said during the Raya and the Last Dragon early press day. "I remember Awkwafina's reaction to the scene where the dragon, Namaari and Raya all encounter each other outside of Spine. She was just like, 'Wow, this feels incredible to have these three really strong female characters all interacting, and the entire scene is just them.'
For co-screenwriter Adele Lim (Crazy Rich Asians), it was "beyond exciting" to be able to build the movie around so many distinct female relationships. "Very early on, even with our directors [it was important] that there was a female buddy friendship at the heart of an action movie. That's something you don't often see, and we knew we wanted to celebrate that," she told /Film, adding:
"But also with the relationship of Namaari, the villain, she is not like a random girl who wants to just tear things down for the hell of it. She is somebody that Raya has history with, that there were times where they could have been friends. And now that they have this combative relationship but they are really different sides of the same coin, because Namaari too, like Raya, in the world could have been a future leader [and] cares deeply about the land, about her people. And they have this push-pull like matter relationship, and it has to sort of resolve at the end. And these things are also like specific to like female relationships, and again, have growing up in a very female-centric family...this is the world I live in and that I never see in Hollywood movies. So I love that it's groundbreaking right now but these are the stories we should be telling nonstop, anyway."
But most importantly for Lim, these different kind of female dynamics reflected the kind of relationships she saw in her personal life growing up in a Malaysian family. "My grandmother went through the World War II occupation, in a society where you have to deal with illness and families falling apart, it is the women coming together and really looking out for each other and looking out for each other's families that have brought us together through these times. And so being able to be inspired by that, be the product of that, and have that be infused in the story and the fabric of our film, that was very important too."
While Lim could bring elements of her personal heroes into the characters of Raya and the Last Dragon, so too did legendary Southeast Asian heroes play a part in fleshing out those female leads.
"In Southeast Asia, there's a great tradition of female leaders, military leaders and warriors. And leaders of their realms," Lim said. "In Malaysia, we have the warrior Tun Fatimah, and we have stories of Naga Tasik Chini, which is the dragon of Chini Lake. So it's sort of within a lot of cultures in Southeast Asia. And so we knew it was one of those threads that would really resonate within the film."
Added Lim's co-screenwriter Qui Nguyen (Vietgone): "In Vietnamese culture, there's this really famous story of the Trung sisters. They're like these famous Vietnamese warriors that I definitely thought of. Without a doubt, I think Adele and I drew inspirations for families from our parents. Specifically for me, from my mom. I know what she had to go through when she came to this country. And just to have that kind of fighting spirit."
Raya and the Last Dragon hits theaters and Disney+ Premier on March 5, 2021.